Sports
Stanford women clinch share of title with win over WSU
Sun., March 3, 2013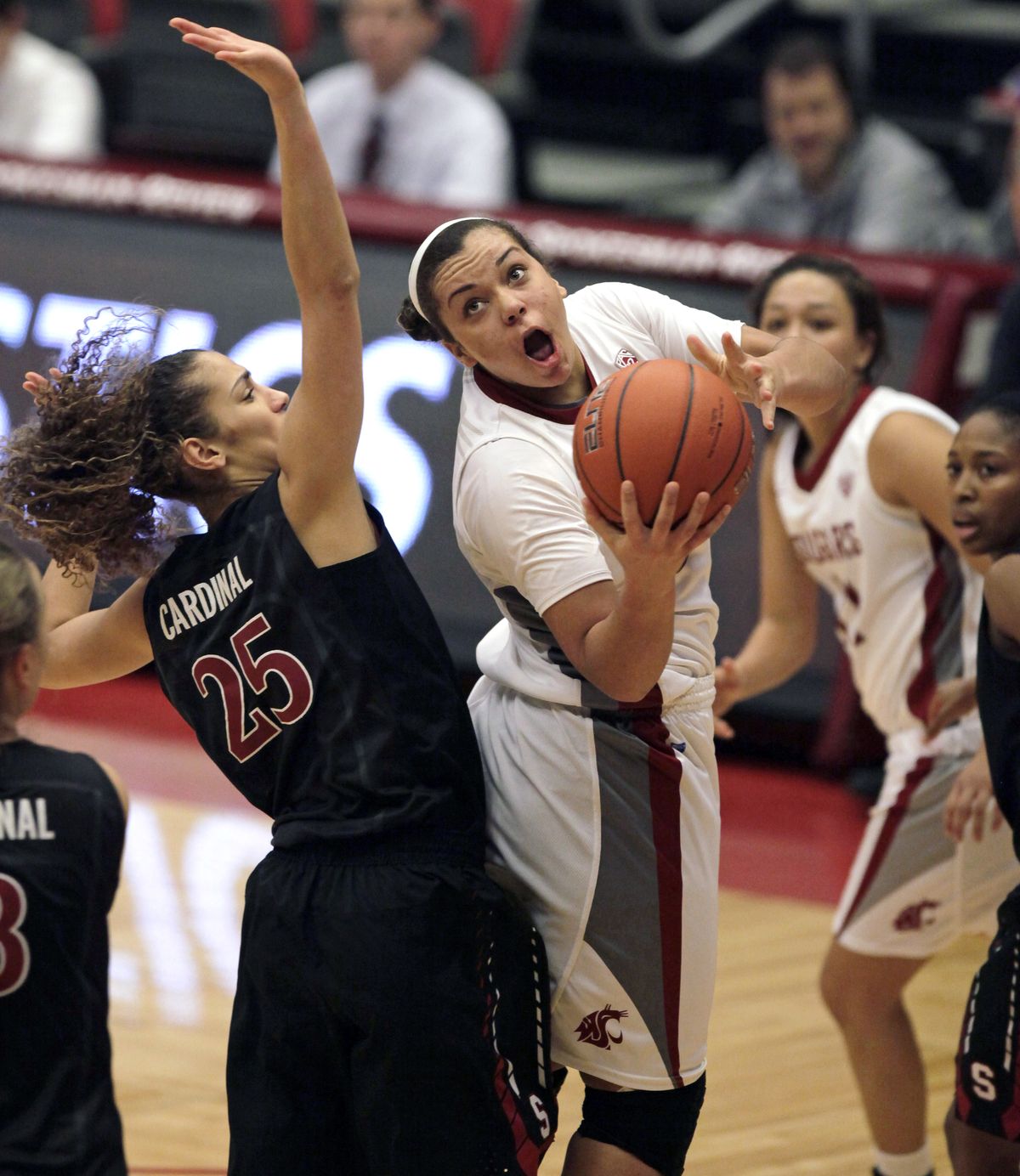 WSU's Mariah Cooks tries to score around Stanford's Erica Payne on Saturday in Pullman. (Associated Press)
Chiney Ogwumike had 28 points and 13 rebounds to help the fourth-ranked Stanford Cardinal (28-2, 17-1) clinch a share of the Pacific-12 Conference women's basketball title with a 72-50 win over the Washington State Cougars (10-19, 6-12) on Saturday in Pullman.
Ogwumike recorded her 24th double-double of the season and broke Stanford's single-season rebound record with 381. The previous record (376) was set by her sister Nnemkadi Ogwumike in the 2009-10 season.
Ogwumike scored 22 points in the first half to give Stanford a comfortable 35-21 lead at the half. The Cardinal opened the second half with a 13-4 run to lead 48-25. Stanford would extend the lead to 30, 63-33 at the 10-minute mark and put the game out of reach. The Cardinal share the title with Cal.
(6) California 78, Washington 50: Talia Caldwell made 10 of 11 shots and finished with 22 points, and the Golden Bears (27-2, 17-1) claimed a share of the Pac-12 regular-season title for the first time in school history with a win over the Huskies (19-10, 11-7) in Seattle.
It was Cal's 15th straight victory.
Even though Cal will share the title, it's still a benchmark moment for the program and second-year coach Lindsay Gottlieb. She became just the fifth coach in conference history to win a league title in her first two years as a head coach.
Jazmine Davis topped UW with 19 points.
Eastern Washington 67, North Dakota 58: Carrie Ojeda scored a game-high and career-high 21 points on 7-of-10 shooting to propel the Eagles (16-10, 12-5) to a Big Sky Conference victory in Grand Forks, N.D.
Lexie Nelson added 14 points and seven rebounds and Kylie Huerta chipped in with nine points and eight assists for the Eagles.
Megan Lauck hit 8 of 10 free throws and scored a team-high 14 for North Dakota (11-17, 6-13). Madi Buck snared a game-high 10 rebounds.
Eastern shot 43.8 percent (14 of 32) from the floor in the first half, while holding North Dakota to 24 percent shooting (7 of 29) in taking a 37-27 lead at the break.
Idaho 72, Texas State 59: Christina Salvatore scored 15 points – hitting 5 of 10 from 3-point range – and grabbed five rebounds and Alyssa Charlston came off the bench to toss in 13 points and snag eight rebounds to power the Vandals (14-14, 11-6) to a victory over the visiting Bobcats (9-18, 3-13), solidifying their hold on third place in the Western Athletic Conference.
Reserve Ali Forde chipped in with 11 points and five boards for Idaho.
Diamond Ford tallied a game-high 27 points for Texas State.
Clackamas 73, CC Spokane 65: Ashleigh Anderson scored 17 points and grabbed 10 rebounds to lead the Cougars (24-4) to a victory over the Sasquatch (15-12) at the NWAACC tournament in Kennewick.
Rylie Holsinger scored a game-high 20 for CCS with 10 rebounds. Jorden Brons added 13 points and nine boards, while Tamar Williams scored 12.
Local journalism is essential.
Give directly to The Spokesman-Review's Northwest Passages community forums series -- which helps to offset the costs of several reporter and editor positions at the newspaper -- by using the easy options below. Gifts processed in this system are not tax deductible, but are predominately used to help meet the local financial requirements needed to receive national matching-grant funds.
Subscribe to the sports newsletter
Get the day's top sports headlines and breaking news delivered to your inbox by subscribing here.
---