Sports
Cougar youngsters ready to take reins
Wed., March 6, 2013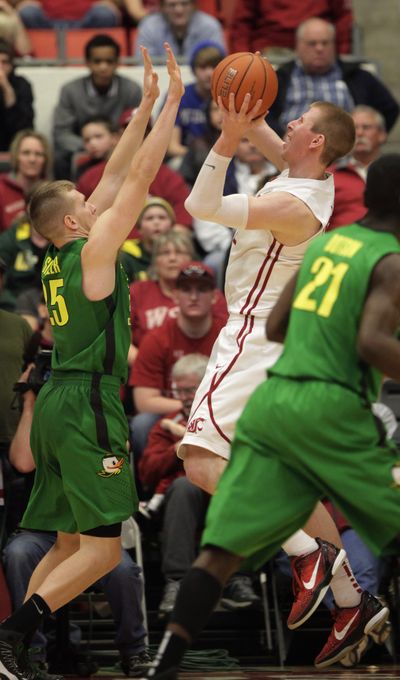 PULLMAN – The players aren't thinking about next season yet. Not with two more chances this week for Washington State to prove itself capable of ending this losing streak, and not with the hope-springs- eternal lens through which the Cougars view the Pac-12 tournament.
But from their last-place perch in the Pac-12, and with rumors swirling about the future of coach Ken Bone, observers have started wondering: can this team improve markedly next season despite losing star forward Brock Motum and versatile guard Mike Ladd?
Motum and Ladd – both seniors – will see their home careers come to an end at Beasley Coliseum this week, beginning with a 6:30 game tonight against conference title contender UCLA (22-7, 12-4 Pac-12).
Of course, there's a chance Ladd's WSU career might already be over. The Seattle native has missed WSU's last five games with a left knee injury, and is still considered doubtful to play this week, though he's been able to shoot a bit during practice.
Without him, the Cougars (11-18, 2-14) have missed their most reliable ball-handler and most aggressive rebounder. And when Motum is gone, they'll be absent their best scorer – he's third in the conference at 17.9 ppg.
So without those two, "I feel like it's going to be somewhat of a newer look," says 6-foot-10 center Jordan Railey – a player Bone figures will be key to WSU's attempted resurgence next season.
Nobody is discounting the contributions of Ladd, and certainly not those of Motum, who will leave WSU as one of the most accomplished players in school history.
But a belief exists that the promise of WSU's underclassmen, coupled with the insertion of a pair of players already on campus but sitting out this season, will bode well for the Cougars in 2013-14.
They like Railey. And they really like Que Johnson, who is ineligible to play or practice this season after failing to qualify academically. But he is on campus and in school, and Bone expects the 6-6 slashing guard to "instantly step in and score" next season.
"We have other kids in the program right now, whether they're playing this year or redshirting, that are developing as players," Bone said, using Gonzaga center and all-of-a-sudden-star Kelly Olynyk as an example. "Sometimes people don't see that, but there's guys on the backburner that are getting ready for next year that can literally blow up like Brock did, or like Mike would have definitely done if he had been injury free.
"People often wonder, 'well, how is this team going to replace these guys?' But there's other kids that are going to step up the next year and we have those guys."
Railey – who is redshirting after transferring from Iowa State – and Johnson have grown close this season, united by their common plight of sitting and watching without being able to play.
Ike Iroegbu, an athletic, 3-star-rated prospect out of Oak Hill Academy, could be a solution to WSU's point guard problem next season. Also redshirting this season is Brett Kingma, a transfer from Oregon whose 3-point shooting ability earned him offers from several Pac-12 schools out of Jackson High School in Mill Creek.
"I think all of us together next year is going to be really exciting," Railey said.
Local journalism is essential.
Give directly to The Spokesman-Review's Northwest Passages community forums series -- which helps to offset the costs of several reporter and editor positions at the newspaper -- by using the easy options below. Gifts processed in this system are not tax deductible, but are predominately used to help meet the local financial requirements needed to receive national matching-grant funds.
Subscribe to the sports newsletter
Get the day's top sports headlines and breaking news delivered to your inbox by subscribing here.
---