News > Nation/World
Christians' homes burn in Pakistan
Blasphemy report sets off Muslim mob
Sun., March 10, 2013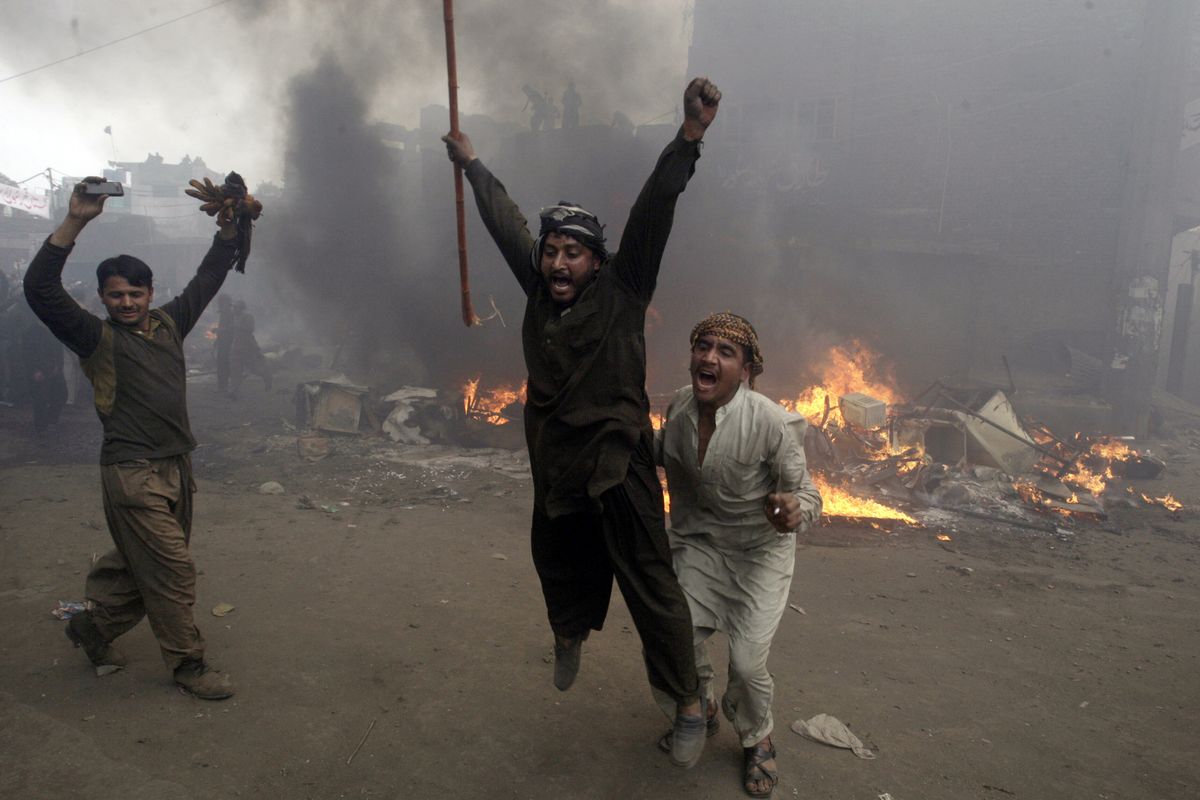 Pakistani men, part of an angry mob, react after burning belongings of Christian families in Lahore, Pakistan, Saturday. (Associated Press)
LAHORE, Pakistan – Hundreds of people in eastern Pakistan rampaged through a Christian neighborhood Saturday, torching dozens of homes after hearing reports that a Christian man had committed blasphemy against Islam's prophet.
Blasphemy is a serious crime in Pakistan that can carry the death penalty but sometimes outraged residents exact their own retribution for perceived insults of Islam's Prophet Muhammad. Pakistan is overwhelmingly Sunni Muslim and people of other faiths, including the nation's small Christian community, are often viewed with suspicion.
The incident started Friday when a young Muslim man accused a Christian man of committing blasphemy by making offensive comments about the prophet, according to Multan Khan, a senior police officer in Lahore.
A large crowd from a nearby mosque went to the Christian man's home on Friday night, said Khan. Police registered a blasphemy case against the man after the crowd gathered and demanded action, the officer said.
Fearing for their safety, hundreds of Christian families fled the area overnight.
Khan said the mob returned on Saturday and began ransacking Christian homes and setting them ablaze. He said no one in the Christian community was hurt, but several policemen were injured when they were hit with stones as they tried to keep the crowd from storming the area.
But Akram Gill, a local bishop in the Lahore Christian community, said the incident had more to do with personal enmity between two men – one Christian and one Muslim – than blasphemy. He said the men got into a brawl after drinking late one night, and in the morning the Muslim man made up the blasphemy story as payback.
He said the Christian community handed over to police the accused man, identified by police and Gill as Sawan Masih, when police came to the neighborhood to investigate. Then the Christians all locked up their houses and went to relatives in other areas. He said the mob was armed with hammers and steel rods and broke into houses, ransacked two churches and burned Bibles and crosses.
"Poor people were living here. They have lost all of their belongings," Gill said. "Where can they go now?"
The scene was chaotic. An Associated Press reporter said roughly 150 homes were torched.
After the mob dissipated, residents began to slowly return to their burned-out homes.
"They have burnt each and every thing in my whole house. Nothing is left here. I don't know why this happened," said Samina Riaz. "Now we don't have even enough to eat."
Such accusations of blasphemy in Pakistan can prompt huge crowds to take the law into their own hands. Once an accusation is made it's extremely difficult to get it reversed, partly because law enforcement officials do not want to be seen as being soft on blasphemers.
Local journalism is essential.
Give directly to The Spokesman-Review's Northwest Passages community forums series -- which helps to offset the costs of several reporter and editor positions at the newspaper -- by using the easy options below. Gifts processed in this system are not tax deductible, but are predominately used to help meet the local financial requirements needed to receive national matching-grant funds.
Subscribe now to get breaking news alerts in your email inbox
Get breaking news delivered to your inbox as it happens.
---