Sports
WSU wins again, plays UW in tournament
Sun., March 10, 2013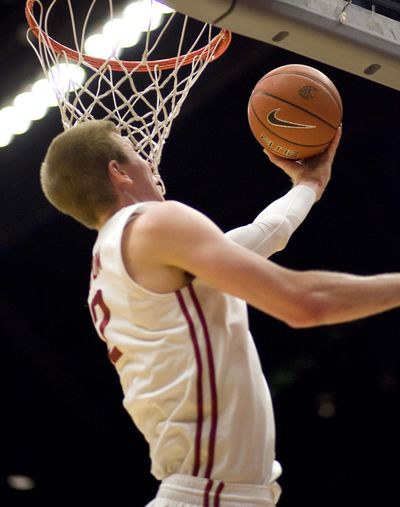 PULLMAN – For once, they aren't counting losses on the Palouse.
Hand-wringing over coach Ken Bone's future has stopped for the moment. And after what Washington State did here this weekend, there at last exists hope that the Cougars might not be done winning just yet.
Now, don't mistake WSU's 76-51 thumping of Southern California at Beasley Coliseum for some kind of late-season renaissance. The Cougars are still the 11th-place team in the Pac-12 and, even if they extend their winning streak to three games when they face Washington at 8:30 p.m. Wednesday in the first round of the Pac-12 tournament, there remains the near-impossible task of winning three more games to accomplish the unthinkable and clinch an NCAA tournament bid.
But for now, after head-turning upsets of conference champion UCLA and USC in four days' time, they can at least dream.
"If it wasn't this weekend," coach Ken Bone said, speaking of his team finally gaining some confidence, "it wasn't going to happen."
There was a time, during WSU's recent nine-game losing streak, when it felt like it never would. But just as they did Wednesday against the Bruins, the Cougars jumped on the Trojans early before a crowd of 4,254, held a double-digit halftime lead and never trailed.
Perhaps they were heartened by the Senior Day festivities for Mike Ladd, who played for the first time since injuring his knee on Feb. 9, and Brock Motum, who capped his home career by scoring a season-high 31 points and grabbing 10 rebounds.
With his family and a few close friends watching from behind WSU's bench, the 6-foot-10 Aussie scored 21 points in the first half to stake the Cougars to a 39-20 halftime lead.
USC (14-17, 9-9 Pac-12) tried playing zone. It tried playing man-to-man. And it repeatedly failed to stop Motum, who moved into fifth place on WSU's career scoring list.
"That was a big problem," USC interim coach Bob Cantu said.
The Trojans made their run, using an up-tempo style to outscore WSU 18-4 to start the second half. The Cougars' lead was down to 43-38 at the 13:43 mark.
But instead of reverting into here-we-go-again mode, the Cougars simply blew USC's doors off.
An 11-1 run spurred by three Royce Woolridge 3-pointers pushed WSU ahead 63-46 with 6:01 to go, and the Trojans appeared thoroughly spent.
This wasn't a change of pace for WSU, which has held second-half leads in 12 of its losses this season. But this time, the Cougars simply outplayed USC in nearly every category – rebounding (45-34), turnovers (USC had 10, WSU just five) and assists (18-10).
And USC was limited to 33.9 percent shooting from the field, 18 points from J.T. Terrell serving as the Trojans' only real bright spot.
"The last two games I feel like we've been doing really well, especially in crunch-time situations, now that we get that taste of what we do," said Woolridge, who scored 25 points.
"We've had a lot of practice at it," Bone said. "I think our guys right now are starting to understand teams are going to make runs. We just need to relax and continue to let the game come to us, and it'll work out."
So the Cougars head to Las Vegas not having trailed in their last 80 minutes of play and having won consecutive games for the first time since December, all of which immediately followed the program's worst losing streak in a decade.
They will meet No. 6 seed Washington in the first round, and if they win, they'll face third-seeded Oregon on Thursday.
To WSU's advantage is the return of Ladd, who played 27 minutes and handed out six assists. His gives WSU another ball-handler to take pressure off Woolridge, who has become one of the team's more reliable scorers.
Local journalism is essential.
Give directly to The Spokesman-Review's Northwest Passages community forums series -- which helps to offset the costs of several reporter and editor positions at the newspaper -- by using the easy options below. Gifts processed in this system are not tax deductible, but are predominately used to help meet the local financial requirements needed to receive national matching-grant funds.
Subscribe to the sports newsletter
Get the day's top sports headlines and breaking news delivered to your inbox by subscribing here.
---