Sports
Moos, Bone to review season
WSU A.D. says they will discuss program during annual meeting
Tue., March 19, 2013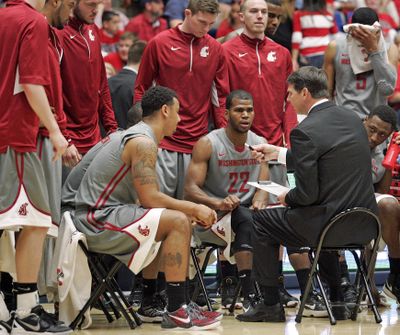 PULLMAN – Washington State athletic director Bill Moos said on his weekly radio show Monday that he plans to meet with men's basketball coach Ken Bone next week to discuss the future of the program.
When asked by a listener if he will retain Bone because his contract runs for another three years, Moos did not answer the question specifically. He said the two will recap the season, discuss recruiting and "chart the course" for the future of the program, which may or may not include discussion about Bone's job status.
Moos typically meets with each coach at the end of their respective seasons to discuss the future and check in to see how they feel things are going. Those aren't conversations that happen during the season, Moos said, "unless there's a question about recruiting or scheduling. This will give us a chance to have a long visit and chart our course."
Moos noted that last year's end-of-season meeting wound up yielding a staff shake-up, with assistant coach Jeff Hironaka being reassigned to an operations role and Ray Lopes being hired as a new assistant.
Bone said after WSU's season-ending 64-62 loss to Washington in the Pac-12 tournament that he's not concerned about his job status.
"I think we've done a good job and decisions will be made, whether it's this year or next year or the following year," said Bone, who has three years remaining on his original 7-year contract signed before the 2009-10 season. "It's out of my control, so I'm not going to worry about things that are out of my control. Just going to keep doing the best I can."
Bone would be owed $2.55 million if terminated this season. The Cougars have a record of 70-65 in Bone's tenure – only four coaches in school history who coached three or more seasons have a better winning percentage. But WSU posted its worst conference record (4-14) this season since 2005-06.
Local journalism is essential.
Give directly to The Spokesman-Review's Northwest Passages community forums series -- which helps to offset the costs of several reporter and editor positions at the newspaper -- by using the easy options below. Gifts processed in this system are not tax deductible, but are predominately used to help meet the local financial requirements needed to receive national matching-grant funds.
Subscribe to the sports newsletter
Get the day's top sports headlines and breaking news delivered to your inbox by subscribing here.
---