Sports
Guata, WSU linemates, prepping hard in offseason
Sat., March 23, 2013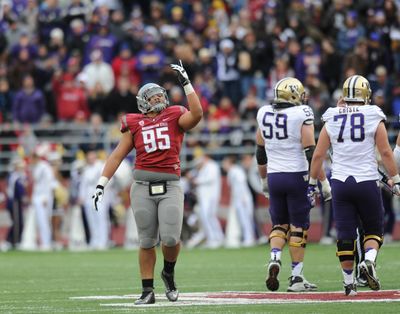 PULLMAN – Ioane Gauta arrived here last fall weighing 320 pounds. He started every game of 2012 at 305 pounds. Now he's a svelte 286, not far from his weight during his volleyball-playing days in high school. It's been quite a physical transformation for the Washington State nose tackle. And it started with a change in mindset. "I think it was just a choice," the senior-to-be said Saturday after WSU's second spring practice. "I chose to be better. I chose to get myself in shape because this is my last year here coming up, so I want to look as good as I can on the film for any chances of making it to the next level. It's all a choice." Gauta, whose full name is pronounced You-WAHN-ay NOW-tuh, goes by an easier-to-pronounce nickname, "Junior." With his energetic style and long hair, the Anaheim, Calif., product quickly established himself as a steady presence in the middle of WSU's defensive line in 2012. But he has grander ambitions for himself and the Cougars in Mike Leach's second season in Pullman, as does his position coach. "He's recommitted himself. A totally new guy. Totally," WSU defensive line coach Joe Salave'a said. "Even though last year he wasn't right in terms of his body makeup, he was still effective. Imagine that now when he's able to move a little more quickly, a little fast twitch with a little power. "That's not a good combination if you're an offensive line." Under the guidance of strength coach Jason Loscalzo, Gauta and 298-pound defensive lineman Xavier Cooper focused during the winter on shedding weight while adding strength and explosiveness. The goal for Gauta is not to just plug the middle and be a run-stopper. Taking his cues from Salave'a, he wants to get to other team's quarterbacks more often than he did last season, when he had three sacks and 81/2 tackles for loss. The same goes for Cooper, a redshirt sophomore, and the rest of the D-line. "The challenge has already been made to these guys: If we're not hounding quarterbacks more than what I think we should, that means we haven't done nothing this offseason," Salave'a said. Gauta and Cooper have gotten the message. They've been two of the defense's strongest leaders because of their work ethic the last few months, linebacker Tana Pritchard said. But it's not just how they work. They're also trying to enjoy their college experience, and help their teammates have fun, too. Cooper stopped to do an elaborate dance after disrupting a play on Saturday. Gauta also joined in on the whooping and gyrating throughout the morning session to spark a defensive unit that showed "a lot of enthusiasm" and "ran to the ball real good," Leach said. "You've got to have fun out here," said Cooper, a Tacoma native. "We're playing a child's game. We're getting (a) free education. Some people don't get to do this. They don't get to be blessed and do what we get to do." In the same vein, Gauta called playing for WSU a privilege. In high school, he lettered in basketball, football, track and field and volleyball, a sport he grew to love while being coached by his dad. Back then, he was 260 or 270 pounds. But after playing quarterback his freshman year, he ballooned to 300 pounds and was moved to the line as a sophomore. He stayed in that weight range at Fullerton Junior College, and it wasn't until recently at WSU that his focus on his body shifted. "I feel a lot different," Gauta said. "I feel like my whole mindset is stronger than it ever was before." A stronger mindset and a leaner physique. Not a bad combination.
Local journalism is essential.
Give directly to The Spokesman-Review's Northwest Passages community forums series -- which helps to offset the costs of several reporter and editor positions at the newspaper -- by using the easy options below. Gifts processed in this system are not tax deductible, but are predominately used to help meet the local financial requirements needed to receive national matching-grant funds.
Subscribe to the sports newsletter
Get the day's top sports headlines and breaking news delivered to your inbox by subscribing here.
---