Sports > Gonzaga basketball
Flurry of Shocker 3-pointers sends Gonzaga home early
March 23, 2013 Updated Sat., March 23, 2013 at 10:48 p.m.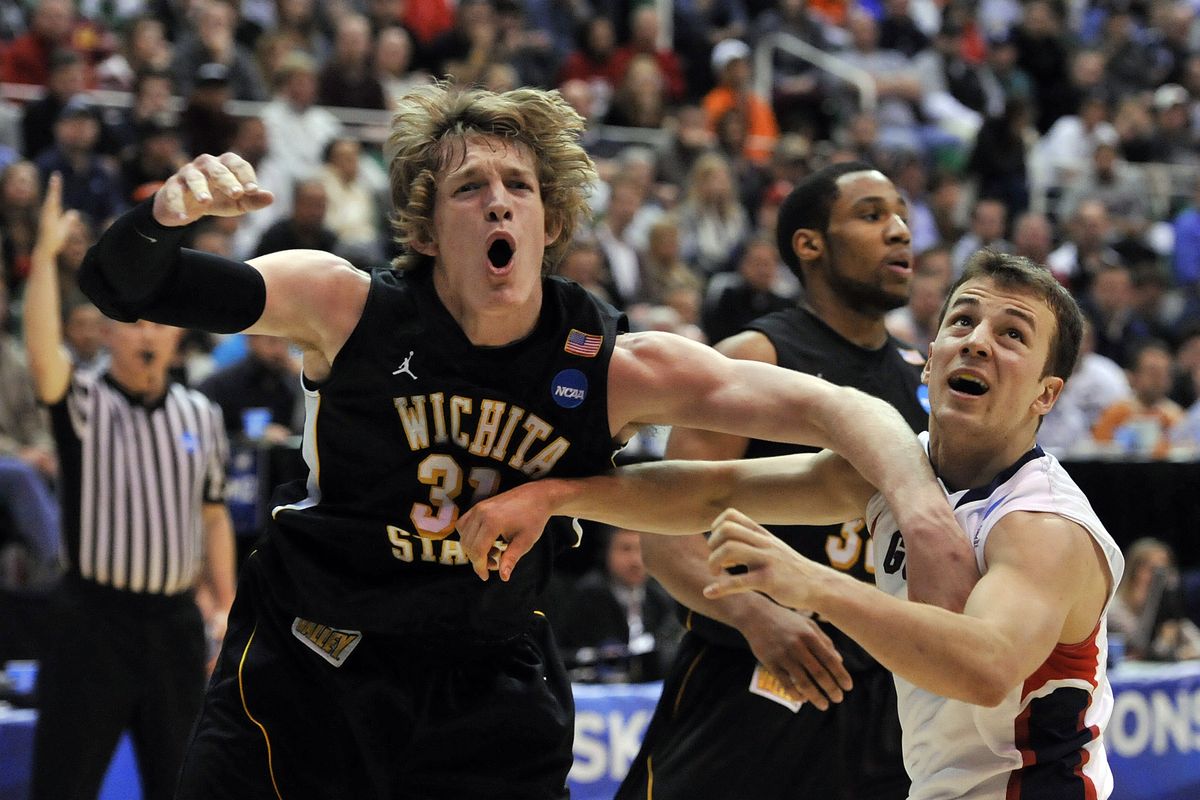 Gonzaga's Kevin Pangos goes low on the block to battle Wichita State's Ron Baker for a rebound in the second half. Pangos didn't get the rebound. He scored 19 points. (Dan Pelle)
SALT LAKE CITY – Gonzaga had been at its best in crunch time all season. The Bulldogs had been outstanding defensively over the last half of the season, earning a label as the best defensive club in Gonzaga's 15-year run of national prominence. But a season with so many milestones and so much post-season promise came to a screeching halt Saturday when ninth-seeded Wichita State buried a string of 3-pointers and the top-ranked and top-seeded Zags didn't have a response in the closing minutes. The Shockers did just that, ending Gonzaga's season with a 76-70 victory in front of 16,060 at EnergySolutions Arena, leaving the Zags stunned and dismissed from the NCAA tournament for the fourth straight season in the round of 32. "I lost it a little bit, just the instant reaction and realizing this was the finish," said senior Mike Hart, who exited with six points and 14 rebounds in perhaps the finest performance of his career. "That's the brutality of the NCAA tournament, how great it can be and how quickly it can all end." The swing of momentum on the court was equally as swift. Gonzaga (32-3) dug out of a 13-point first-half hole – the largest it had faced this season – with a 12-0 run early in the second half that gave the Bulldogs a 49-41 lead. The Shockers (28-8), who move into the Sweet 16 to face the winner of today's La Salle-Mississippi game, started dropping 3-pointers, but Gonzaga held them off initially. Kevin Pangos, after a slow start, made consecutive 3s and the Zags led 58-51 with 6:25 left. It was all Wichita State from there. The Shockers scored on eight consecutive possessions – five 3-pointers, a drive into the lane, a midrange jumper and a pair of free throws – spanning nearly 7 minutes. "Down the stretch it was more about, we just didn't get out on those shooters. I don't know why," Gonzaga coach Mark Few said. "We were over helping a little and we got a little casual on (Cleanthony) Early a couple times. The ones by (Ron) Baker hurt us." Early knocked down a 3 and Baker, a thorn in GU's side all game, followed with another. Carl Hall's jumper gave Wichita State the lead, 62-61, with 3:28 left. Elias Harris, who struggled for the second straight tournament game, made a pair of free throws and Gonzaga had its last lead, 63-62. Baker made two free throws and another 3 from the corner. Kelly Olynyk's jumper pulled GU within two, but Fred VanVleet, who came in averaging 3.8 points, delivered a crushing 3 over David Stockton just before the shot clock expired and Wichita State led 70-65 with 1:25 remaining. "I just saw the clock at about 10 and I tried to give it to Malcolm (Armstead), but they denied him," said VanVleet, who finished with 13 points, well above his 3.8 average. "I tried to crossover and bounced it off my leg. I picked it up and I knew I had to shoot it. I just shot it with confidence." Gonzaga messed up the ensuing inbounds pass and Wichita State took possession. "We usually take it out with our '4' (power forward) but when they're pressing we want our point guard (Stockton) taking it out," Few said. "We just got confused and our point guard was stepping out of bounds and our '4' was throwing it in." The Shockers made six free throws in the final 39 seconds to complete the upset. Gonzaga struggled offensively over the final 5 minutes, scoring just four points until Stockton made a pair of layups in the final 33 seconds when Wichita State was content to guard the 3-point line with a comfortable lead. "They gave us that first punch (in the first half) and we responded," Hart said. "We were pulling away and I thought it would be our game. To have it come down the way it did, down the stretch. We've been so great in crunch time; it's disappointing." Wichita State, 2 of 20 on 3-pointers in a win over Pittsburgh on Thursday, made 14 of 28 from distance. Baker and Early each made four 3s and each had 16 points. The Shockers had a stunning 34-7 edge in bench points. Olynyk led Gonzaga with 26 points and Pangos added 19 points and five assists. Harris scored 12 points, but made just 2 of 8 shots. "It was silent (in the locker room)," said Pangos, who finished with 19 points and five assists. "We had goals of going deeper in the tournament. I didn't think this team would lose so early. Everyone was just in shock."
Local journalism is essential.
Give directly to The Spokesman-Review's Northwest Passages community forums series -- which helps to offset the costs of several reporter and editor positions at the newspaper -- by using the easy options below. Gifts processed in this system are not tax deductible, but are predominately used to help meet the local financial requirements needed to receive national matching-grant funds.
Follow along with the Zags
Subscribe to our Gonzaga Basketball newsletter to stay up with the latest news.
---