Sports
Blanchette: LSU's Plaisance has tale similar to Olynyk's
Sat., March 30, 2013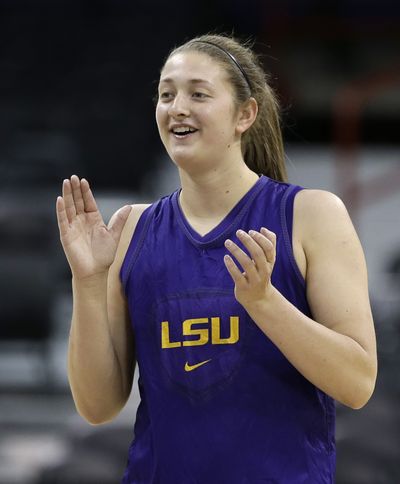 Stop me if you've heard this one.
Tall, talented player shows up on campus with the baggage of considerable expectations. Multiskilled. Coach's kid, with that basketball creature's innate feel for the game. Three-point range to go along with a post game. Infinite possibilities.
And then… Not much. Mop-up minutes, behind accomplished, veteran post players. Indifferent development. A year of wheel-spinning. Another. Questions about unfulfilled potential. Doubt about being in the right place.
So…
A crossroads. A challenge. Recommitment. Some long hours of sweat equity. And an eye-opening transformation that makes the player not just the fulcrum of the team's success, but creases the national consciousness.
The Kelly Olynyk Story, right?
Well, yes. But the Theresa Plaisance Story, too.
And it's the story that still has legs, what with Plaisance and the LSU Tigers among the four teams here for the Spokane Regional of the NCAA women's basketball tournament.
The Tigers play Pac-12 co-champion Cal in tonight's 8:32 Arena nightcap, one of four No. 6 seeds alive in the Sweet 16. Outside of 12th-seeded Kansas sneaking through, that's about as funky as the women's tournament gets.
The men's bracket is much more unruly, to considerable dismay locally. But even Gonzaga's early exit from the tournament couldn't stain the remarkable rise of Olynyk, who went from an out-of-sight-out-of-mind redshirt year to All-American prominence and the likely on-ramp to the NBA.
No player in college basketball remade himself so dramatically.
Unless it was Theresa Plaisance.
"I've not been around another player," said LSU coach Nikki Caldwell, "who's such a big jump in her game."
That can happen – when the rowels make their bite.
The 6-foot-5 junior arrived at LSU with spectacular credentials – McDonald's All-American, twice Louisiana's player of the year, a gold medal from the FIBA U18 world championships.
Which she parlayed into all of 99 minutes of court time her first year.
That was bumped to 11 minutes a game as a sophomore, but she was taking on the look of a career role player – and not just because the Tigers had a deep and capable front line, led by eventual WNBA first-round pick LaSondra Barrett.
"My body wasn't where theirs were, and my experience level definitely wasn't," Plaisance said. "It was frustrating for me to come in as one of the best kids in the country, expected to do a lot, and then not live up to all this hype."
In the local version of this story, Olynyk – stuck behind Elias Harris and Robert Sacre – weighed transferring. A redshirt year was proposed instead, and Olynyk engaged as few redshirts do.
The situation for Plaisance – and the Tigers – was more urgent.
"I guess I considered (transferring), but it was more like a 'What if?' " she said. "I love this team and school so much. Just hearing the fight song gives me the chills. It was more just thinking, 'What if I was somewhere else? Would I be playing more?' "
And with graduation taking more than 60 percent of the Tigers' scoring and rebounding, there was no time for a development year.
Just a summer.
"She knew that it was her time," said Caldwell, who sat her down for a talk just to reinforce the point. "She lost weight. She wasn't afraid to feel the grind, the pain, that it takes to transform your body – which ultimately transformed her mentally. Because now she's mentally tougher than when I first got here."
Indeed, Caldwell – who recruited Plaisance for UCLA before taking the LSU job in 2011 – had once assessed her as a "lazy talent."
No more.
She conditioned with teammate Ann Pedersen, whose hare's pace allowed Plaisance no let up. Assistant coach Tony Perotti put her through aggressive post drills she had "shied away from." And when more motivation was needed, Plaisance could always turn to her mother, DoBee, the head coach at Nicholls State, "whose expectations of me have always been high."
The results have been startling: 17 points and eight rebounds a game, All-SEC, the league leader in blocked shots.
Not that it all came easily.
"I hadn't started a game for two years," she said with a laugh. "Before the first game this season, we worked on jump ball and I didn't know where to go. I was clueless about where to line up."
With the Tigers down to just seven players – eight if guard Jeanne Kenney is cleared to play after her concussion – Plaisance often doesn't sit down, and can line up just about anywhere.
"She's emerged as one of the best 6-5 players in the country," Caldwell said. "She can do everything. And I've played her at the point, the 2, the 3, the 4, the 5. Not a lot of 6-5 kids can do that."
Fewer still have to reinvent themselves. Theresa Plaisance has some company in that regard, but a story that's all her own.
Local journalism is essential.
Give directly to The Spokesman-Review's Northwest Passages community forums series -- which helps to offset the costs of several reporter and editor positions at the newspaper -- by using the easy options below. Gifts processed in this system are not tax deductible, but are predominately used to help meet the local financial requirements needed to receive national matching-grant funds.
Subscribe to the sports newsletter
Get the day's top sports headlines and breaking news delivered to your inbox by subscribing here.
---