Sports
Burke leads Michigan rally over Kansas in OT
Sat., March 30, 2013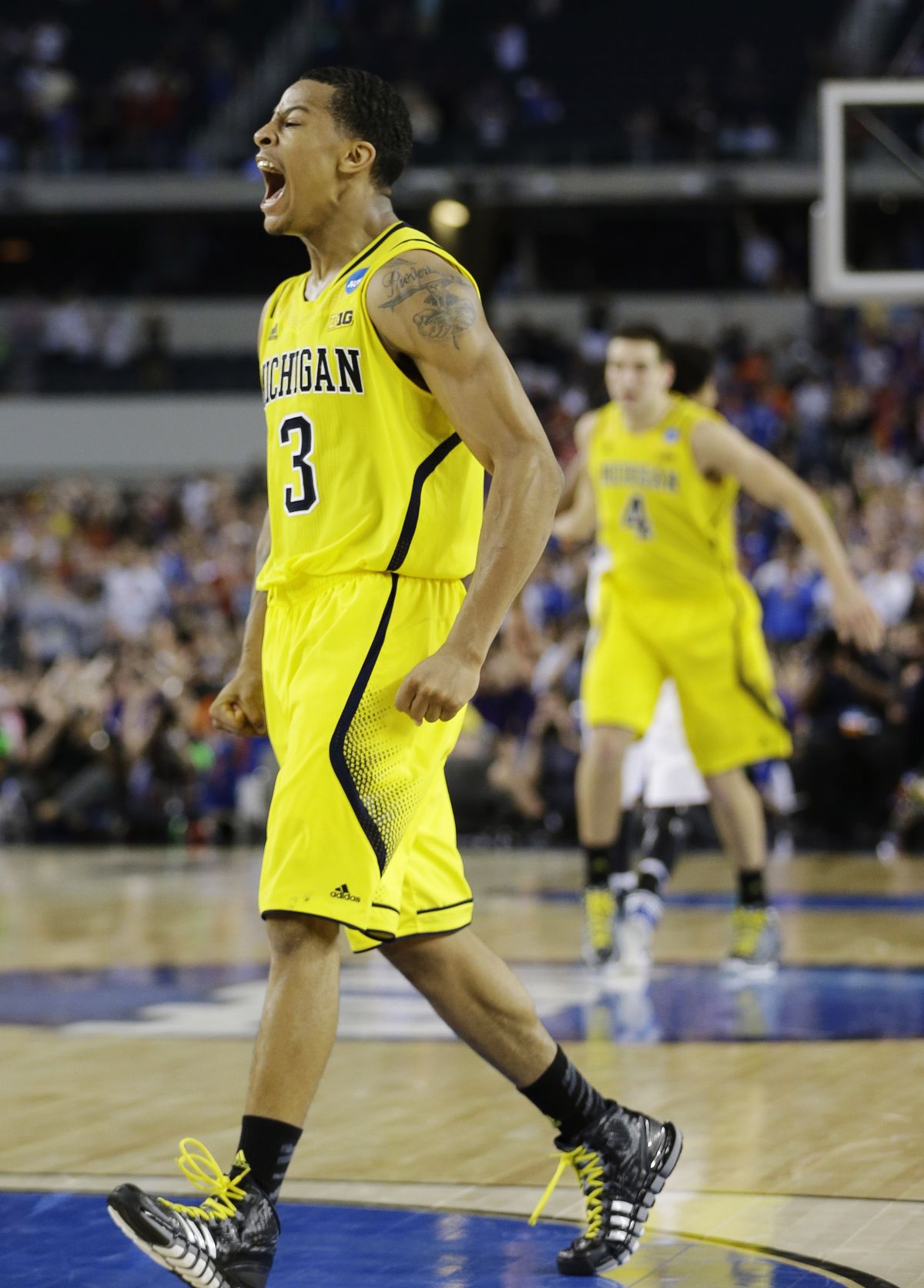 Michigan's Trey Burke yells after his tying 3-pointer. (Associated Press)
ARLINGTON, Texas – Trey Burke never doubted he could lead Michigan to its deepest NCAA tournament run since the Fab Five era.
Not after a scoreless first half. Not when the Wolverines trailed top-seeded Kansas by 14 with less than 7 minutes left – or by five with 21 seconds left.
And definitely not when he got the ball in his hands and the seconds draining away.
Burke scored all 23 of his points in the second half and overtime, including a long, tying 3-pointer in the final moments of regulation as Michigan rallied to beat Kansas 87-85 in the South Regional semifinals Friday night.
"We never lost faith out there," Burke said. "We stuck it out together."
Ben McLemore had 20 points to lead the Jayhawks (31-6), who looked to be on their way to a third straight regional final before Michigan's improbable rally. Instead, they became the third No. 1 seed to fall in this tournament, joining Gonzaga and Indiana.
"Well, this will certainly go down as one of the toughest games that obviously we've been a part of and I've been a part of," Kansas coach Bill Self said. "But props to Michigan for making all the plays late."
That's for sure.
The fourth-seeded Wolverines (29-7) were down five when Tim Hardaway Jr. missed a 3-pointer with 35 seconds left, but Glenn Robinson III won a scramble for the ball and hit a reverse layup to force Kansas to win the game at the free-throw line.
The Jayhawks couldn't do it. Burke's tying shot – he pulled up from well beyond the arc just left of the key – came with 4.2 seconds left after Elijah Johnson missed a free throw and Michigan got the rebound.
Moments earlier, with 21 seconds remaining, Johnson had hit two from the line to keep the Kansas lead at five. Burke had scored on a layup to get Michigan back to within three.
"We never had the mind-set that we were going to lose the game," Burke said. "When we were down 14, we knew anything could still happen. It's March, anything can happen."
Michigan went to back-to-back championship games a generation ago with the Fab Five led by Chris Webber, Juwan Howard and Jalen Rose.
But the folks in Ann Arbor will be talking for years about the shot by Burke under the huge video board at Cowboys Stadium, just down the road from where Howard and Rose played their last game together with Ray Jackson and Jimmy King in a regional final loss against Arkansas in 1994.
The Wolverines will play the Florida in the regional final Sunday.
"Just to be able to get this program back to the Elite Eight, it feels good," Burke said. "But we want to go further."
The lead changed hands five times in overtime – the first OT game of the tournament – the last when Mitch McGary, who led Michigan with 25 points and 14 rebounds, hit a short jumper with Johnson in his face to put Michigan ahead 83-82.
The Jayhawks got a stop and had about 9 seconds to tie or win, but a jumbled possession ended with Naadir Tharpe missing a running jumper at the buzzer.
"We played like we were trying to hold onto something instead of just continuing to play," Johnson said.
Johnson, who picked up three fouls in just three minutes of playing time in the first half, gave Kansas its biggest lead at 68-54 with a 3-pointer from the corner with just under 7 minutes left in regulation.
Local journalism is essential.
Give directly to The Spokesman-Review's Northwest Passages community forums series -- which helps to offset the costs of several reporter and editor positions at the newspaper -- by using the easy options below. Gifts processed in this system are not tax deductible, but are predominately used to help meet the local financial requirements needed to receive national matching-grant funds.
Subscribe to the sports newsletter
Get the day's top sports headlines and breaking news delivered to your inbox by subscribing here.
---