Sports
Spokane Regional notebook: Coaches bring the class
Sat., March 30, 2013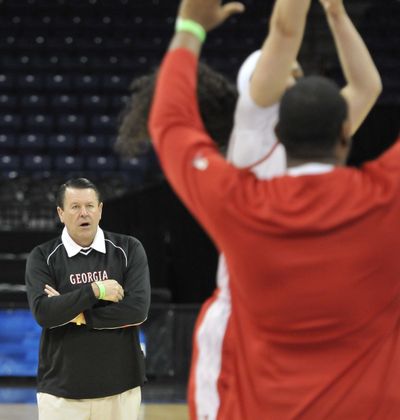 Two legendary women's college basketball coaches took turns telling stories about each other and expressing their respect for one another's programs during press conferences Friday at the Arena in preparation for tonight's Sweet 16 NCAA tournament matchups.
Georgia coach Andy Landers picked up his 900th career win this season. Stanford coach Tara VanDerveer is sitting at 894.
"I've known Andy for a long time," VanDerveer said. "We see each other on the recruiting trail and everything."
Landers has a cattle ranch near Athens, Ga., something he calls his hobby.
"Some people play golf, some people run, some people do water sports," Landers said. "This is what I do. It is my daily recess."
VanDerveer visited Landers once and he showed her his ranch where, at any time, he could have 80 to 100 head of cattle. He discovered she's a vegetarian.
"So I'm not helping his business at all," VanDerveer said.
They share a love for dogs – he the border collie variety and she retrievers and Labs.
"USA Today ran a real good article on dogs and they (ranked) the intelligent dogs, and retrievers were close to the bottom. It was an excellent article," Landers said, smiling. "And border collies were No. 1 in terms of intelligence."
Landers pulled out an anecdote about VanDerveer teaching herself to play the piano.
"I think that's probably her recess," Landers said. "She takes up piano and just falls in love with it. And the next thing you know I'm talking to her and she's got like a grand piano."
After VanDerveer had been playing for about a year, the coaches had occasion to meet.
"She's got like wraps or casts on both hands," Landers said. "She's played the piano so much that she's actually injured herself. That's her. She's going to do things the right way. She's going to get it right. She's going to be committed to it until she gets it right, come heck or high water, tape or cast."
Sweet 20
Both Landers and VanDerveer have their teams in the Sweet 16 for a 20th time.
VanDerveer, who started her head-coaching career at Idaho (1978-80), said she was 23 years old when she took her first team to the Sweet 16 at Ohio State.
"It seems like it happened fast," VanDerveer said. "This is what you work hard for. I remember when I first got to Stanford the only games that were on television were the regional final games and then the national championship games. There was no television during the whole season. And at the time I didn't even get ESPN in my house so I had to watch it at the gym. My brother was visiting me my first year at Stanford and I just said 'Someday we're going to be in this game.' "
Stanford is seeking a sixth straight trip to the Final Four.
California dreamin'
Cal coach Lindsay Gottlieb paused briefly before answering the inevitable question: What would it be like to face Stanford on Monday night in what would be the biggest meeting between the two programs?
Then she tried hard not to give the predictable response.
"I said from the beginning when the bracket came out and all the questions were about Stanford," said Gottlieb, the Pac-12 Media Coach of the Year. "And I said, 'Hey, if we end up playing them, that means we're in the Elite Eight and they're in the Elite Eight, and wouldn't that be really amazing?' "
The teams split their season series, each winning on the other's home court.
In the eyes of LSU coach Nikki Caldwell, the notion of top-to-bottom Southeastern Conference superiority goes beyond the football field.
Caldwell, who coached at UCLA for three years before moving to Baton Rouge in 2011, described the SEC as a conference "that has beat up on each other," while the Pac-12 "when I was there, you had a lot of teams where it was like up and down."
Caldwell, a former player at Tennessee, added that "you cannot go and expect to win at Florida or even go to a Missouri … You can't go through your schedule and just make checks. It's just not possible."
The biggest difference, Caldwell said, is physicality, with more post players "that can really grind on the low block."
And while she saw that a lot of Pac-12 teams "who are finding their way," that didn't apply to No. 1 seed Stanford.
"They are their own beast," Caldwell said.
The rise of Cal women's basketball has been so uplifting, they made a YouTube video about it.
Entitled "Started from the Bottom," the video stars the players themselves, who created the piece even as March Madness unfolded.
"It was like … about to get real serious," said guard Eliza Pierre, who handled the ball on the project but got assists from teammates, coaches and even the team video guy.
"Just to have the coaches approve this and say, we want you guys to have fun, we want the world to see you guys as a team," Pierre said.
Said teammate Talia Caldwell, "I was just happy we didn't do a cliché Harlem Shake."
Local journalism is essential.
Give directly to The Spokesman-Review's Northwest Passages community forums series -- which helps to offset the costs of several reporter and editor positions at the newspaper -- by using the easy options below. Gifts processed in this system are not tax deductible, but are predominately used to help meet the local financial requirements needed to receive national matching-grant funds.
Subscribe to the sports newsletter
Get the day's top sports headlines and breaking news delivered to your inbox by subscribing here.
---