Sports
Chiefs are fastest in the West
First in conference to advance in playoffs
Sun., March 31, 2013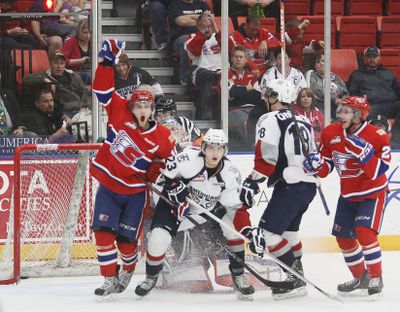 KENNEWICK – The other Western Conference playoffs teams will continue to battle it out while the Spokane Chiefs rest and wait.
The Chiefs became the first Western Hockey League team from the West to clinch a spot in the second round Saturday night when Eric Williams stopped 36 shots and captain Brenden Kichton had one goal and one assist during a 3-1 win over the Tri-City Americans at the Toyota Center.
Fourth-seeded Spokane took the best-of-seven series 4-1, winning two of three games on the road and avoiding a sixth or seventh game in Spokane.
Kichton assisted on Mike Aviani's goal in the first period and scored a power-play goal in the second period as the Chiefs took a 2-0 lead into the final 20 minutes. Spokane held on, despite being outshot 37-34, coming up short on a third-period penalty shot and finishing 1 for 7 on the power play.
"Getting the two-goal lead was huge," Chiefs coach Don Nachbaur said. "We weren't very good in a lot of areas, but we found a way to win."
"We kind of sat back a little bit again in the third and they took it to us for a bit, but we battled through it," said Williams, who played every minute in the series.
All four Western Conference series entered the night at 3-1, but Portland, Kamloops and Seattle all lost to force at least a sixth game in their series. Until those series end, the Chiefs won't know their second-round opponent.
"It gives us an opportunity to rest," Nachbaur said. "We didn't want to go back home and play two games."
The Chiefs struck first on Aviani's goal at 14 minutes, 4 seconds of the first period, assisted by Kichton and Connor Chartier. Aviani was standing in front of the goal when Kichton fired a pass in his direction. Aviani redirected the pass midair with his stick, deflecting the shot past Troy Trombley.
"I got hit after the pass, so I didn't see the whole effect," Kichton said.
The period ended with three penalties by the Americans and one by the Chiefs. Spokane briefly had a 5-on-3 power play.
The Chiefs had another power-play chance early in the second period but came up empty to make them 0 for 5 to that point. Late in the man-advantage, Williams stopped Lucas Nickles on a short-handed breakaway.
Kichton, with assists from Reid Gow and Mitch Holmberg, took advantage of the next power-play chance, scoring 30 seconds after Brian Williams was whistled for hooking at 7:20.
"I got a play up top, I saw a good shooting lane and I was fortunate it went in," Kichton said. "There was a good screen out front."
The Chiefs went nearly 9 minutes without a shot to open the third period. Soon after, Alessio Bertaggia was taken down on a breakaway and was awarded a penalty shot. Trombley stopped the chance.
"You can't get any better chance than that to seal the deal, and we didn't do it," Nachbaur said.
Malte Stromwall ended Williams' shutout bid with 9:22 left, but Bertaggia atoned for his penalty miss by scoring an insurance goal at 15:09.
The Americans pulled Trombley for the final 4 minutes, without success.
"We came in prepared and we worked hard, and I think we got the result we deserved," Williams said.
Local journalism is essential.
Give directly to The Spokesman-Review's Northwest Passages community forums series -- which helps to offset the costs of several reporter and editor positions at the newspaper -- by using the easy options below. Gifts processed in this system are not tax deductible, but are predominately used to help meet the local financial requirements needed to receive national matching-grant funds.
Subscribe to the sports newsletter
Get the day's top sports headlines and breaking news delivered to your inbox by subscribing here.
---