Sports
Wichita State upsets OSU 70-66 for Final Four trip
Sun., March 31, 2013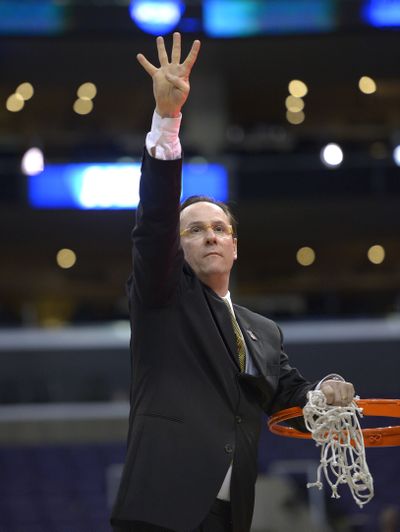 LOS ANGELES – Cleanthony Early kept stealing glances down at the hat in his hands while he waited for his turn to climb the stepladder, scissors in hand. The Wichita State forward seemed stunned at the words embroidered on his brand new ballcap: "Final Four Atlanta."
"It's crazy. I still can't believe we're here," Early said. "You try to expect it, but you expect a lot of things that don't happen. This really happened."
Believe it. Wichita State is going to Atlanta, and these Shockers are no longer a surprise after the way the tenacious ninth seeds held off mighty Ohio State in the West Regional final.
Malcolm Armstead scored 14 points, Fred Van Vleet bounced in a big basket with 1 minute left, and Wichita State earned its first trip to the Final Four since 1965 with a 70-66 victory over the Buckeyes on Saturday.
Van Vleet scored 12 points as the Shockers (30-8) followed up last week's win over top-ranked Gonzaga with a nail-biting victory over the second-seeded Buckeyes (29-8), whose 11-game winning streak ended one short of their second straight Final Four.
Wichita State's 20-point lead in the second half dwindled to three in the final minutes, but several Shockers stepped up with big plays to stop the surge, heeding coach Gregg Marshall's halftime command to "play angry."
All that anger turned into a joyous postgame party at midcourt, though the Shockers realize they've got more work to do.
Wichita State is just the fifth team seeded ninth or higher to reach the Final Four since seeding began in 1979, but the second in three years following 11th-seeded VCU's run in 2011.
"Last year we were watching all this on television," said Early, who scored 12 points despite spraining his ankle in the second half. "Now I'm looking at a hat that says 'Final Four Atlanta' with my team on it. … It feels good, and it feels even better that I could experience it with these guys who had to struggle so hard to get here."
Wichita State roared to a 20-point lead with 11 minutes to play after Ohio State played an awful first half, but LaQuinton Ross scored 15 of his 19 points after halftime, leading a ferocious rally that got the Buckeyes within three points in the final minutes.
Tekele Cotton hit a clutch 3-pointer for Wichita State with 2:20 left and grabbed a key offensive rebound moments later, allowing VanVleet to score on a shot that bounced all over the rim before dropping.
Ron Baker and Cotton hit last-minute free throws to secure the second Final Four trip in Wichita State history and a school-record 30th win.
"We're happy, but I'm still shocked," said Carl Hall, the big man who scored eight points and led the Shockers' strong defensive effort. "We've got a team full of fighters. I brought them all together near the end and said, 'No matter what happens, I love y'all.' We had to fight so hard. We've got each other's backs, and it's hard to beat a team that's got five guys who work together like us."
Deshaun Thomas scored 21 points after missing nine of his first 12 shots for Ohio State.
Local journalism is essential.
Give directly to The Spokesman-Review's Northwest Passages community forums series -- which helps to offset the costs of several reporter and editor positions at the newspaper -- by using the easy options below. Gifts processed in this system are not tax deductible, but are predominately used to help meet the local financial requirements needed to receive national matching-grant funds.
Subscribe to the sports newsletter
Get the day's top sports headlines and breaking news delivered to your inbox by subscribing here.
---