News > Spokane
'Knights of Badassdom' has big-picture problems
Fri., May 3, 2013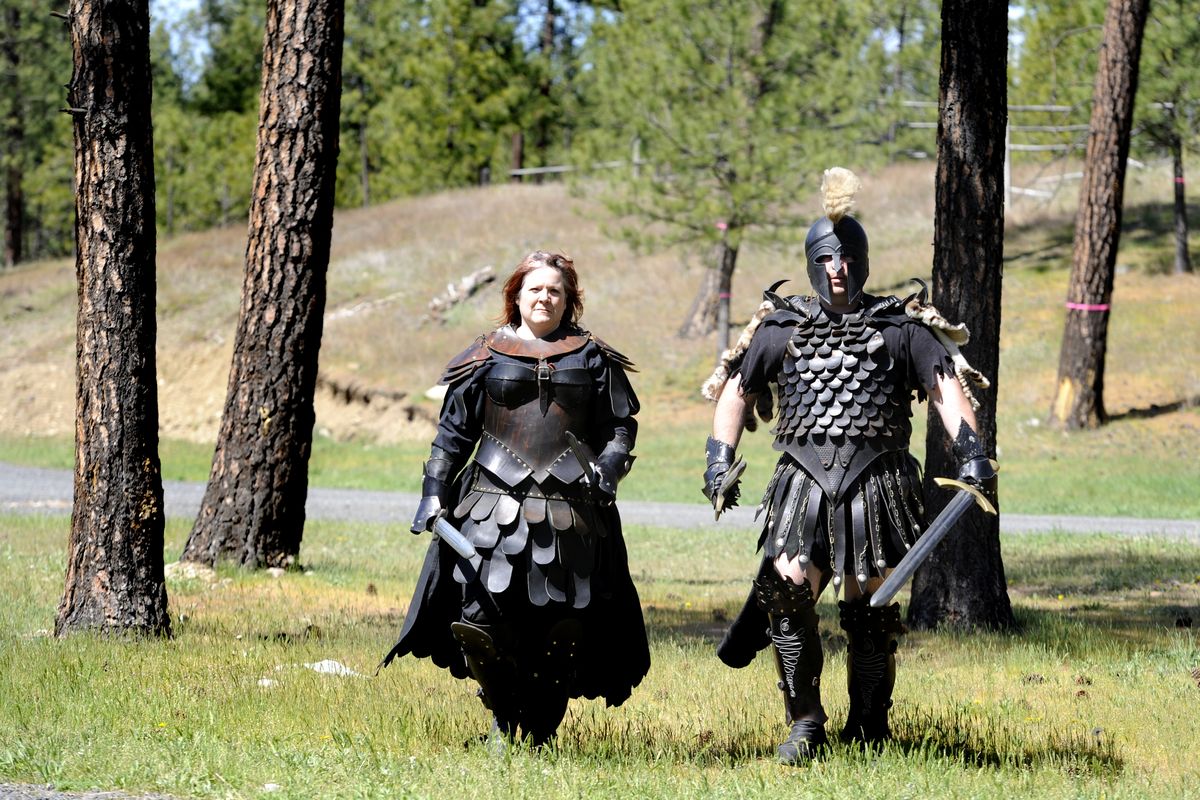 Tara and Alex Mickschl wear some of their handmade costumes in the woods of Riverside State Park on Wednesday. The Mickschls were extras in the movie "Knights of Badassdom," which was filmed in the park in 2010. (JESSE TINLSEY)
In July 2010, more than 100 warriors formed armies in the woods surrounding Spokane.
They didn't invade the city and likely couldn't have gotten far with their foam swords.
But there was – and still is – real booty at stake. Millions of dollars.
In the three years since "Knights of Badassdom" was filmed mostly on location at Riverside State Park, the promising Hollywood buzz about a film many thought could become the Spokane movie industry's biggest commercial success since the 1993 hit "Benny and Joon" has turned to skepticism.
At first, the movie generated mostly positive publicity thanks largely to the unveiling of its trailer at one of the country's most prestigious comic conventions in 2011 and a cast that includes several rising stars. The trailer has been viewed nearly 4 million times on YouTube.
The comedy thriller is about a group of role-playing war gamers known as LARPers (live action role-playing game enthusiasts), who accidentally summon an actual succubus (that's a lady demon) who wreaks havoc among the pretend armies from centuries past.
But creative differences over final editing have delayed the film's expected 2012 theatrical release, and there's a possible dispute among financial backers as well. Nonetheless, backers say progress continues to be made.
Director Joe Lynch told an audience at the 2011 San Diego Comic-Con that at one point during the filming he thought: "Oh my God, we're making 'Braveheart' with foam swords."
Film producers say that despite the delay and other production issues they believe the $6 million movie will be a success.
Wade Bradley, CEO of IndieVest Pictures, the Los Angeles company that produced the film, said distribution companies have expressed interest in buying the film, which could be in movie theaters this year.
"There's a tremendous amount of interest," Bradley said. "We anticipate a theatrical release."
But sparked in part by a cryptic tweet on Twitter from Lynch earlier this year, rumors have swirled on the Internet in recent months predicting that the delay in finishing the film would diminish the movie from cult-film status to straight-to-DVD flop. And allegations about the financing of the film were raised by a complaint filed against IndieVest by the Financial Industry Regulatory Authority in October.
Lynch tweeted "#notmycut" in March. That has been interpreted by the "Badassdom" fans to mean he lost control of the film and is unhappy with the finished product. Attempts made to reach Lynch were unsuccessful.
Adam Boyd, the film's second assistant director, said he fears that the film's fan base has soured.
"I thought for sure this film was going somewhere," said Boyd, also the chairman of the Spokane Arts Commission. "It's just really unfortunate that the politics really held this film back."
IndieVest replaced the original production team in 2011. Bradley said Lynch worked with both teams and last worked on the movie late last year.
"Sometimes filmmakers go out and the team doesn't capture what they intended to, so adjustments are made," he said. "We brought on a new team that finished the edit."
He added that few directors have the last say on a final cut.
"That's 99.9 percent of directors," Bradley said. "They just don't tweet it."
Bradley denied Internet rumors that the final version of the film is only 70 minutes. It is a full-length film at 85 minutes, he said.
He added that the Financial Industry Regulatory Authority complaint is "completely false."
Rich Cowan, an executive producer of the film, is one of the few locals who have seen a full version of the film, though he hasn't seen the final cut.
"It's a fun ride," said Cowan, a partner of North by Northwest Productions, which was hired to produce the film. "Once it gets out, it will definitely have an audience."
Bradley said problems with the original production team weren't related to North by Northwest, and he praised the Spokane company's work on the film.
About 100 extras – many from Spokane – were recruited from Renaissance fairs and LARPing and other groups.
"We were in Spokane doing prep and we were just driving around looking for locations and there were 17 dudes out there LARPing their ass off and we're like, 'Stop the car right now,' " Lynch said during the panel discussion about "Badass" at the San Diego Comic-Con in 2011. The discussion is posted on YouTube.
Alex Mickschl, a Spokane firefighter, crafted the leather armor and accoutrements for many lead characters. He and his wife, Tara Mickschl, also worked many nights as extras on the film.
"Everybody was really excited about it coming out," said Tara Mickschl, who helps lead the Spokane Renaissance Faire each fall in Green Bluff. "I don't want to get my hopes up."
The actors and Lynch praised the local actors during the panel discussion at Comic-Con. Lynch stressed that his goal was to celebrate LARPers, not mock them.
"Those LARPers were the best scene partners in the world," said Michael Gladis, who plays King Diamond in "Badassdom," at Comic-Con. "They were right there with us. They had so much energy and they kept it all day long. They're going to be the soul of the film in a lot of ways."
Dave McClave, a local media producer, was an extra and is visible several times in the trailer.
"I wore 80 pounds of armor and ran around fighting demons until I finally got killed after 16 days of shooting," he said.
He started a "Badassdom" fan website and is worried that a movie with so much potential may not get the audience it deserves.
"It's an epic production," McClave said. "It's probably the single-coolest movie ever made in Spokane."
Local journalism is essential.
Give directly to The Spokesman-Review's Northwest Passages community forums series -- which helps to offset the costs of several reporter and editor positions at the newspaper -- by using the easy options below. Gifts processed in this system are not tax deductible, but are predominately used to help meet the local financial requirements needed to receive national matching-grant funds.
Subscribe now to get breaking news alerts in your email inbox
Get breaking news delivered to your inbox as it happens.
---