Obituary: Hashimoto, Hitoshi "Hito"
Age 86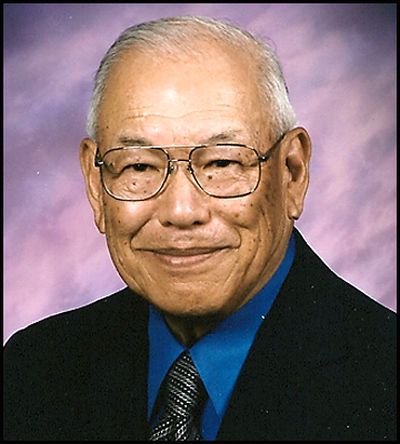 HASHIMOTO, Hitoshi "Hito" (Age 86) Beloved Husband, Father and Grandfather Hito was born on July 25, 1926 in Fresno, CA to Masashi and Mitsuno Hashimoto.
He passed away on April 14, 2013 in Spokane.
Hito lived with his family in Fresno, California where they farmed until 1940.
The family then moved to Spokane, WA for a brief period before settling in Ritzville, WA, where the family ran a laundry and dry cleaning service.
Hito graduated from Ritzville High School in 1944.
He then entered military service in 1945 as a member of the Army Occupation Force in Germany.
He was employed by Great Northern Railroad in 1947.
Hito was married to Dorothy Emata in 1956.
They shared two sons: Troy, born in 1962 and Riki, born in 1963.
He retired from Burlington Northern Railroad in 1988 after 41 years of service.
Hito enjoyed golf, judo, mushroom hunting, and was an avid gardener.
Hito loved watching his grandkids play baseball, hockey and Hoopfest from the early years all the way through high school.
You will be missed at the field and at the rink.
A special thanks to Spokane Home Program (Dialysis Center) especially Jackie, Donna, and Amy for taking care of Hito these past few years, your kindness and friendship is greatly appreciated.
Hito was a member of Highland Park United Methodist Church, the J.A.C.L, Seiki Kan Judo, Transportation Communication Union, the Spokane Nisel Golf Club and the United States Judo Federation.
Hito was preceded in death by his brothers Nao Hashimoto (1946) and Ted Hashimoto (1993) and his sister-in-law Miye Hashimoto (2011).
He is survived by his wife Dorothy Hashimoto; sons: Troy and Riki (Shiela); grandsons Brice and Dillon; and his sister Joanne Masuda (Mike) of Texas.
A Memorial Service will be held on Saturday, May 11, 2013 at 4:00PM at Highland Park United Methodist Church, 611 S. Garfield St., Spokane, WA 99202.
In lieu of flowers, the family requests donations be made to Highland Park United Methodist Church.
---