Sports
LeBron saves Heat at buzzer of Game 1
Thu., May 23, 2013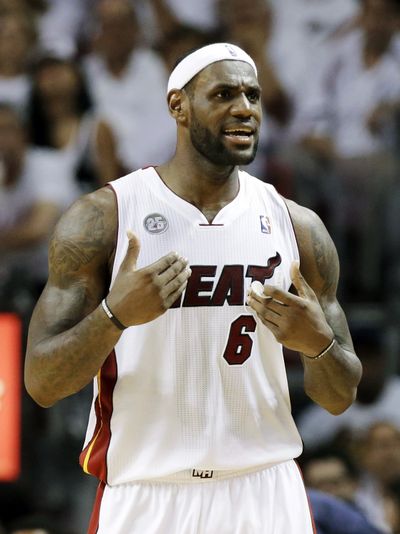 MIAMI – LeBron James caught the inbounds pass, changed direction and immediately attacked the rim.
There was no one in his way.
There was no stopping him, either.
James made a layup as time expired in overtime, capping a 30-point, 10-rebound, 10-assist effort as the Miami Heat found a way to outlast the Indiana Pacers 103-102 in a wildly back-and-forth Game 1 of the NBA Eastern Conference finals Wednesday night. There were 18 ties and 17 lead changes, the last two of those coming in the final 2.2 seconds.
"Two teams fought hard," James said. "We were able to make one more play."
If this is how this series is going to go, then get ready for a classic between teams that absolutely wanted to face the other with a trip to the NBA Finals on the line.
Paul George saved the Pacers at the end of regulation with a 32-footer with 0.7 seconds left, and then made three free throws with 2.2 ticks left in overtime to give Indiana a one-point lead. George pumped his fist gently after the third free throw, then extended his index finger skyward as the teams retreated to their benches to get ready for the final play.
He just left James too much time, and the Pacers left their best shot-blocking option on the bench. Roy Hibbert wasn't on the floor for the final play, and without a 7-foot-2 barrier to contest him, James made the winner look easy.
"Two great teams just throwing punch for punch," Indiana coach Frank Vogel said. "Our spirit is very high, very confident. We know we can play with this basketball team."
Vogel said he left Hibbert off the floor for the final play out of concern of what defending champion Miami would do with Chris Bosh in that scenario.
Afterward, he acknowledged he might have different thinking next time.
"I would say we would probably have him in next time," Vogel said.
Game 2 is Friday night in Miami.
Wade scored 19 points, Bosh had 17 and Chris Andersen had 16 on 7-for-7 shooting for Miami.
George scored 27 for the Pacers, who got 26 from David West and 19 from Hibbert.
Local journalism is essential.
Give directly to The Spokesman-Review's Northwest Passages community forums series -- which helps to offset the costs of several reporter and editor positions at the newspaper -- by using the easy options below. Gifts processed in this system are not tax deductible, but are predominately used to help meet the local financial requirements needed to receive national matching-grant funds.
Subscribe to the sports newsletter
Get the day's top sports headlines and breaking news delivered to your inbox by subscribing here.
---
Subscribe and log in to the Spokesman-Review to read and comment on this story