News > Spokane
Spokane man indicted in ricin threat
Thu., May 23, 2013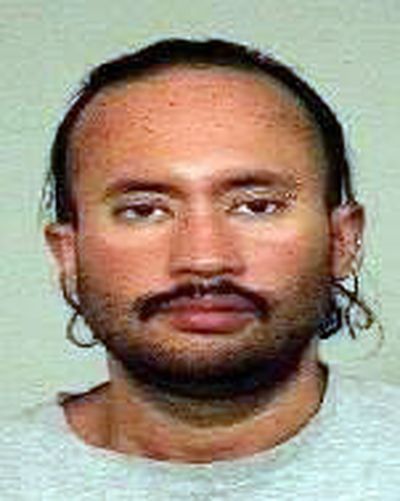 A 38-year-old janitor was indicted Wednesday by a federal grand jury in connection with mailing two ricin-laced letters in Spokane.
Matthew R. Buquet is accused on one count of mailing threatening communication to U.S. District Judge Fred Van Sickle.
The alleged threat was made in one of the two letters seized by U.S. Postal Service authorities during routine screening at a mail facility in Spokane on May 14.
Buquet appeared late Wednesday afternoon before U.S. Magistrate Judge Cynthia Imbrogno, who entered a not guilty plea on Buquet's behalf. The magistrate ordered a bail hearing for Tuesday afternoon. If convicted, Buquet faces up to 10 years in prison and a $250,000 fine.
On Saturday, federal agents and Spokane police raided Buquet's second-floor unit in the Osmun Apartments, 1818 W. First Ave. Some of the agents wore hazardous materials gear to protect against possible contamination from ricin, a deadly poison made from the castor bean plant.
At the time, law enforcement officials said no arrests were made.
Buquet is a registered sex offender from a 1998 conviction for indecent liberties, according to the Spokane County Sheriff's Office.
In a biography posted on a social media site called GetGlue, Buquet wrote that he was born in Bogota, Colombia, was adopted as a child and later went into foster care. He also said he attended school in Michigan, participated in sports and loved music.
According to public records, Buquet works for ABM Janitorial Services. He said in his biography that he prides himself on being a good worker and enjoys his job. He also claimed he has worked as a volunteer locally.
"All I want in life is simple: a simple apartment, a little spending money, Netflix, Internet and my music – that is all," he said.
A neighbor who lives across the hallway from Buquet said on Monday that he had seen the occupant come and go, but that he was generally a quiet neighbor who did not draw suspicion.
During Wednesday's appearance, Imbrogno ordered a bail report prior to a bail hearing Tuesday.
Imbrogno asked if there were any illnesses or problems that would prevent Buquet from answering her questions.
Attorney Bob Fischer of the federal defender's office told the judge that Buquet had recently taken medication, but he did not indicate what type of medication.
The Postal Service said last week that preliminary tests on the two seized letters showed the presence of ricin, but in a form that could not easily be inhaled or ingested. They notified postal workers that they were not in danger.
The incident in Spokane comes a month after ricin-laced letters were addressed to President Barack Obama, a U.S. senator and a Mississippi judge. Two of those letters were seized at a mail processing facility, and the third letter reached the judge. A Mississippi man has been charged in that incident.
Local journalism is essential.
Give directly to The Spokesman-Review's Northwest Passages community forums series -- which helps to offset the costs of several reporter and editor positions at the newspaper -- by using the easy options below. Gifts processed in this system are not tax deductible, but are predominately used to help meet the local financial requirements needed to receive national matching-grant funds.
Subscribe now to get breaking news alerts in your email inbox
Get breaking news delivered to your inbox as it happens.
---