News > Spokane
Macklemore & Ryan Lewis found history-making global success
Fri., May 31, 2013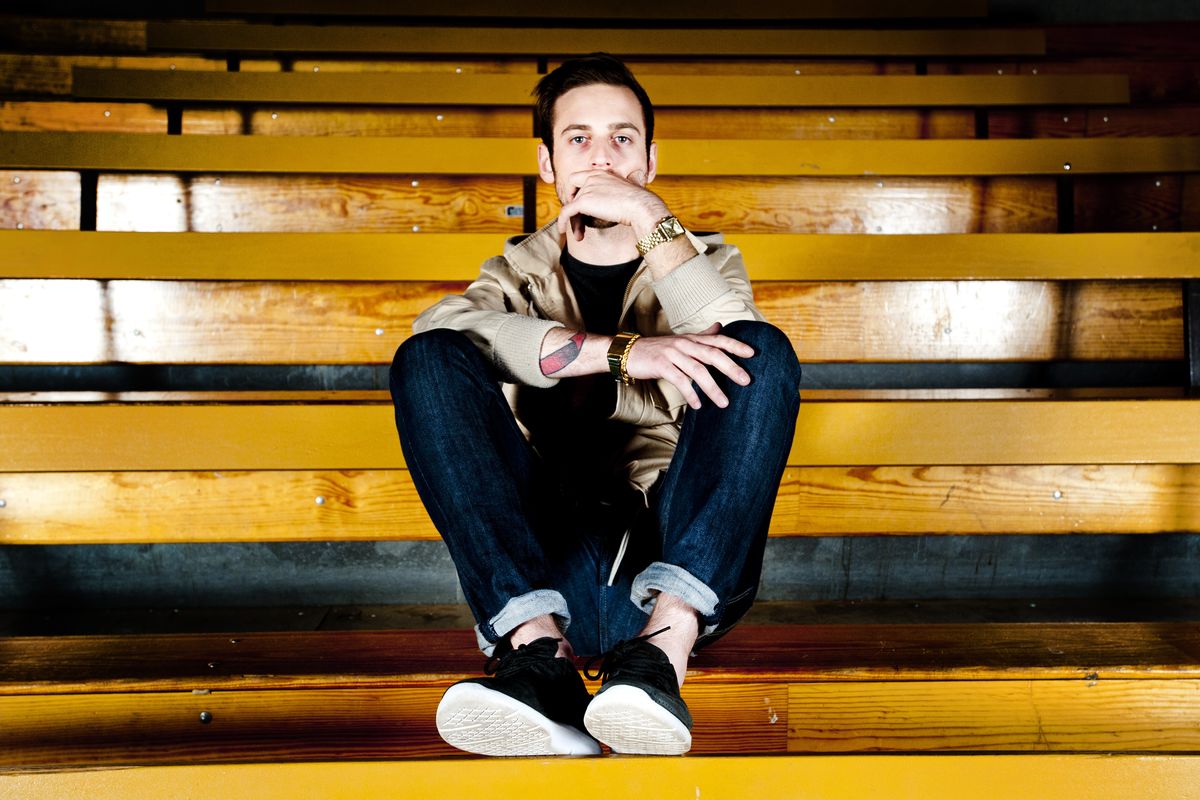 Ryan Lewis, of the Seattle hip-hop duo Macklemore & Ryan Lewis, finds a rare moment of relaxation Thursday at EWU's Reese Court. (Tyler Tjomsland)
It's understandable that Ryan Lewis doesn't know what day it is.
The former Spokane resident, now half of the Seattle hip-hop duo Macklemore & Ryan Lewis, headlined Sasquatch! at the Gorge Amphitheatre on May 24. Two days later, they were in Ireland playing a festival. The next night they headlined a show in London.
Thursday night? Cheney.
One of the hottest bands in the world performed at EWU on Thursday, a free concert for 3,500 students sponsored by the Associated Students of Eastern Washington University. Sitting on the bleachers of Reese Court before the show, Lewis joked that he could tell you the time. As to the day? That's another question.
To say the past year has been a whirlwind for Macklemore (aka Ben Haggerty) and Lewis is a vast understatement. The duo's debut album "The Heist," released Oct. 9, peaked at No. 2 on the Billboard Hot 200 chart. It's No. 17 this week. In January, their infectiously goofy single "Thrift Shop" hit No. 1 on the Hot 100 singles chart. On Wednesday, their follow-up single, "Can't Hold Us," marked its fourth week at No. 1.
They are the first duo in Billboard history to have their first two singles hit No. 1 and the first artists to achieve that feat since Lady Gaga did it in 2009.
They've performed on "Saturday Night Live," chatted with Ellen DeGeneres and visited "The Colbert Report." And there's no sign things are going to slow down soon – they'll play 220 to 230 shows this year.
Still, 25-year-old Lewis found some time to enjoy his hometown during his trip to EWU.
"I haven't really had a day off since mid-April," Lewis said. "There was a day off before this show and a day off tomorrow before we fly out to Philly. And so I actually flew into Spokane early (Wednesday) morning. My family's had a cabin on Priest Lake for 20 years. So I drove up there with the girlfriend."
Lewis' family moved to Spokane when he was 2, and he lived here until his family returned to the Seattle area during his sophomore year at Ferris High School, in December 2003. It was in Spokane that he first started listening to hip-hop, and the town helped shape him.
"I grew up on the South Hill. I had a cul-de-sac with tons of kids. I was outside all the time," he said. "I grew up in a place where all my neighbors knew each other. I don't think that would have been the case if I'd grown up in Seattle.
"I've been shaped by Seattle as well, but I think I'm a much broader person in terms of my perspective being from Spokane."
They're an atypical hip-hop group. In their music, women are treated with respect. They've rapped about Dave Niehaus, the late Mariners announcer, about their support for gay marriage, and Haggerty's struggles with addiction. And thrift shopping, of course. The subject matter, along with Lewis' catchy and driving beats, could help explain Macklemore & Ryan Lewis' success.
"The Heist" has been certified gold, with more than 700,000 copies sold. Lewis said he hopes it goes platinum – 1 million copies – by the end of the year. He calls the success of "The Heist" unexpected.
"We had bets on what our first-week sales would be, that ranged from 25,000 to 33,000 units," he said. "We did 78,000 units."
He attributes part of their success to their videos, which he helps direct. "Thrift Shop" went viral, with nearly 325 million views on YouTube. Their latest video, "Can't Hold Us," has drawn 44 million views in the month it has been online.
"Music videos are the catalyst for bringing the song to the next level. It's more entertaining," he said. "I think we have always really valued what a music video can do. And, like anything else, we aim for really quality art over quantity."
Haggerty, as the lyricist and rapper, is the frontman of the duo. Lewis' roles – DJ, producer, music director – are varied. But both men view Macklemore & Ryan Lewis as a true partnership. In Interview magazine last fall, Haggerty called Lewis "one of my best friends in the world. He's my producer. He's my business partner. And he's probably one of my toughest critics."
Lewis echoes those sentiments. They may not always see eye to eye, but they trust each other.
"For whatever reasons, we've found an ability to be great friends and great business partners," he said. "We both set very high standards for ourselves, and I think we would only find benefit in a creative partner that also sets very high standards."
Lewis and Haggerty started collaborating in earnest in 2008. They do not have a record deal, making them the first indie artists to hit No. 1 on the Billboard charts since Lisa Loeb in 1994.
And they have no plans to sign a record deal. They essentially hire the radio department at Warner Music Group on a song-by-song basis to help move tracks to radio.
"It's a real testament that things are changing," Lewis said. "I think as artists remain in their own camp, don't sign, take on all the tools that are within their reach – social media and everything – to blow their projects up, it will be more and more apparent that radio and small independent artists will have a strong relationship."
Lewis expects he and Haggerty will make another full-length record, but he said it's likely they may do some outside projects as well.
In the meantime, there's a tour to finish – one that he hopes will bring him back to Spokane in the fall.
"I love Spokane," he said. "I was talking to my girlfriend yesterday when we were driving. Ben and I are so constantly repping Seattle and the Northwest, and obviously that's an immense part of my identity. But there is something about coming to Spokane that feels like a different hometown show for me … because this is where I started playing music."
Local journalism is essential.
Give directly to The Spokesman-Review's Northwest Passages community forums series -- which helps to offset the costs of several reporter and editor positions at the newspaper -- by using the easy options below. Gifts processed in this system are not tax deductible, but are predominately used to help meet the local financial requirements needed to receive national matching-grant funds.
Subscribe now to get breaking news alerts in your email inbox
Get breaking news delivered to your inbox as it happens.
---