News > Spokane
Capitol Christmas tree felled in Colville National Forest
Sat., Nov. 2, 2013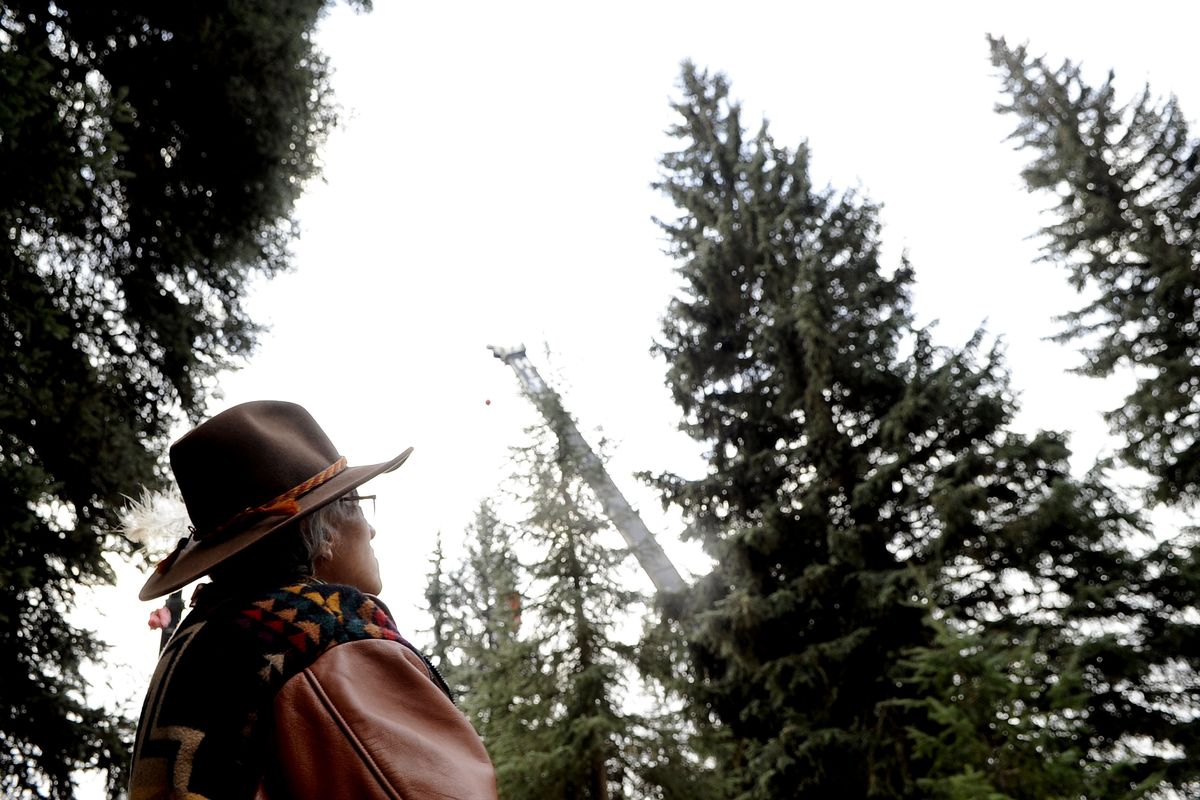 Kalispel Tribe member Johnny Arlee takes in the site of the U.S. Capitol Christmas Tree before the blessing in the Colville National Forest south of Usk, Wash., on Friday. (Kathy Plonka)
USK, Wash. – The rest of America is just starting to think about the holiday season, but it's been Christmas all year in Jen Knutson's house.
As the U.S. Forest Service's Capitol Christmas tree coordinator, Knutson was on hand Friday along with hundreds of spectators for a tree-cutting ceremony in the Colville National Forest. The Capitol Christmas tree, an 88-foot-tall Engelmann spruce, will tour Washington state and then make its way to Washington, D.C., where it will be decorated and lit on the National Mall.
"It's the people's tree," Knutson said. "It's from the people of Washington to the people of the U.S."
This is the first time a tree from Eastern Washington will decorate the lawn in front of the Capitol. The last Capitol Christmas tree from Washington state was a Pacific silver fir in 2006, cut from the Olympic National Forest.
The tree will be joined by 80 others donated from across the state, as well as more than 7,000 ornaments made by Washington schoolchildren. Knutson said the ornaments are made of lentils, wheat and other local products to reflect Washington.
"This gift of the people's tree represents a commitment and labor of love for so many," Colville National Forest Supervisor Laura Jo West said.
In the hours before members of the U.S. Forest Service felled the tree, dozens of families huddled around campfires, sipping hot chocolate and eating cookies.
A pair of little boys in heavy winter coats jumped up and down, chanting "Knock it down! Knock it down!" as a large crane was attached to the top of the tree. The tree was chopped down and hung from two cranes, then hoisted into the air and lowered onto a flatbed truck that will arrive in Washington, D.C., on Nov. 25.
The Daily family woke up at about 6 a.m. to drive from Spokane and attend the event. Three-year-old Mary Ann Daily, her face smeared with chocolate, cuddled close to her father, Goff Daily, to keep warm.
Justine Daily, the mother, said she wanted her three children to witness the occasion.
"It's going to be a part of our history," Justine Daily said. "How many times will things happen in your area?"
U.S. and Pend Oreille County dignitaries, as well as representatives from the Kalispel Tribe, joined the crowd to make speeches before the tree's journey began.
Sheila Stalp, deputy district director for U.S. Rep. Cathy McMorris Rodgers, said, "We are blessed to have such a beautiful tree in our backyard."
Francis Cullooyah, a Kalispel tribal elder, led the group in prayer and blessed the tree. Cullooyah said he feels blessed to be a part of a new beginning in Washington's history.
"It makes us proud to be a part of this small corner of our country," he said.
Local journalism is essential.
Give directly to The Spokesman-Review's Northwest Passages community forums series -- which helps to offset the costs of several reporter and editor positions at the newspaper -- by using the easy options below. Gifts processed in this system are not tax deductible, but are predominately used to help meet the local financial requirements needed to receive national matching-grant funds.
Subscribe now to get breaking news alerts in your email inbox
Get breaking news delivered to your inbox as it happens.
---