News > Spokane
Eighty collisions in county blamed on Tuesday morning snow
Wed., Nov. 6, 2013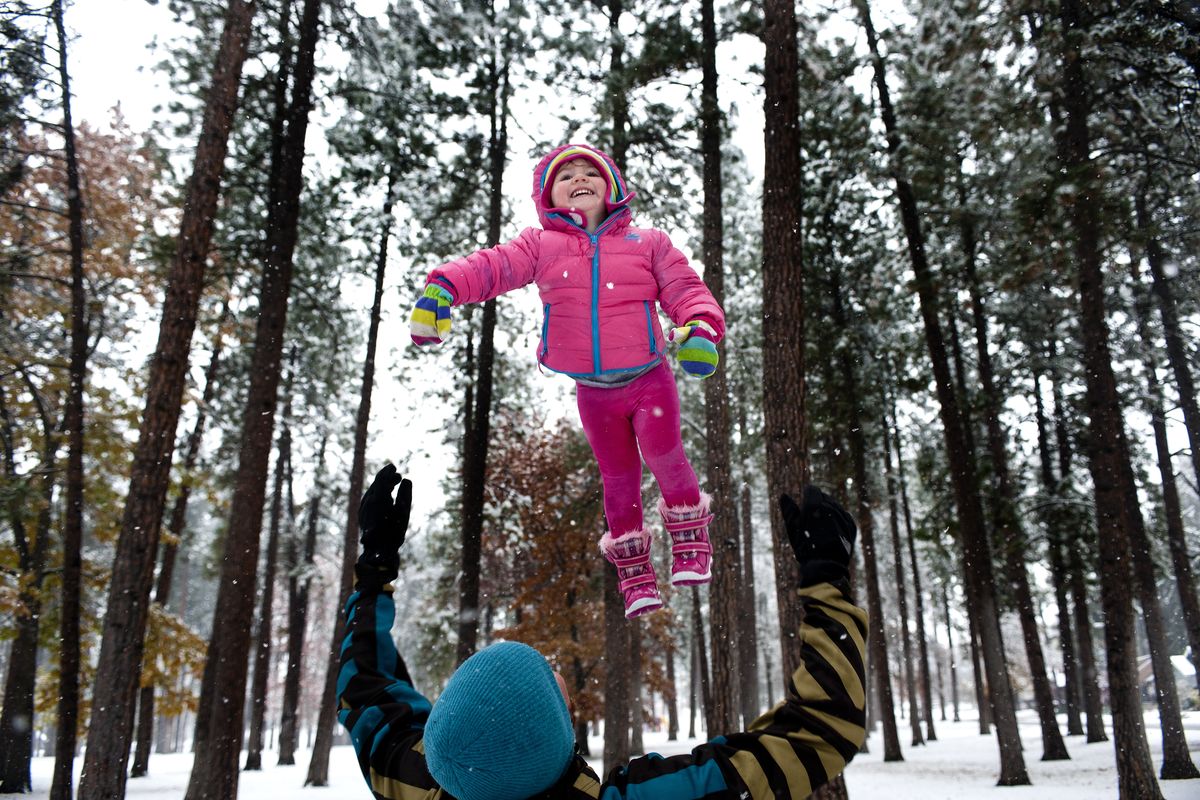 Lilyauna Stimson, 2, laughs as she flies high while playing with her father, Loren, on Tuesday at Audubon Park in Spokane. (Tyler Tjomsland)
A quick-hitting snowstorm that snarled Tuesday morning's commute caught motorists and street crews by surprise.
The wet snow packed into an icy layer on many streets, triggering accidents and a rush to get de-icers to the worst locations.
"It came in and hit harder than we thought," said Mark Serbousek, Spokane street director.
The city dispatched eight de-icers and five sanding trucks.
Spokane County and state transportation agencies said their crews had to hustle to clear up treacherous sections of road.
A state truck was taken out of service temporarily after being struck in a noninjury, weather-related accident on U.S. Highway 395 at Dragoon Creek, officials said.
Law enforcement officers responded to 80 collisions countywide blamed on slick conditions, Spokane police Officer Teresa Fuller said. Of those, 17 were injury collisions, though no one was seriously hurt, she said.
Al Gilson, spokesman for the Washington State Department of Transportation in Spokane, said a full shift of trucks and drivers got to work about 6 a.m. just before the snow arrived.
"You know the first winter commute we have is going to be a busy one," he said.
A big factor in the de-icing response was a lack of overnight crews to lay de-icer under the snow.
City, county and state crews have not started their winter schedules, which puts a larger number of drivers out on the road overnight.
The city starts its daily 20-hour coverage Sunday. The county and state will start overnight shifts this month, officials said.
The National Weather Service estimated Spokane had between an inch and a half to 2 inches in the morning. Most snow on roadways had melted by early afternoon.
Traffic was trouble on the South Hill's steepest streets, where many drivers spun out of control after driving too fast down the icy roadways.
As problems mounted on the South Side, police moved in and closed access to those roads.
On state Highway 291 near Suncrest, the "Big Sandy" hill was closed for several hours due to spinouts.
The commute problems and collisions are typical for the first snowfall, said Trooper Jeff Sevigney with the Washington State Patrol.
"It seems like the first round of snow catches everyone unaware," Sevigney said.
"Folks just need to slow down," he said.
Fuller said, "Make sure that your car is prepared. I'm sure some of these (accidents) probably could have been prevented if people had proper tires."
Tire and towing companies quickly became some of the busiest places in the city.
Divine's towing manager Joe Wiedmer said his crews responded to "too many (accidents) to count."
"We were pretty backed up there for a while," Wiedmer said. "We had a lot of accidents."
At Hillyard Tire Center, one of the workers who answered the phone said, "We are extremely slammed."
City crews were planning to have fresh de-icer out this morning to break up ice that may have formed overnight, Serbousek said.
Temperatures are expected to rise to highs in the mid-40s for the rest of the week with more rain expected.
The next chance of snow, with rain, arrives Saturday night.
Local journalism is essential.
Give directly to The Spokesman-Review's Northwest Passages community forums series -- which helps to offset the costs of several reporter and editor positions at the newspaper -- by using the easy options below. Gifts processed in this system are not tax deductible, but are predominately used to help meet the local financial requirements needed to receive national matching-grant funds.
Subscribe now to get breaking news alerts in your email inbox
Get breaking news delivered to your inbox as it happens.
---