News > Business
Better Business Bureau finds gold price disparity
Thu., Nov. 7, 2013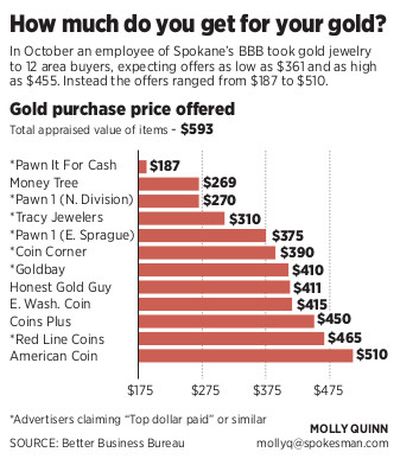 Anyone selling gold jewelry to businesses that promise to pay "top dollar" should go the extra mile to price-compare their offers, according to a secret shopper test conducted by the Spokane Better Business Bureau.
The BBB took a pocketful of gold jewelry to 12 area shops and compared how much each shop was willing to pay for the items.
An appraiser had priced the jewelry at about $593 if someone tried to buy the equivalent in pure gold that week.
Seven of the 12 shops were chosen because they advertised they paid top dollar or highest prices for gold. The other five in the survey did not make such a claim.
On Oct. 10, a BBB staff investigator visited the 12 shops. Based on normal buyer discounts, the employee expected offers as low as $361 and as high as $455.
Instead the offers ranged from $187, from Pawn It For Cash, to $510 from American Coin & Vault.
Highest-offer provider American Coin is among the five that make no claim about paying the most.
"We don't say that because we actually don't want to encourage people to bring in scrap gold," said Jake Graham, of American Coin.
Dan Austin, owner of Austin's Fine Jewelry, said he found that range surprising. "It's much wider than I would have thought," he said.
His business was not included in the survey.
Austin said the "seller beware" approach is needed when visiting gold buyers.
"My perception of what gold buyers pay is that their job is not to be an advocate for the (seller). Their job is to get the most value they can," Austin said.
Most reputable gold shops typically discount the spot price of gold by 30 percent, Austin said. The spot price is the price of gold on commodities markets that day.
Using that formula, his business would have offered roughly $415 for the BBB jewelry, he said.
Four of the 12 buyers offered to pay nearly or exactly that amount: Coin Corner ($390), Goldbay ($410), Honest Gold Guy ($411) and Eastern Washington Coin ($415).
Five of the 12 buyers offered well below $415.
Chelsea Maguire, communications director for Spokane's BBB, said the price test was prompted by the office staff's personal impressions about the "top dollar" type of advertising.
"If seven businesses said they paid the highest, they can't all be right," she said.
The BBB tries to monitor advertising as part of its mission of assuring regional customers of reliable and honest business practices and identifying companies that miss the mark.
From time to time, the organization issues a news release when its research finds a notable variance between business claims and actual practice, Maguire added.
Maguire said six of the seven companies that used "highest price" statements agreed to remove or change that language. One so far hasn't because the owner is out of town, Maguire said.
Two of the shops tested by the BBB are operated by Spokane-based Pawn 1. The North Division store offered $270; the East Sprague store offered $375.
Pawn 1 owner Mark Lax said the gold buyers in his stores don't follow one company formula. He tells his staff to be reasonable and encourage would-be sellers to not accept just offers from Pawn 1.
"In a blind-test conducted by KREM-TV a few years ago, we came out paying the highest," Lax said, saying that was one reason his company used to say it paid top dollar for gold.
But after getting a note from the BBB, Lax said he agreed – reluctantly – to remove that message to customers.
"The BBB is not the government. But I decided to take the high road, and we switched our advertising, including our TV ads," Lax said.
Austin said the BBB test may have been a bit late to the gold-selling fever of the past three years.
"This is still very timely," Austin said. "These are still tough times. I thought all the gold had been dug out of underwear drawers a year ago.
"But in fact, we're still seeing people coming in every day. People still need money."
Local journalism is essential.
Give directly to The Spokesman-Review's Northwest Passages community forums series -- which helps to offset the costs of several reporter and editor positions at the newspaper -- by using the easy options below. Gifts processed in this system are not tax deductible, but are predominately used to help meet the local financial requirements needed to receive national matching-grant funds.
Subscribe now to get breaking news alerts in your email inbox
Get breaking news delivered to your inbox as it happens.
---