CV students produce weekly sports show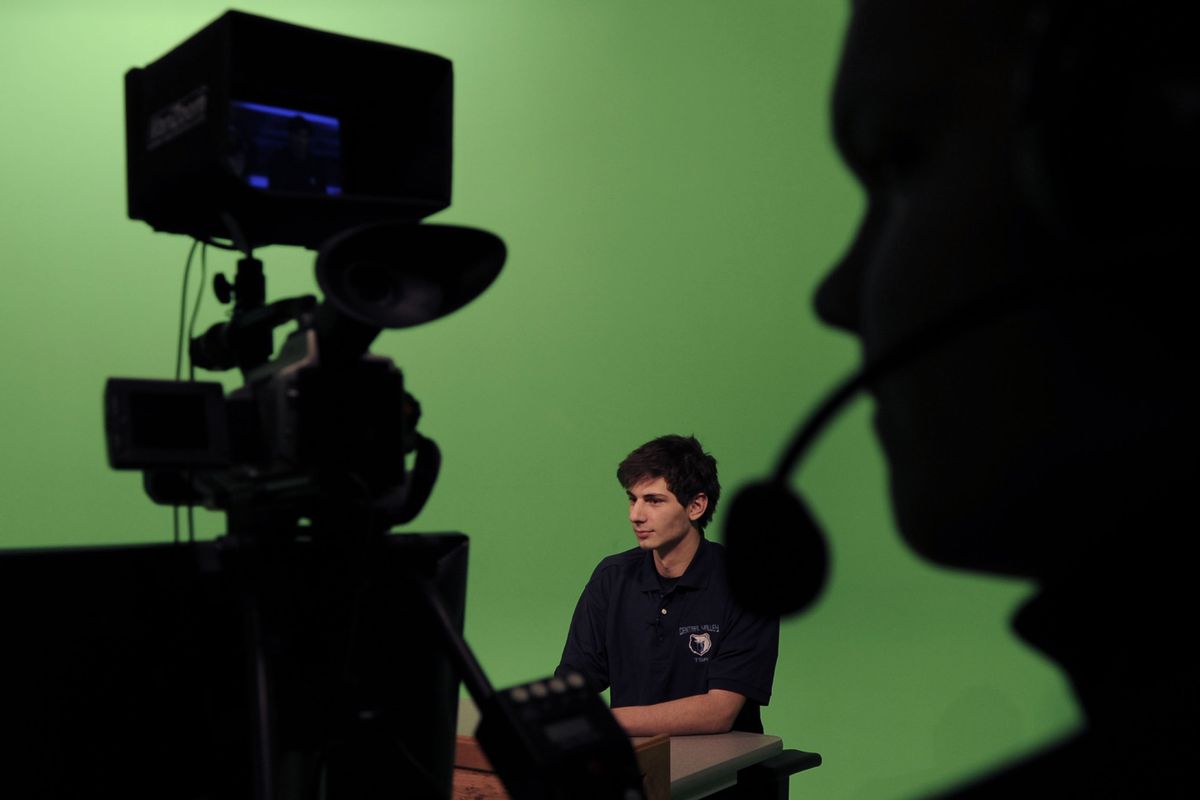 Chris Pittella, a senior at Central Valley High School, sat at a desk in front of a blindingly green wall and introduced himself.
"Welcome to 'This Week in High School Sports,' " he said before the director Alex Peña, a sophomore, said he was good to shoot his next segment.
"This Week" is a collaboration between high schools and KAYU Fox 28, written, edited, filmed, produced and anchored by high school students. It airs at 10:35 p.m. Thursdays nights on KAYU.
Three high schools are involved in the show right now – Central Valley, University and Deer Park – and Gonzaga Prep submitted a segment for this week's show.
Alan Wardsworth, video and media production teacher at Central Valley, said the students have come a long way from their first attempt at the show a year ago.
"That first show was real sketchy," Wardsworth said. They attempted a 30-minute show, which really didn't work out. They have since shaved the show down to five minutes and must keep their standards high.
"If the quality of the show isn't up there, they (KAYU) will not show it," Wardsworth said. Last year, 39 episodes aired featuring all kinds of high school sports, from football to soccer to bowling.
Students work with producers at KAYU to learn skills needed for the show. Wardsworth showed them clips of other television news broadcasters to help them get a feel for what they are doing. They have learned to meet deadlines and interview coaches and athletes.
"The hard part is trying to get the kids to tell a story," Wardsworth said. "It's all about telling a story."
Tom Holcomb, local sales manager at KAYU, said the program started when the Greater Spokane League approached the station hoping for a partnership to create more awareness of the league.
"It's a nice program," Holcomb said. "I got my start in this business because of a high school program many years ago."
Pittella, who anchored this week's show, said he got involved last year when he took Wardsworth's class. He's involved in the school drama program and said the experience of being on television is a lot like being on stage.
Peña said he became involved while taking the class as well, but he's more into mixing music and working on the sound part of the show.
"I'd rather be a sound person," Peña said. "That's how I am."
The two agree the experience has been a good one.
"He lets us have pretty much complete control over it," Pittella said.
Wardsworth said the show is fairly popular with males ages 29 to 54, and Holcomb said the station receives a lot of positive feedback from viewers.
Recently, the show received high honors from the National Association of Broadcasters at its annual Small Market Television Exchange in Phoenix, placing among the top four in its category. The show also won an Outstanding Support Award for "Public Education Partnership Program" from the Washington Association of Broadcasters. That award is only presented to two broadcasters in the state each year.
Along with the show, students live stream games on KAYU's website. Students are also looking at different ways to shoot sporting events using drones equipped with GoPro cameras and iPhones.
Holcomb said the biggest challenge of the show has been getting more schools involved.
Wardsworth said last year's sponsor awarded four students scholarships at the end of the year for their work, one of whom was his daughter. He said it was fun to walk around the mall with her when she was on the air and folks would approach her and exclaim, "Hey, I saw you on TV."
---