Sports
Eagle football benefits from depth charge
Wed., Nov. 13, 2013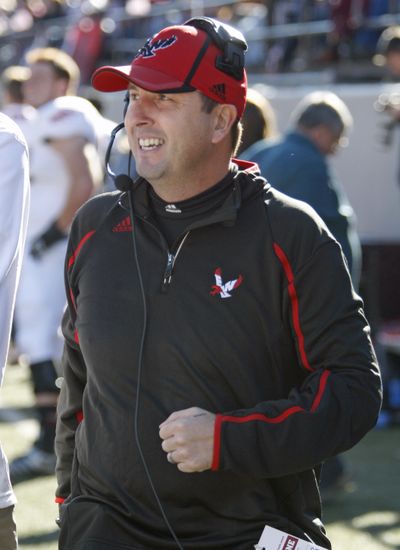 The Eastern Washington offense put up some staggering numbers last weekend against Montana State: eight touchdowns in as many possessions, 12.3 yards a play and not a single punt.
And the Eagles defense? They're still hungry and coming back for thirds. Third quarters, that is. The ones Eastern has dominated of late.
Coach Beau Baldwin won't claim credit for a game-changing halftime speech; instead he credits a few adjustments and a deep rotation on the line.
They go hand in hand, Baldwin said during practice Tuesday at Roos Field, "We do a good job of making adjustments, but our depth allows us to be better late in games."
For the third game in a row, it was the same story: with the game hanging in the balance, a porous defense turned rock-solid in the decisive third quarter:
• On Oct. 26 at Montana, the Eagles gave up 254 yards before halftime, but just 44 yards in the third quarter as the offense stretched an 11-point lead to 25;
• A week later at Idaho State, they were gashed for 384 yards in the first half, but just 77 in the third as a 7-point halftime advantage stretched to 17;
• On Saturday, the Eagles gave up 265 yards and three scores in the first half, but just 76 yards in the third quarter. When it was over, a 5-point lead ballooned to 40-21.
It adds up to a trifecta: three games, three points in a trio of third quarters.
The third-quarter numbers are even better against the run. Montana had eight carries for 7 yards, Idaho State 10 rushes for 40 yards, and MSU three rushes for 7 yards.
If quality depth on the line is the key, Eastern is in good shape for the rest of the season, however long it lasts. Ten and sometimes 12 defensive linemen are rotating in and out.
"It does matter," nose tackle Dylan Zylstra said, "because when the other team's so-called 'more talented' guys see us rotate four or five times in some series."
The Eagles have more depth because three true freshman aren't out of their depth. End Samson Ebukam and tackles Matthew Sommer and Joe Douglas are regulars now. "They've come together since August, and we've learned how to play off each other," Zylstra said. "We learned how to play off each others' strengths."
Run defense will be even more important this week against Cal Poly, the top rushing team in FCS with 308.6 yards per game out of its triple option.
Says Zylstra: "That's my kind of style and this is how the game is supposed to be played – smashmouth, and I can't wait."
Notes
Baldwin acknowledged that Saturday's offensive performance against MSU was impressive. "I've never been a part of something exactly like that," said Baldwin, adding that, "with that being said, it's now Tuesday." … Baldwin didn't mention names, but said that one or perhaps two injured safeties might return to action at Cal Poly. That could include Allen Brown and Todd Raynes, who are listed as questionable. … The Eagles will fly by charter Friday morning to San Luis Obispo, Calif., returning Saturday night.
Local journalism is essential.
Give directly to The Spokesman-Review's Northwest Passages community forums series -- which helps to offset the costs of several reporter and editor positions at the newspaper -- by using the easy options below. Gifts processed in this system are not tax deductible, but are predominately used to help meet the local financial requirements needed to receive national matching-grant funds.
Subscribe to the sports newsletter
Get the day's top sports headlines and breaking news delivered to your inbox by subscribing here.
---