News > Washington Voices
Eight-year-old doesn't let genetic disorder stop him
Thu., Nov. 14, 2013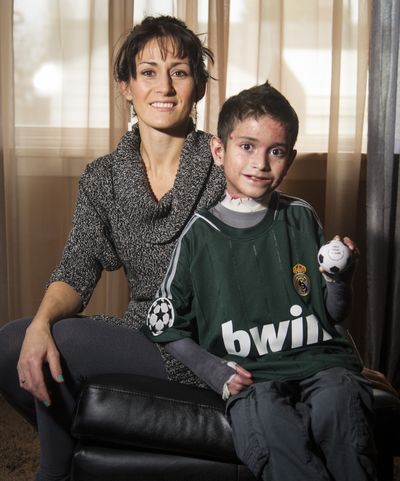 Sam Diaz, 8, plays soccer every day he can, even though it may hurt later.
Sometimes he plays at a park or playground but most days he practices foot skills or challenges relatives to soccer games in his basement. Sam joined a team last year, but he needs to avoid most of the physical contact characteristic of his favorite sport.
That's because Sam was born with epidermolysis bullosa, a rare genetic disorder that keeps the layers of his skin from sticking together. In his case, the collagen 7 protein is either missing or misshapen. As a result, incidental friction can cause the layers of his skin to separate, forming painful blisters and tears.
Daily life is filled with friction, especially for an active second-grader.
"When I kick the soccer ball very hard my mom freaks out," said Sam, flashing a big grin.
Allison Diaz smiled in response. Exercise is good for Sam, she said, because he needs to stretch and move to keep his skin and healing wounds more supple. And the fun he has is just as important.
"While he's playing it's a distraction," Diaz said. Though Sam's skin can blister anywhere, the inside of his foot injures less frequently than other areas, she said. Still, even when it hurts, Sam likes to keep playing.
"It makes me happy. I love it," he said.
One day he fell hard while playing soccer with his parents at Hart Field. "I didn't even cry. I got right back up. I just kept playing soccer," he said. Then he pointed to his right hand. "I got a blister. I was tough … we cut the bandage and I saw a huge blister."
The impact of his fall caused the skin on his palm to separate and fill with blood, a common occurrence for Sam that requires daily care.
"The dark blisters sting," he said. "When you get the blood out it feels good."
As blisters form they need to be punctured with a sterile needle or the skin will continue to pull and separate, making the wound larger. And it's hard to leave the healing wounds alone, because they itch.
"I've got bad moments and I didn't even care," Sam said. He described a time when he slipped on the stairs and hit his face on the carpet. What would have been a little rug burn for another child was more traumatic to his fragile skin, which tore away from his eyelid.
"He's mentally tough," Allison said. "He can get through situations most people don't have to deal with. He has a smile and is doing things he enjoys with a good attitude."
During the last week of October, epidermolysis bullosa awareness week, the Diaz family sold soccer stress relief balls, raising more than $700 for the Dystrophic Epidermolysis Bullosa Research Association of America.
They're also planning to hold an indoor soccer tournament this winter to raise additional funds for the nonprofit, which provides support to people with EB and funds research for treatments and a cure.
Currently, the only treatment for the disorder that affects 1 out of 20,000 live births is pain management and wound care.
For Sam, this includes a bath every other day to clean his wounds, with daily inspection and bandaging in between.
"That hurts when the water gets on my big wound," Sam explained, his tone matter-of-fact as he touched a bandage on his neck. "It heals but you itch."
Since the genetic disease also affects his mouth and esophagus, eating comfortably can be a challenge as well.
"I can't enjoy hard things or crunchy things. It has to be soft," said Sam, adding, "my mom makes good smoothies and I ate a whole egg."
"We don't want people to pity Sam," Diaz said. "You can get through way more than you think you can."
While Sam starts each day with a skin inspection and new bandages where needed, the highlight of his morning is checking the weather apps on his iPad to track storms and weather-related warnings.
Along with soccer, Sam loves science. He's especially interested in hurricanes and tornados and wants to be a storm chaser when he grows up.
"Science is like my life," he said, bouncing a little for emphasis. "I've got a lot of questions and I got to get it out right now. I want to learn that stuff."
He's looking forward to learning some physics and visiting the weather station soon, as he follows his dreams with fervor.
"A lot of times when people meet us they constantly ask about Sam's skin disorder, which is understandable," Diaz said. "He's also just a kid trying to live a normal life. …We see how strong Sam is and his mental strength is inspiring to us. Of course it's hard, but he's amazing and we get to see that every day."
Local journalism is essential.
Give directly to The Spokesman-Review's Northwest Passages community forums series -- which helps to offset the costs of several reporter and editor positions at the newspaper -- by using the easy options below. Gifts processed in this system are not tax deductible, but are predominately used to help meet the local financial requirements needed to receive national matching-grant funds.
Subscribe now to get breaking news alerts in your email inbox
Get breaking news delivered to your inbox as it happens.
---