News > Spokane
Despite winless season, Rogers High football team's brotherhood is unbreakable
Sun., Nov. 17, 2013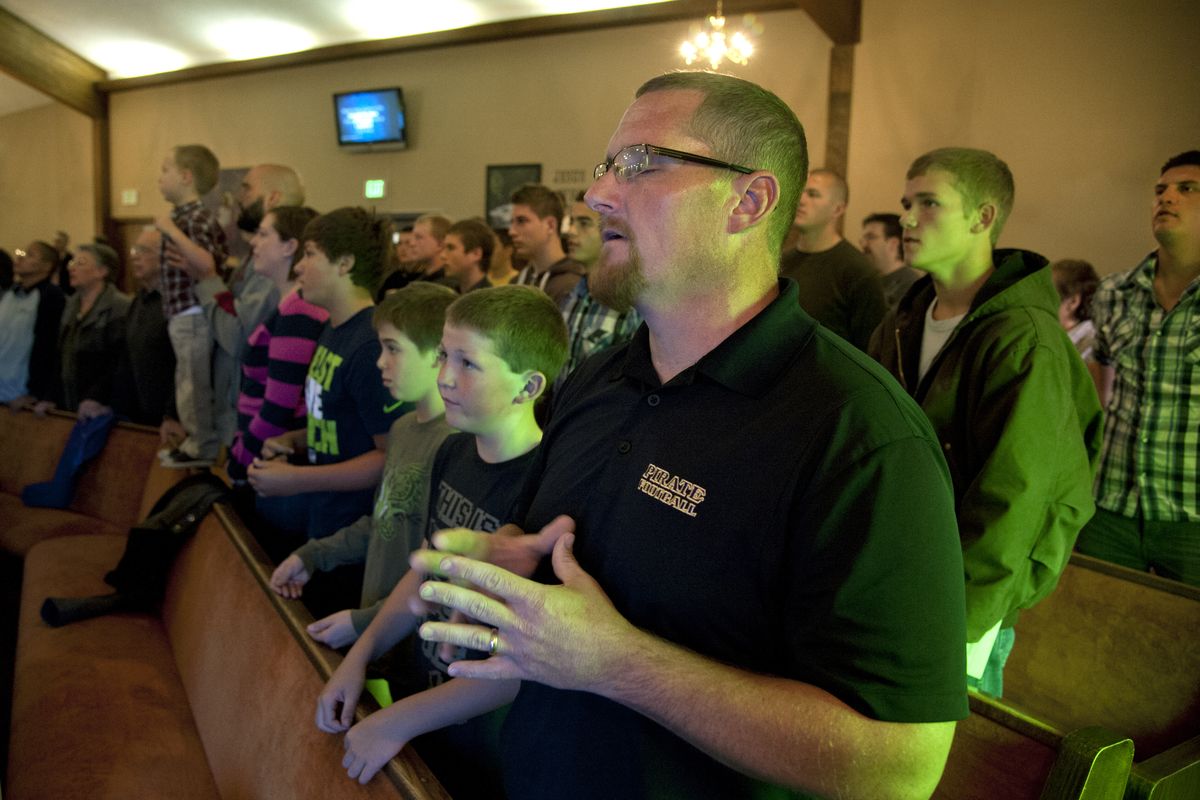 Rogers High head coach Matt Miethe, his children, and Rogers players and coaches gather for a Sunday prayer service at the Colbert Chapel on Oct. 27.
This is it.   The last time these players and these coaches will be a team.   The last time to play under the lights of Joe Albi Stadium.   The last chance to win.   The Rogers High School football team and their coaches stand shoulder to shoulder, arms around one another in a circle in the school's wrestling room.    They are about to board a bus to their last game of the season. 
"The friendships that you make, the bonds that you build, will last a lifetime. It's never going to be like this again – even for those that have more games ahead of you, this circle will never be the same," coach Matt Miethe says. "Here's one last shot for this circle to go out and get the job done tonight."
Though they head into the game 0-9 for the season, they're as pumped and as loud as they were the first time they took the field.
"I love every minute playing football in a Rogers uniform," says Brandon Rose, a senior known by the coaches as the guy who personifies hustle: He always runs on and off the field. "I would do it all over again in a heartbeat."
Before this final pregame pep talk from Miethe, 18 seniors share with teammates their favorite moments playing for the Pirates.
With the team's winless record, it is no surprise that none of them picks a moment from a game this varsity season.
For most, their best experience was the summer football camp at Whitworth University, where their bond, already close, became closer, where most of them pledged not to drink or party during their season. It was when expectations were high.
In front of the team, Miethe asks them what they learned.
Perseverance, most say, in one form or another.
"There's going to be obstacles in everyday life and you can't get down on yourself. You have to keep pushing. No matter what, you just got to keep going," Nick Challinor says. "You can't give up on yourself."
Every team is unique. For this one it's the closeness of the players. They've come to call it a brotherhood.
"No matter what, even if no one else is around, you've got your football family," senior Hank Schmoock says. "That's the thing it's taught me. Life does get hard, but there are always people out there who still care, who will still be there for you."
Rogers High School is the poorest in the county. Yet pride and confidence among students and teachers is on the rise, perhaps because of its improving graduation rate and a push from school leaders to persuade students to take harder classes. It is not unusual for a Rogers student to be able to recite the school's graduation rate. (It's 82 percent, now on par with the rest of the Spokane Public Schools).
Ask a Pirate football player what he thinks about the school and he will tell you he's annoyed by the labels from outsiders, whose perceptions of the school resemble some kind of low-security prison. As Dom Sanders, the team quarterback, once put it: No, he does not fear that he will be stabbed in the hallways.
Offensive lineman Jacob Meusy recalls that when a violent crime happened closer to Gonzaga Prep, news reports pegged the crime as taking place "near Rogers."
And ask assistant coach Tony Moser, who joined the Rogers staff this year as a behavior intervention teacher, what he says to those who express sympathy when he says he teaches there: "Actually, this was my first choice."
Halfway through the season, assistant coach David Casteal ended a practice by reading a letter he wrote a few years ago after Rogers beat Shadle Park. It was during a season when Shadle finished last. Soon after that victory, Rogers' coaches received a note from a principal at a local high school that has a consistently dominant football program. This principal wrote in flowery terms of his admiration for Rogers, how happy he was for the Rogers community that the team won a game. The principal wondered if he could help, perhaps by providing a pizza party.
To the Rogers coaches, it was condescending.
Casteal waited until that principal's school crushed an inferior squad and then crafted the letter to the principal about how proud he was of that school. Quoting Gandhi, he praised the team for its strong moral character. He ended by saying his friend's mom at Grocery Outlet could hook them up with some Popsicles.
He mailed it and never heard back.
Casteal's message: "You want to make your own way through. There's a fine line between empathy and sympathy."
Sure, they have their problems. While many players have stable one- or two-parent homes, some have moms or dads – or both – who are absent. A couple have fathers who are incarcerated. Some are from families that have been evicted. Others have been homeless.
Coaches have a message for this team: You can move beyond these troubles at home. You are not alone. No one gets bonus points on a job application for growing up poor. 
For the final game, assistant coaches Moser and Nick Fross are the first to arrive into the locker room. They write messages on the two chalkboards. Moser's says: "Expect to win."
There is a fear among the coaches that piled-up losses will shake confidence, especially among underclassmen. That instead of expecting to win, they only hope they can. Miethe believes they can because he's experienced it. He was the member of the 1994 Rogers team, the last to have a winning season. Miethe's team broke a 20-year drought that year.
Impressive freshman-team wins the past two years and the creation of Pirate Pipeline, a youth football program, offer hope. Casteal says plainly that he has no doubt that the Pirates will make it to the playoffs in the next two years.
Finding faith
In past years, coaches have offered optional prayer time, but religion has played a stronger role on this team.
Earlier in the season, Fross, wearing an Oakland Raiders shirt, was baptized at Life Center Foursquare Church, surrounded by several Rogers coaches.
On game days, the team was offered optional "chapel time" in the school's health room led by assistant coach Andrew Durant, a former Rogers quarterback.
Just before the final game, as the team waits for an earlier game to end, Meusy leaves the locker room to find Durant. Chapel ended without a prayer. He asks Durant to lead one before the game. Players pour out of the locker room, surround Durant and bow their heads. Before the team's game with Lewis and Clark, 10 players made commitments to Christ. Miethe saw it for some as "a stepping point in a commitment to something different."
He offered players three opportunities to gather for church and encouraged them to attend. The first week was at his church, Colbert Chapel. The next Sunday was at Life Center, and finally, last Sunday, at Hillyard Baptist. There was talk of trying a Catholic Church, too, but it was too late in the season. About a dozen players met at Rogers on the first Sunday for a ride to Colbert. They filled two pews behind Miethe and his family. After church, they went to his house, ate pizza and watched football.
Coach and counselor
Miethe is more than a football coach. He is a life coach. He counsels players fighting with parents. He counsels parents unsure how to handle their kids. He draws up plays. He worries about the players who don't have a steady roof over their head.
He has been open about his family life growing up, "all the drugs, alcohol, crazy stuff," as he described it in one team speech. For some on the team, his willingness to share his past is an assurance that they aren't alone.
"I feel like at any time I can walk into his office," senior J.J. Barnett, whose father is in prison, said in an interview after the season ended. "I can relate to some of the things that happened in his life. It made us stronger as a team."
Miethe wants to give kids on the verge of dropping out a reason to stay in school, but there is a line he will not cross. As he said after one game when he kicked a player off the team: For the sake of the other players, he has to run a football team, not a charity.
The player had been on the verge all season. He quarreled with teammates. He didn't take instruction well.
When Miethe told the player not to be lazy as he strolled onto the field, the player responded: "I'm not lazy, I'm disengaged."
Miethe told him he was done.
'Win at life'
Back in the Rogers locker room after the bus ride home from Joe Albi Stadium, Miethe asks his players to gather around.
It isn't the final speech Miethe had hoped to give. They lost the game 20-7 against North Central. It ended the team's first winless season in seven years.
He will see these players again in the halls at school for the next several months, but except for a team banquet next month, this group will never gather again.
The coaches have seen growth in these seniors, a maturity in some that they never expected to see when they met them four years ago.
With the team surrounding him, Miethe recounts the messages from the seniors before the game and expands on them.
"You're just starting, gentlemen. Win at life. Go out and make the play. Be a person someone can depend on. Be reliable. Love the people around you and life is going to be a lot better for you, I promise," Miethe says. "Life sucks sometimes, guys. You can react in a way that too many people around us do, which is you mask it with drugs and alcohol or you bail on your family altogether, or you go into a spiral downhill because you can't handle the pressure."
The team had gone into halftime with their first halftime lead all season, but they collapsed in the third quarter. Down 20-7 with six minutes left, Miethe could see that the increasing likelihood of a winless season was affecting the team's composure. He called a timeout and gathered the defense. He later described some of his players in the huddle, especially seniors Brandon Rose and Charles Smith, as puppy dogs, with big eyes and tongues hanging out, ready to do whatever had to be done. On the next play Smith intercepted a pass in the end zone.
"I would hope that those guys that have made it through this kind of a season, when things in life are dealt to you that aren't fair, you can hold your chin up and say, 'Coach, what do you want? I don't care. Throw the ball in the end zone, I'll pick it off.' "
When he's finishes, he directs them to chant the team's creed one last time.
They huddle in close as they can and stretch their hands toward the center.
We are from Rogers!
We all play hard!
We all play together!
We are winners!
We are the Pirates!
Ahhhhhhhhhhhhhhhh!
The final shouting of the Pirate creed from this 2013 team, led by senior captain Cody Risinger, intense and piercing, ends and the room falls silent. The players head back to their lockers, dress and walk out one by one. Jessie Hegar, who was often counseled by Meusy when he was down, offers a distraught Meusy a long hug.
When he's dressed, with the room mostly empty, Rose stands in front of several laundry bags overflowing with uniforms, where he is about to drop his No. 4 jersey for the last time.
But he can't let go.
He embraces the uniform that he will never wear again, regains composure, releases it and slowly walks out of the Rogers locker room. Never again a Rogers football player, but forever a Pirate.
Local journalism is essential.
Give directly to The Spokesman-Review's Northwest Passages community forums series -- which helps to offset the costs of several reporter and editor positions at the newspaper -- by using the easy options below. Gifts processed in this system are not tax deductible, but are predominately used to help meet the local financial requirements needed to receive national matching-grant funds.
Subscribe now to get breaking news alerts in your email inbox
Get breaking news delivered to your inbox as it happens.
---