Sports
WSU notebook: Cougars find success, unity on the road
Sun., Nov. 17, 2013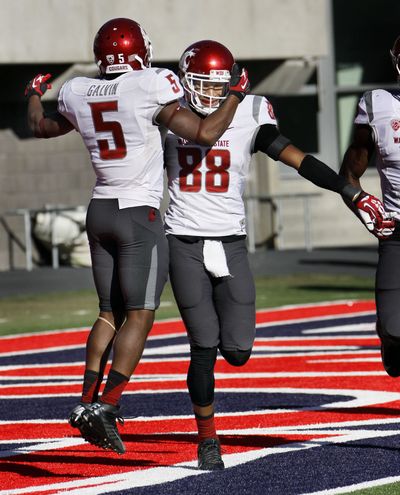 TUCSON, Ariz. – Like USC and Cal before them, Arizona fell in front of its home crowd to a WSU team that has had more success on the road than in Pullman this season. The last time the Cougars won multiple conference road games was during the 2006 season when they beat Stanford, Oregon State and UCLA in their respective stadiums.
That year's team picked up a Pac-10 win at home, however, beating Oregon 34-23. The Cougars will need to defeat Utah next week to give their hometown fans and students a Pac-12 victory.
The Cougars maintain that their unique connections forged through their shared underdog status are what give them the thick skin necessary to win away from home.
"The only people that believe in us is us. So you don't care about the fans, you don't really care about the media unless you're playing at home," linebacker Darryl Monroe said. "So when we come here it feels like home. So wherever we go it feels like home; we're used to the boos, we love (them)."
Never is that bond more apparent then after a win, when the players have validated their belief in themselves and can celebrate.
"I'm just overcome with joy, happy for everyone. When we walk into the locker room and everyone's happy, everyone's shaking your hand and giving you hugs all around – that's what you play for," safety Deone Bucannon said. "You play for the guy next to you and do everything you can for the guy next to you."
Griffey makes first start for UA
Washington State football fans who follow the Mariners may have felt a pang of nostalgia during Saturday's game against Arizona. Suiting up for the Wildcats was none other than Trey Griffey, the son of former Seattle baseball superstar Ken Griffey Jr.
The redshirt freshman was born in Seattle and spent his early childhood in the Pacific Northwest. Earlier this year he told reporters that one of his fondest memories of that time is playing in the rain and pouring salt on snails.
There's more tying Griffey to the Cougars than just the location of his dad's former team, however. He and WSU wide receiver Isiah Myers – who scored the game-winning touchdown on Saturday – grew up together in Orlando, Fla.
"We played Pop Warner since age nine together," Myers said. "It was against each other and then we played together. His family helped me out a lot and we eventually separated in high school but we still kept in contact."
Griffey made the first start of his collegiate career against the Cougars. The Kid's kid finished with four receptions for 45 yards.
Reunited at last
Because of scheduling difficulties caused when the Pac-10 added Utah and Colorado to become the Pac-12, Saturday's game was the first matchup between the Wildcats and Cougars since 2010. WSU hadn't played a game in Tucson since the 2009 season. With the win, WSU improved its all-time series to 14-25 and ended a five-game losing streak to the Wildcats. WSU's last win in the series was 20-19 in 2004 in Tucson.
Local journalism is essential.
Give directly to The Spokesman-Review's Northwest Passages community forums series -- which helps to offset the costs of several reporter and editor positions at the newspaper -- by using the easy options below. Gifts processed in this system are not tax deductible, but are predominately used to help meet the local financial requirements needed to receive national matching-grant funds.
Subscribe to the sports newsletter
Get the day's top sports headlines and breaking news delivered to your inbox by subscribing here.
---