Sports
Beau Baldwin repeats as Big Sky coach of year
Nov. 27, 2013 Updated Wed., Nov. 27, 2013 at 6:08 p.m.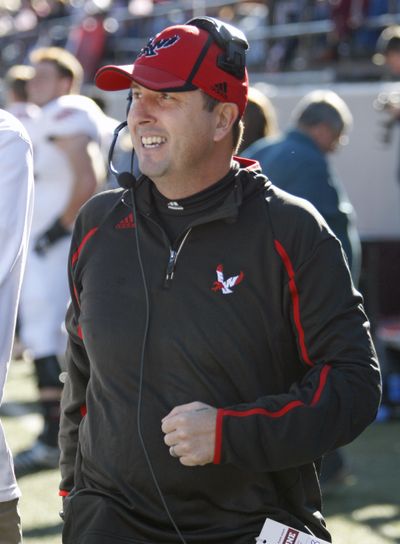 Unburdened by high expectations for his Eastern Washington football team this year, head coach Beau Baldwin and his staff went out and exceeded them. From the shocking win in the opener at Oregon State to the exhilarating comeback last weekend against Portland State, the Eagles shrugged off the good, the bad and the indifferent on the way to the school's first undisputed Big Sky Conference title in 16 years. That's the biggest accomplishment, said Baldwin, who added another on Wednesday: his second straight conference Coach of the Year award after leading the third-ranked Eagles to an 8-0 Big Sky record and 10-2 overall mark entering a second-round FCS playoff game on Dec. 7. Baldwin said he'd rename the award if he could, to "Coaches of the Year." "I'm lucky to have not only great football guys, but great teachers and men on this staff. This type of award is a tribute to them," Baldwin said. That started years ago, in recruiting, Baldwin said, noting his assistants' knack for recruiting overlooked athletes and turning them into all-stars, including: — a too-small quarterback from Pasadena who Baldwin and assistant Zak Hill thought might just work in Eastern's system: — a too-slow wide receiver from Yakima who didn't get a second look from Pac-12 schools; — and a 5-foot-9, 160-pound running back from West Seattle who former assistant Torey Hunter thought might be a decent cornerback. Now Baldwin and his staff look like genuises. Big Sky Offensive MVP Vernon Adams and Freshman of the Year Cooper Kupp should be a presence for two more years, while three-time All-conference cornerback T.J. Lee III leaves a legacy that not coincidentally matches the most successful four-year run in school history. In Lee's case, he blossomed into a championship-caliber player "because he's eager, has a great work ethic and a lot of toughness," said Baldwin. "No staff ever wins a coach of the year award without talented players, great leadership and outstanding character in the locker room." This year's team was coming off a team that went 11-3 and won a conference title, but Baldwin faced major challenges. They included a huge turnover at linebacker, a changing of the guard at wide receiver, and a running game that still didn't measure up to championship standards. All three questions were answered, some emphatically. Players were shifted and redshirts burned at linebacker, while Kupp, senior Ashton Clark and others put in extra time on their own to hone the passing game. The commitment to the running game was fitful at times, but gathered steam in conference play: by season's end, the Eagles were averaging 5.0 yards per rush – more than a yard better than in 2012. "I think we handled a lot of things well," Baldwin said. "Not just me – we handled it well." In several games, the Eagles staggered the lockerroom after a tough second quarter, only to come back strong in the third. In its last five games, Eastern has allowed just three points in the third quarter – combined. That extended the highs and lows of the season: the landmark win at Oregon State – the program's first over a Pac-12 opponent – and consecutive losses to Toledo and Sam Houston State. "It was a tough schedule, but we were still 2-2," said Baldwin, whose even-keel approach to triumph and disaster went far in the Eagles' perfect Big Sky run. That perfect run was in jeopardy to the very end. Portland State scored a go-ahead touchdown with a minute to play on Saturday, then missed the extra point. "I felt like now we had a chance to win," Baldwin said. "But even if they'd made that extra point, I'd have been stoked for OT."
Local journalism is essential.
Give directly to The Spokesman-Review's Northwest Passages community forums series -- which helps to offset the costs of several reporter and editor positions at the newspaper -- by using the easy options below. Gifts processed in this system are not tax deductible, but are predominately used to help meet the local financial requirements needed to receive national matching-grant funds.
Subscribe to the sports newsletter
Get the day's top sports headlines and breaking news delivered to your inbox by subscribing here.
---