Sports
Blanchette: Moos puts up 'not for sale' for naysayers
Wed., Nov. 27, 2013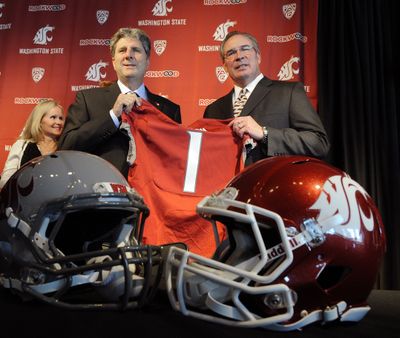 Man, even Santa gives everyone a clean slate each year.
Not Bill Moos. His memory is long, and once you're on his naughty list, you aren't getting off.
And no bowl tickets for you.
Such a gratifying kickoff to Apple Cup week, no?
After a decade of indifference, we've finally returned to the welcome circumstance where the state's big game can actually be called that, with at least a little something at stake for both Washington and Washington State. Yes, it might only be the difference between one JV bowl game and another, between El Paso and San Francisco, Albuquerque and Detroit. But after too many seasons of being the least anticipated rivalry game in FBS football, it's good to have the both of them back even this far.
Into this happy glow rolls Wazzu's athletic director – the visionary and wheelman trying to coax the Cougars' tractor-trailer through the chicanes of football relevance – to lay down a "Not Welcome" mat for independent thinkers.
In a story by Christian Caple in The News-Tribune of Tacoma, it was revealed that Moos has been keeping a crimson-letter file of any particularly snarky emails that haven't properly embraced the new way.
The flashpoint was the lamentable Marquess Wilson affair of a year ago, in which the flaming arrow of "abuse" was fired at coach Mike Leach. Knee-jerk public reaction was not kind, but by the end of two investigations of debatable necessity and merit, Wilson was thoroughly discredited and the party line was suggesting a Leach candidacy for a Nobel Peace Prize.
Moos chafed at the harshest criticisms. And he took down names.
But it sounds like he's been keeping score from the day he put Leach on the payroll.
"I want people on board and believing in what we're doing," he told Caple, a former Spokesman-Review reporter, "and trusting how we're going about it. If they don't want to be on the train, the train's already pulled out of the station."
So he's had an aide compile a "no-bowl-ticket file." Now when fans stampede the ticket windows, desperate to spend the holidays in Shreveport or Boise, anyone who sent one of those nasty emails will be thinned from the herd.
This is inspired marketing for a program that's had almost as many empty seats as occupied ones for its last two home games.
Most schools rank donors for ticket eligibility on a priority list.
The place that's foisted a decade of bad football on its audience suddenly has a blacklist.
Moos means it when he says he has to change the culture. But who knew what he had in mind was vindictiveness? It makes the Cougar fan's default setting of schadenfreude look almost charming by comparison.
And now you have to wonder – does this policing of thought-crime stop here?
The NSA can track your emails and cellphone. What's to stop the Moos Security Agency from doing the same thing?
Suppose your Husky buddy emailed you a particularly well-played Cougar joke – so good that you had to tip your cap with an "LOL" by way of reply. Suppose that was plucked from cyberspace by the Ministry of Truth.
No bowl for you.
Suppose that same buddy had an extra ticket to a Husky Stadium game on a Cougar bye week and invited you to come along, and your phone's GPS betrayed your location.
No bowl for you.
Got a Twitter account? Ever type "#Hallidaymoment" after one of those gunslinger interceptions?
No bowl for you.
The postgame call-in shows should get pretty tame. Message board trolls won't even be able to use their aliases. For all we know, Bob Robertson's radio role was rejiggered because he wouldn't change his signature sign-off from "Be a good sport, all ways" to "There is learning, there is understanding, and there is acceptance."
What next? Is there a list for fans caught wearing vintage Coug gear – and not the new apparel with the special font and branding?
If they complain about not being able to read the numbers on some of those regrettable uniform colors from the new suites, will they be banished to the horseshoe?
No more bitching about the Seattle game. That's not being on the train.
Not only does the bellyaching about the TV contract jacking around kickoff times stop here, it would look good on your permanent record if you started a petition to Pac-12 commish Larry Scott to make the 7:30 starts permanent.
And plan on buying a copy of Leach's book on Geronimo.
Not that Bill Moos is a rigidly unforgiving man.
"We've got to sell bowl tickets so I may give it a second consideration," he said. "But there's a couple that aren't going to get them. I can guarantee you that."
And he won't even have to check his list twice.
Local journalism is essential.
Give directly to The Spokesman-Review's Northwest Passages community forums series -- which helps to offset the costs of several reporter and editor positions at the newspaper -- by using the easy options below. Gifts processed in this system are not tax deductible, but are predominately used to help meet the local financial requirements needed to receive national matching-grant funds.
Subscribe to the sports newsletter
Get the day's top sports headlines and breaking news delivered to your inbox by subscribing here.
---