Sports
Leach, Dykes teams set to face off in critical matchup
Wed., Oct. 2, 2013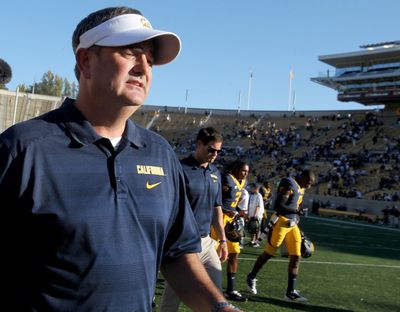 PULLMAN – The career of a football coach is a winding, circuitous affair full of fits and starts, hirings and firings, promotions and demotions. It is a hectic lifestyle, one in which the No. 1 phone number on speed dial may be the babysitter, but No. 2 is a real estate agent. But no matter where the respective journeys of Mike Leach and Sonny Dykes seem to take them, their paths can't help but cross. A relationship that began as an experiment in offensive innovation has taken them from the Commonwealth of Kentucky all the way to the west coast, with a pit stop in Lubbock, Texas, of course. When Leach took over as the head coach of Texas Tech University in 2000 he brought along an offensive-minded young coach who was a graduate assistant when Leach was the offensive coordinator at Kentucky name Sonny. Spike Dykes – Leach's predecessor at the school – was Sonny's pa. "Part of it's just getting old, you bounce around in this profession and you coach against more people," Dykes said. "But I don't think either of us ever envisioned ending up where we have, but we're glad we are where we are." Where Leach and Dykes are is coaching the football teams at Washington State University and California, respectively. Those roles will pit them against each other Saturday in Berkeley, Calif., in a critical matchup for both teams. What started in Kentucky will be tested in a good, old-fashioned, western shootout as Leach's Air Raid offense is tested against Dykes' Bear Raid variation in a contest to see who can pile up the most passing yards, fastest. It will not be a banner day for the running backs. In a time when the hectic life of a coach means recruiting until your voice is hoarse and watching film until your eyes sting, there isn't enough time to slap the backs of boosters, let alone maintain friendships. But with similar offense and a shared history, Leach and Dykes try to keep in touch, even if it's hard. "We see each other some at the head coach stuff or the conference stuff, so we see each other several times a year," Leach said. "We text some, I haven't for a while. The last time I saw him was at media days." Coaching trees spread root for a reason, and there's little doubt that successful coaches breed success simply in part because of the wisdom imparted to their protégés. And while Dykes is quick to say that his offense does have notable differences from the original, he acknowledges that Air Raid Classic does have its charms. "It's funny," Dykes said. "A lot of the guys that have worked for Mike have changed, and Mike has kept the most pure version of it. It's a lot of the same things he's been doing for a long time. Mike understands offensive football as well as anybody and he's a firm believer at getting good at doing some things and his teams are always going to be very good at specific things." But as Leach's former assistants acquire programs of their own and build their offenses in their image, the wisdom imparted by the old coach remains unchanged. "Mike's got an ability to focus on the things that really matter in football and sort through the things that really matter," Dyke said. "One of the biggest things you learn from him is, 'This is how you win and lose football games. These are the important things and make sure you're good at those things.'" Saturday's game will be just a snapshot in time, a footnote in the careers of Leach and Dykes. And their careers will veer and swerve on and off course until they again intersect. Probably next year.
Local journalism is essential.
Give directly to The Spokesman-Review's Northwest Passages community forums series -- which helps to offset the costs of several reporter and editor positions at the newspaper -- by using the easy options below. Gifts processed in this system are not tax deductible, but are predominately used to help meet the local financial requirements needed to receive national matching-grant funds.
Subscribe to the sports newsletter
Get the day's top sports headlines and breaking news delivered to your inbox by subscribing here.
---