Spokane feels government shutdown's impact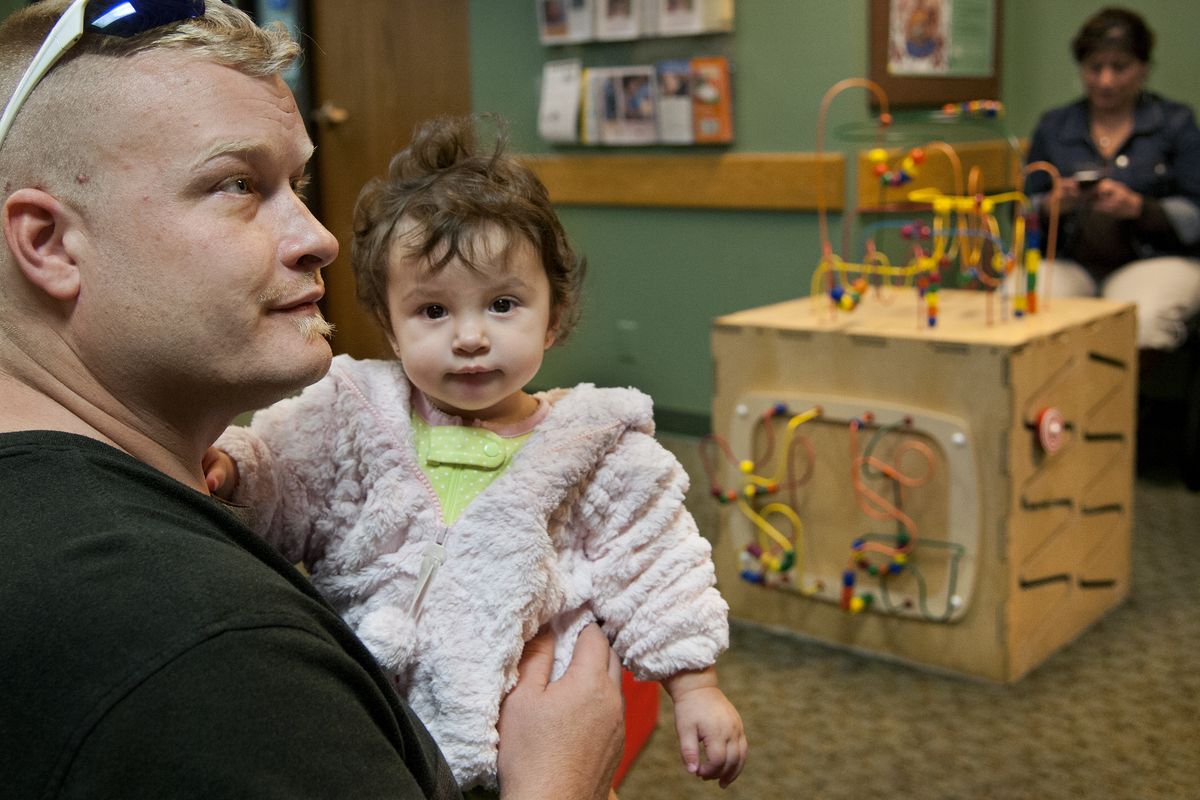 Rosa Chavira sat with her 11-month-old daughter, McKaella, and fiance, Blake Wiens, in the reception area of the Spokane Public Health building Tuesday afternoon, waiting for a nutritional assistance check that will be worthless next week if the federal government remains shut down.
"It's a scary situation," Chavira said, sighing and shaking her head.
The Women, Infants and Children program, which provides checks to low-income mothers and pregnant women for healthful foods, is one of several programs that soon could be affected at the local level if the congressional gridlock continues much longer. Though the pinch may not be felt by some for several days or weeks, agencies tasked with everything from protecting federal lands to providing assistance to the unemployed are warning the longer the showdown, the more drastic the consequences.
For WIC, reserve money will run out nine working days after the shutdown began Tuesday, Washington WIC Director Janet Charles said.
"At the moment, we are operating under the assumption that something will be resolved in the next nine days," Charles said Tuesday.
That means next week, barring congressional action, the vouchers Chavira depends on for milk will not be accepted at retailers. In addition, the local WIC offices – which employ 40 staff members – may be forced to consider layoffs or furloughs for their staff, some of whom also receive assistance from the program, according to Spokane WIC Manager Tiffany Schamber.
Schamber, who went through similar head-counting at the end of June because of congressional uncertainty affecting WIC funding, said the repeated crises are frustrating.
"What Congress is stuck on, really, has nothing to do with the services we provide," Schamber said.
Elsewhere, many federal workers were already facing furloughs beginning Tuesday morning. Jeff Whyatt, a supervisor at the Spokane Research Laboratory for mine safety funded through the Centers for Disease Control and Prevention, showed up to work at his usual time Tuesday – 5 a.m. – and was performing yard work before noon.
"We watched the news, like everyone," Whyatt said, adding that almost the entire staff of 40 people at the north-central Spokane offices was told to secure their workstations and leave. The furloughs interrupt the office's work researching methods to improve the structural integrity of U.S. mining operations.
At the U.S. Attorney's Office for Eastern Washington, about a quarter of 57 employees were sent home, U.S. Attorney Mike Ormsby said.
He said work on criminal cases is continuing based on the Justice Department's directives.
Even so, at least one high-profile criminal case from Spokane has been affected by the shutdown. Federal attorneys opposing the appeal from Karl F. Thompson Jr., a former Spokane police officer imprisoned last year, asked the 9th U.S. Circuit Court of Appeals on Monday for extra time to prepare its case, in part because of the federal shutdown. That request was granted Tuesday. Thompson is appealing his 2011 conviction for using excessive force against Otto Zehm and lying to investigators. Zehm died after he was confronted by Thompson and other officers in 2006. Thompson was sentenced to 51 months in prison.
Most of the employees sent home focus on civil cases, Ormsby said. Among the civil duties of the U.S. Attorney's Office is to defend the federal government against lawsuits, pursue fraud cases and work to collect money owed to the government.
"This is not the ideal way to conduct the operations of any legal operation," Ormsby said.
Many other parts of the federal justice system weren't yet affected. Judges are still handling cases, and federal probation officers won't be furloughed unless the shutdown lasts beyond Oct. 15, said Scott Morse, chief probation officer for the Eastern District of Washington.
By early Tuesday afternoon all but one of a dozen employees for the mining-focused U.S. Geological Survey office in the downtown Post Office building had gone home. Next door, in the main federal building, another U.S. Geological Survey office focused on water resources was dark, as were IRS operations and U.S. Sen. Maria Cantwell's Spokane office.
National parks throughout the region began drawing down staff Tuesday, and there were concerns the shutdown could affect weekend recreation and revenue.
Aaron Theisen, a freelance outdoors writer based in Spokane, received a phone call Tuesday morning that the cabin he had rented in April near the Snyder Guard Station, outside Bonners Ferry, may be shuttered when he arrives with his wife and infant son this weekend.
"We're playing the waiting game," Theisen said, not yet willing to opt for a refund from the booking company for the highly sought-after property.
Theisen may not be waiting much longer. The House of Representatives moved Tuesday night to reopen national parks throughout the country and pay benefits to veterans while the government is shut down.
A spokeswoman in U.S. Rep. Cathy McMorris Rodgers' office said Tuesday afternoon the House was waiting for the Senate to come to the negotiating table on a broader plan to continue funding the government. Senate Democrats have signaled they have no intention of agreeing to House Republican demands to delay President Barack Obama's signature health care law, passed in 2010 and upheld by the Supreme Court earlier this year.
The lingering impasse means uncertainty not only for the some 5,000 people in Spokane County on the federal payroll but also for countless families and mothers like Chavira who depend heavily on government assistance.
"If it wasn't for WIC, it would just be very, very hard," Chavira said.
---