Sports
Suspensions, injury slow Cougars basketball team
Thu., Oct. 3, 2013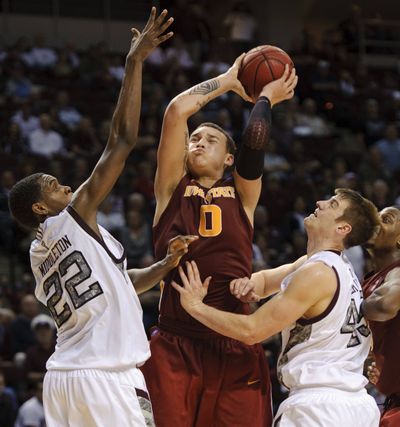 Key Returners: Royce Woolridge (11.0 ppg, 2.7 apg), DaVonte Lacy (10.5 ppg, 2.9 rpg), D.J. Shelton (6.2 ppg, 6.0 rpg)
Key Departures: Brock Motum (18.7 ppg, 6.3 rpg), Mike Ladd (10.5 ppg, 5.9 rpg)
Key Newcomer: Que Johnson
Cougars will be hostile on defense: After a disappointing season in 2012-13, head coach Ken Bone hopes to shake things up by implementing a faster, more aggressive defense.
"I think we have pretty good depth in the backcourt. With that depth there's good quickness so we would like to take the intensity level higher and I'm hoping that will create more opportunities on the offensive end for us."
Depth to be tested early: The highly-anticipated debut of Que Johnson has been delayed. A stress fracture has sidelined the talented guard for about two weeks according to Bone. Johnson's absence, along with the suspensions of Danny Lawhorn and Jordan Railey, will limit what the Cougars can do in practice, particularly as they try to implement their new defense.
"You deal with it. I guess I'd rather deal with it now in the beginning of October than in January or February in the middle of conference play," Bone said.
Bone downplays freshman hype: After sitting out last season as a partial-qualifier, all eyes are on 6-foot-5 guard Que Johnson. The talented freshman brings desperately needed scoring ability to a team that finished second to last in the conference in points per game last season, and lots its top scorer in Brock Motum.
Still, Bone downplayed expectations for the freshman, saying, "The thing about Que is, he was a good high school basketball player but he hasn't scored a bucket in college. It's all expectations and potential and there's been a lot of guys over the years with great potential who didn't fulfill it."
Key contest: The Cougars travel to Orlando, Fla., in November to take part in the Old Spice Classic. On November 28, they'll face off against Butler in a contest that will show if the Cougars have improved from last year, and how the Bulldogs will react to coach Brad Stevens' move to the NBA.
Opener: Washington State's season tips off with an exhibition game against the Central Washington University Wildcats on Friday, Nov. 1.
Local journalism is essential.
Give directly to The Spokesman-Review's Northwest Passages community forums series -- which helps to offset the costs of several reporter and editor positions at the newspaper -- by using the easy options below. Gifts processed in this system are not tax deductible, but are predominately used to help meet the local financial requirements needed to receive national matching-grant funds.
Subscribe to the sports newsletter
Get the day's top sports headlines and breaking news delivered to your inbox by subscribing here.
---