Sports
Cougars' Pole, Gauta have breakthrough games
Sun., Oct. 6, 2013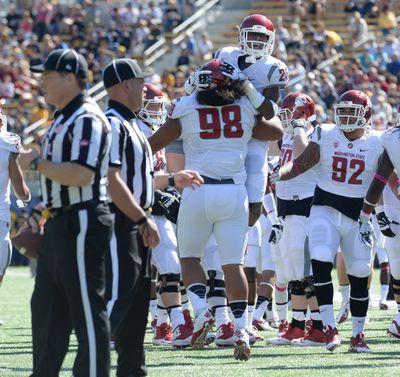 BERKELEY, Calif. – If it's possible for a highly regarded defensive player to have a breakout game, then a pair of Cougars accomplished the feat on Saturday. Defensive tackles Kalafitoni Pole and Ioane Gauta led a defensive charge that saw Cal's Bear Raid offense held to just 20 offensive points, including 14 on a pair of long passes because of breakdowns in the Cougars secondary.
Pole and Gauta held the Golden Bears to just 79 net rushing yards, and piled up some impressive individual statistics. Gauta sacked Cal quarterback Jarred Goff twice, his first two solo sacks of the season. Pole recovered his first two fumbles of the season and forced one as well.
"We just lined up and they had a bad exchange. I was able to stay in my gap and I was able to be at the right area in the right time," Pole said. "That was the first fumble, on the second one – we take pride in our goal-line defense … the coaches emphasized finishing this week and I was able to finish right there on that."
Those two fumbles established a standard for a defense that denied the opponent a touchdown in three trips to the red zone. While Cal was able to amass 506 passing yards, the bulk of those were negated by five turnovers forced by the Cougars.
"It's always good to feed off a turnover … we never stopped," Gauta said. "When they got the ball back we didn't stop our charge, we kept pressing on and it led to a big margin."
Pole picked an opportune game to have such obvious success. The junior defensive lineman is from Union City – just a half-hour away from California Memorial Stadium – and said that he had more than 50 friends and family in the stands.
Goetz starts at right guard
After practicing some at the position during the week, Matt Goetz started at right guard.
John Fullington slid over from the spot to start at right tackle. Goetz is typically the Cougars' backup left guard. Fullington said that his linemate acquitted himself well.
"Goetz did great, man," Fullington said. "He's played before, of course, he played last year. He's a really good player, I think Goetz did a really good job."
Goetz had started for WSU in the past and clearly impressed the WSU coaches enough to earn another shot at it.
"Now that he's up with the (first string in practice) he's getting a little boost," Fullington said.
"It's tough, you know? To be starting games and then you get bumped back to second string but he came out and has been practicing harder."
Quarterback Connor Halliday was only sacked once against the Bears, despite dropping back to pass 67 times.
Peterson replaces Coen
Mitchell Peterson came to WSU to play outfield for the baseball team, but on Saturday he was suited up playing linebacker for the Cougars football team. Peterson entered the game early in the fourth quarter for Cyrus Coen. It was the second time Peterson has appeared in a game for WSU – he also entered the game against UCLA last year.
"I was running with the 2's, so you've always got to prepare like you're going in," Peterson said.
Local journalism is essential.
Give directly to The Spokesman-Review's Northwest Passages community forums series -- which helps to offset the costs of several reporter and editor positions at the newspaper -- by using the easy options below. Gifts processed in this system are not tax deductible, but are predominately used to help meet the local financial requirements needed to receive national matching-grant funds.
Subscribe to the sports newsletter
Get the day's top sports headlines and breaking news delivered to your inbox by subscribing here.
---