Sports
Big Sky football: Eagles' eyes scrutinize UND WR Greg Hardin
Wed., Oct. 9, 2013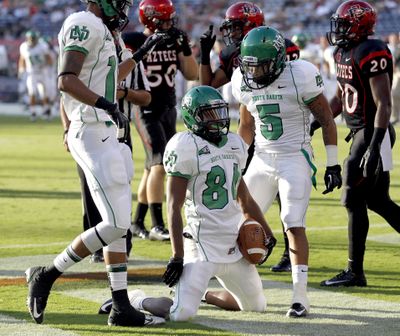 One reason Eastern Washington cornerback T.J. Lee is an All-American? He loves to watch film. "I'm always looking for clues," Lee said. This week the highlight reel features North Dakota wide receiver Greg Hardin, one of the top pass-catchers in the FCS and the focal point of UND's offense. Going into Saturday's game against the Eagles, Hardin ranks eighth in the nation with 25 catches for 542 yards and two touchdowns. Also a dangerous kickoff returner, he ranks third in the nation in all-purpose yards per game at 221.6 yards. "You have to watch extra film and critique him," Lee said Tuesday before practice at Roos Field. "You have to eliminate his chances of touching the ball." Lee won that battle last year in Cheney, holding Hardin to four catches for 32 yards in a 55-17 Eastern win. "I feel like I did a good job on him last year," Lee said. Eastern players and coaches appreciate Hardin's ability in open space and his ability to gain yards after the catch. "He has the ability to stretch the field and make you miss and turns it into a big play," Eastern safeties coach Jeff Schmedding said. Both head coaches see the matchup the same way: the Eastern defenders trying to keep the action in front of them, and North Dakota trying to exploit that. "People are going to play us deep, so we have to take the underneath stuff," UND coach Chris Mussman said. "You have to make him earn everything," EWU coach Beau Baldwin said. Happy returns After last year's game in Cheney, North Dakota is eager to return the favor. In that 55-17 win, the Eagles got a 99-yard kickoff return for a touchdown from Shaquille Hill and a 62-yarder from Cory Mitchell to seize the momentum in the first half "That was our demise," North Dakota coach Mussman said. A year later, the return game has gone from weakness to strength. Last week at Idaho State, UND struggled on defense but was bailed out with a 99-yard kickoff return for a score by Hardin. "This will be one of our biggest challenges," said Schmedding, who doubles as the Eagles' special teams coach. "But also their entire kickoff unit – that will challenge our guys."
Under the roof
North Dakota will play nine of its 11 games this year indoors, including Saturday's homecoming game against the Eagles. UND is 67-16 in 12 seasons at the Alerus Center, including a 10-0 mark in the Division II playoffs. The visit is a first for the Eagles, but not for Baldwin. "It's a home-field-type advantage for them and a challenge to get used to the newness," said Baldwin, who took Central Washington here when he was the Wildcats' coach in 2007. "The fans are right on top of us, but hopefully that fuels us a little bit," Baldwin said.
Flagged for improvement
Both teams are struggling in the penalty department, with Eastern ranking 10th and UND 11th in the Big Sky Conference. "We have to improve," said UND coach Chris Mussman, who watched his team commit 14 penalties for 121 yards – both season highs – in a narrow 28-25 win at Idaho State. This year, UND has committed 42 penalties for 373 yards. The Eagles' numbers are slightly lower – 40 flags for 371 yards – but for some reason, Eastern's opponents have been remarkably mistake-free, committing just 24 penalties for 171 yards.
Tough dates
Eastern's tough nonconference schedule is well-known, but it's been no cakewalk for North Dakota. Eastern will be its fourth ranked FCS opponent in five weeks. UND has faced South Dakota State (currently 13th), Montana (11th) and Montana State (seventh), and lost each game. It now gets the sixth-ranked Eagles. "Their record isn't indicative of how good they are," Baldwin said. "I think they're going to be hungry to get to 3-3." Life gets easier after the Eastern game. Of UND's final five opponents, only Northern Arizona has a winning record.
Around the conference
Montana State senior Tanner Bleskin became the school's all-time leader in receptions with 170. Bleskin caught four passes for 46 yards. His 170th catch, which broke the record, was thrown by his brother Jake Bleskin. … Sacramento State's DeAndre Carter leads the nation with 10 touchdown catches. … Cal Poly's Bobby Zalud made a 53-yard field goal in a 24-10 loss to Yale. … Home teams are 6-6 in the first 12 conference games.

Local journalism is essential.

Give directly to The Spokesman-Review's Northwest Passages community forums series -- which helps to offset the costs of several reporter and editor positions at the newspaper -- by using the easy options below. Gifts processed in this system are not tax deductible, but are predominately used to help meet the local financial requirements needed to receive national matching-grant funds.
Subscribe to the sports newsletter
Get the day's top sports headlines and breaking news delivered to your inbox by subscribing here.
---