News > Washington Voices
Lynne Blackwood's pizzazz fuels her creativity
Thu., Oct. 10, 2013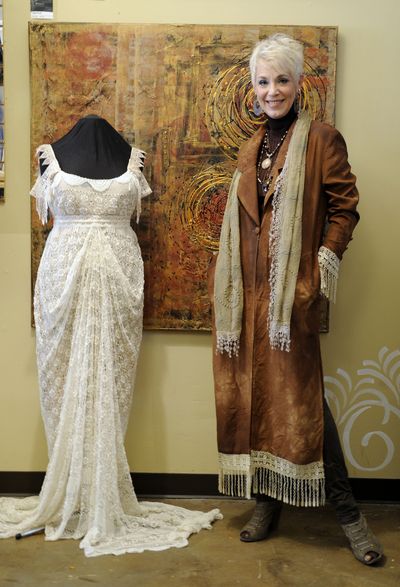 While planning her second wedding about 19 months ago, Lynne Blackwood found that the wedding dresses she was looking at lacked the pizzazz she desired and so, she fixed that.
"Fixing ugly or out-of-date is very easy," she said.
While maintaining a romantic feel, she got to tearing, cutting, sewing and dying, and voila, she had three dresses to choose from; romantic yet edgy and full of pizzazz.
A designer, a performer and a multimedia artist, Blackwood is all about pizzazz.
Blackwood, the daughter of a military man, grew up all around Washington. Her mother was thrifty and artistic, decorating their homes with paintings she created and making clothes for Blackwood and her sister.
"She taught me how to make something out of nothing," Blackwood said. "My mother still makes beautiful clothes for herself and creates fabulous garden art and is a jewelry maker and a Master Gardener." Blackwood's mother also encouraged her daughters to express themselves through song. "My mom made my sister and I practice singing and harmonizing with each other starting at a young age. We sang three-part harmony together for many years."
Blackwood graduated from Washington State University with a bachelor's degree in theater. She began graduate studies, but professional work called, taking her to places like Miami and the Caribbean where she sang and performed at clubs, resorts and on cruise ships. She came to realize that female singers were a dime-a-dozen, so she added stand-up comedy to her routine, dressed up as a glamour queen.
Her past artistic endeavors include creating lamps out of things like tennis shoes, selling 60 hand-painted sweatshirts one Christmas, painting on furniture and canvas, working as a theater director, a set designer, a costume designer and an actress, designing home interiors, making jewelry, flower arranging.
"I just can't sit and do nothing. I mean I can just sit, but I have to be doing something with my hands or I go nuts," she said. "And it is much cheaper than a therapist. It centers me, challenges me and pushes me. I like that a lot."
Blackwood settled just north of Spokane about 19 months ago. Her day job is as a project manager for facility design and remodels of assisted living centers. Her other waking hours are spent creating clothing and accessories from previously used materials. Since her wedding dress, Blackwood's designs have been featured in magazines and on runways, showing a mix of glamour and tomboy, bling and practicality. Since moving to the area, Blackwood has also appeared in TV commercials after signing up with a talent agency.
Her designs can be viewed online and at Glamarita and the Corner Cottage. On Friday, one of her designs, a long-lined corset with a headdress and removable veil, will be hitting the catwalk during the Beyond Pink Designer Bra Fashion Show and Auction.
"I create because I don't know how not to," she said.
Local journalism is essential.
Give directly to The Spokesman-Review's Northwest Passages community forums series -- which helps to offset the costs of several reporter and editor positions at the newspaper -- by using the easy options below. Gifts processed in this system are not tax deductible, but are predominately used to help meet the local financial requirements needed to receive national matching-grant funds.
Subscribe to the Coronavirus newsletter
Get the day's latest Coronavirus news delivered to your inbox by subscribing to our newsletter.
---