News > Idaho
Ranchers worried about ruling on waste control
Sat., Oct. 12, 2013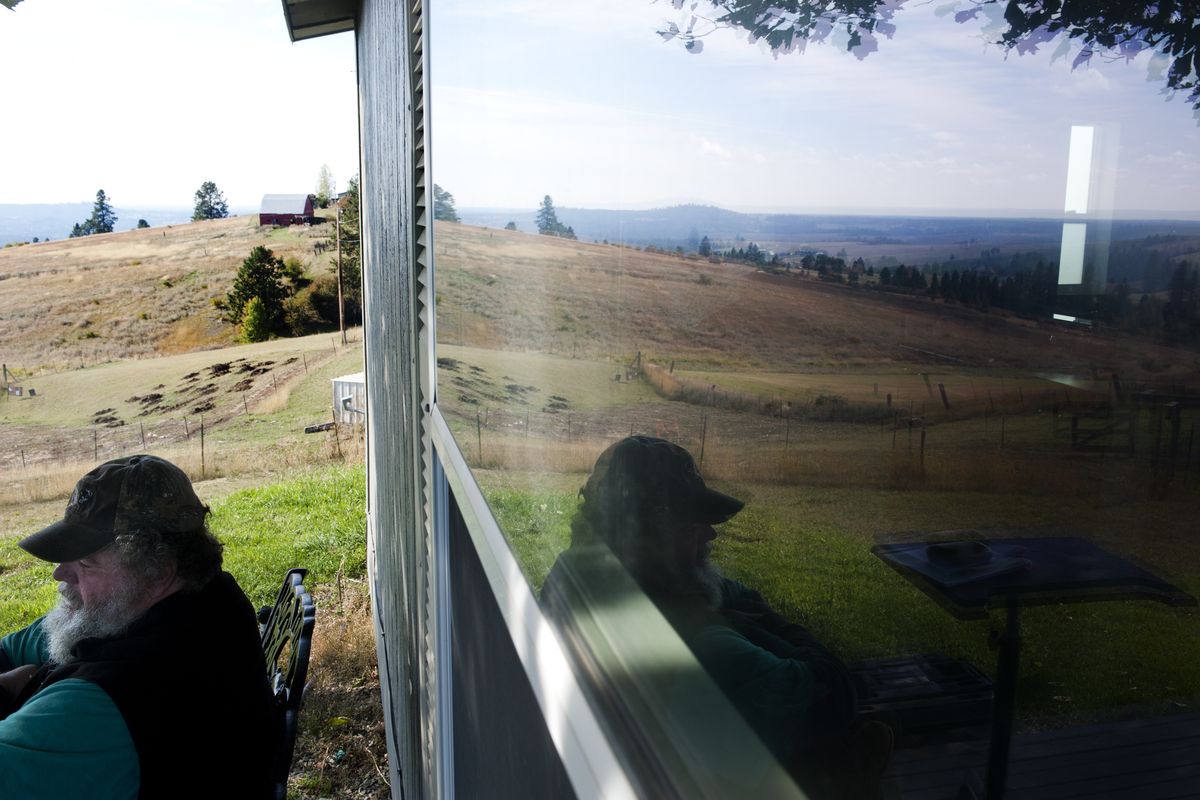 Bill Demers sits on the porch of his farmhouse Wednesday. He has three cows and a pasture with an intermittent stream running through it. Demers is upset about a recent state Supreme Court ruling that affirms the Department of Ecology's ability to regulate cows in streams. (Tyler Tjomsland)Buy a print of this photo
Bill Demers is a small-time rancher, grazing three cows on 65 acres of rolling pasture in south Spokane County.
It's a job the retired juvenile court officer relishes. Demers' cows – Sophie, Ginger Snap and Pistol Annie – trailed him as he drove a small tractor over the land this week, pointing out improvements that he's made since moving there six years ago.
A healthy layer of sod grows on formerly bare ground adjacent to the North Fork of Stevens Creek. Demers re-established the grass cover by keeping his cows out of the intermittently flowing creek when there's water in it. But he fears that state water quality requirements eventually will force him to fence off the creek, which he said would cost about $12,000 for a farming operation that nets $1,500 or less each year.
"It would put me out of business," Demers said.
Fencing and water have always been hot topics in the rural West, and Friday was no different as 100 ranchers met to talk about how a recent state Supreme Court ruling might affect their livelihoods.
In the case involving Dayton rancher Joseph Lemire, the state's high court affirmed the Washington Department of Ecology's authority to regulate livestock pollution in streams.
The agency had ordered Lemire to put up fencing to keep his cows from trampling the banks of Pataha Creek and keep manure out of the water. The August court ruling also said the plaintiffs didn't demonstrate that the fencing requirement qualified as a "taking" of private property.
"For landowners, this is a very big deal," said Hal Meenach, president of the Spokane County Farm Bureau. "Areas close to waterways are the best pasture that a cattleman has. If they lose it, it's a huge loss in the number of cattle that their land can support. With the Lemire ruling, it's not considered a taking."
Ranchers said they're worried that the ruling will lead to aggressive enforcement.
Since the ruling, the Ecology Department has sent out "a wave" of letters to ranchers, telling them their cows are polluting streams, said Toni Meecham, president of the nonprofit Washington Agriculture Legal Foundation, who represented Lemire.
However, "this is nothing new that Ecology has this authority," said Rachael Paschal Osborn, a water attorney and adjunct professor at Gonzaga University's law school.
She said the ruling affirmed the state's broad authority to regulate discharge into streams, including pollution sources such as cattle.
"Water is a public resource," Osborn said. "Cows in streams can be very damaging to the ecology." Taking the position that livestock should be allowed in creek bottoms regardless of impact isn't reasonable, she said.
The Department of Ecology has been working to reduce livestock's effect on streams for about 12 years, said Chad Atkins, a water quality specialist for the agency.
When livestock operations aren't managed properly, they're a source of coliform bacteria, excess nutrients and sediment in waterways, he said. They can also alter water temperature and pH.
Ecology officials look for visual evidence that livestock are affecting streams, such as bare ground, eroded banks, manure piles and extended livestock access to the water.
But Atkins said it's rare for the state to take regulatory action against a livestock operator. Usually, the department's employees and ranchers can work together to find solutions, he said.
"Good water quality and a healthy livestock industry aren't mutually exclusive. You can have both," Atkins said.
The regulatory action against Lemire came after years of inaction by the rancher, whose practices had been identified 10 years ago for having negative effects on Pataha Creek's water quality.
State and federal programs can help ranchers pay for fencing and sources for watering cattle away from streams, Atkins said. But if ranchers take the money, they have to agree to leave buffers of streamside vegetation that cows can't access.
Beginning in July, one grant program will require 75-foot buffers around salmon-bearing streams.
Osborn, the water attorney, said she wouldn't be surprised to see legislative proposals next year to weaken the Ecology Department's ability to regulate water pollution from cow pastures.
That's indeed in the works, said Meecham, the attorney hired by Lemire. Fundraising is also underway to hire an Oregon State University range specialist, who would be available to consult with ranchers who are told their operations are harming water quality, she said.
In addition, ranchers want DNA testing of coliform bacteria, to indicate whether it's coming from livestock or wildlife, Meecham said. Fencing cattle out of creeks increases habitat for rodents and birds, which can actually increase coliform bacteria levels, she said.
Demers, the rancher with three cows who organized the Spokane County Cattlemen's Association meeting, isn't sure where all this leaves him.
He's in the Hangman Creek watershed, which has high levels of coliform bacteria and sediment in the water.
Six other livestock owners in the Hangman watershed have received notices from the Department of Ecology, saying that their practices are hurting water quality. Demers said he expects to get a notice, too.
And yet Demers, a 4-H instructor, said he's a good caretaker of the land. He's hauled junk vehicles out of the creek, along with old lumber and other debris. During the seasons when cows have access to the dry creek bed, he uses a hand shovel to remove the cow pies. The manure is stashed where the runoff won't reach the creek, he said.
Each patch of ground is familiar to Demers, who recites the history of his efforts to get forage grass re-established there. He's protective of the turf that keeps erosion from running into the creek. That's something most ranchers share, Demers said.
"We're grass farmers first," he said.
Local journalism is essential.
Give directly to The Spokesman-Review's Northwest Passages community forums series -- which helps to offset the costs of several reporter and editor positions at the newspaper -- by using the easy options below. Gifts processed in this system are not tax deductible, but are predominately used to help meet the local financial requirements needed to receive national matching-grant funds.
Subscribe now to get breaking news alerts in your email inbox
Get breaking news delivered to your inbox as it happens.
---