National leader Cooks heats up against WSU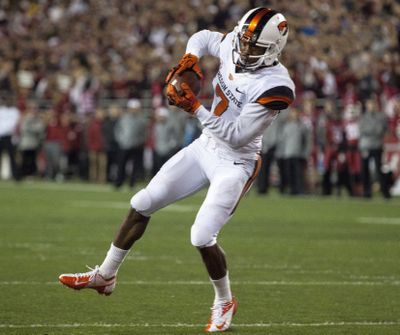 PULLMAN – For the Washington State secondary, the early game plan on Saturday night was clear: Don't let Brandin Cooks go wild.
Oregon State's superb receiver was quiet for a while, but his teammates picked up the slack in the first half – and he exploded when it mattered in a 52-24 victory over the Cougars.
Cooks, the nation's leader in receiving yards and touchdown receptions coming into the week, had 11 catches for 137 yards and three total TDs, two through the air. All three scores came in the second half, when the Beavers silenced the 31,955 chilled fans at Martin Stadium.
"They doubled me, they bracketed me in the first half," Cooks said. "And I knew it was going to come sooner than later, so I wasn't in a rush."
Cooks and quarterback Sean Mannion set an Oregon State record with the most TD connections in school history with 18. And they did it against a defense that coach Mike Riley said was the best-coached that they've faced this year.
Asked about the mark the prolific duo set, Riley smiled and said, "That's great. We want more."
Cooks, a shifty 5-foot-10 junior, was far from the only Oregon State receiver who did damage in the key midseason Pac-12 matchup. Four Beavers had at least five receptions, including tailback Storm Woods.
The early star was Richard Mullaney, a 6-foot-3 sophomore who caught a 46-yarder in the first half and finished with five receptions for 122 yards.
Mannion, who came into the week leading the nation in passing yards and touchdowns, threw for a school-record 493 yards and four touchdowns. With weapons all over the field, he carved up the Cougs' secondary with a mix of screen passes, deep outs and bullets to the sideline.
"Look, the reason I feel we had a big game was because Richard Mullaney stepped up today and the tight ends and the running backs stepped up out of the backfield," Cooks said. "Oh, and don't let me forget Kevin Cummings, who had some big-time plays."
When the Cougars became turnover-happy late in the second half, Mannion started to target Cooks. He scored on an 8-yard fly sweep and on passes of 8 and 30 yards as the Beavers turned the game into a blowout.
Cooks, who has 11 TD receptions this year, had 171 yards rushing and receiving.
Instead of getting frustrated early, Cooks heeded his coaches' advice to be patient.
He said the success he and Mannion are having isn't a surprise, mainly because of their work in the offseason.
"When you work that hard, you expect nothing less from yourself," Cooks said.
---