News > Features
Wanderers with dementia pose challenges to families, agencies
Mon., Oct. 14, 2013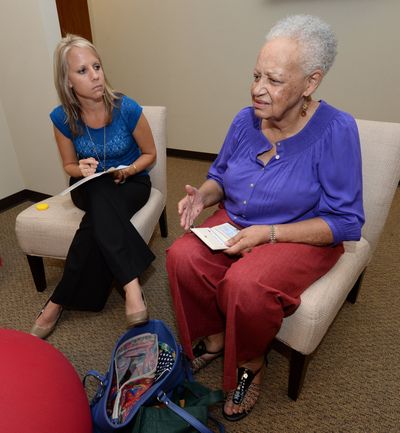 Eleanor Alexander never deviated from her night-time routine. She'd eat a light dinner, let her dog Spot out, let him back in, double-lock the screen door. And then, she and her companion would call it a night.
The evening of July 26 started the same way. The 78-year-old told her son she would eat a few bites of the vegetable soup he had brought her, then go to bed. She already had on her pink-striped pajamas when he left.
Yet for unknown reasons, instead of going to bed, she stepped outside her rural Coweta County, Ga., home and started walking, dressed in nothing more than night clothes and slippers.
Within hours, search teams – deputies and volunteers, people on horseback and guiding four-wheelers, some with search dogs straining at leashes – spread out across the landscape, looking for a tiny target: a woman with wavy white hair, blue eyes, barely weighing 100 pounds.
They found her three days later. Alexander, suffering from dementia, was tangled in a barbed-wire fence in a patch of woods about a mile from home. She was alive, but barely: her body temperature had dropped to 84 degrees.
Cases such as Alexander's have been rising, posing challenges for public and private agencies. Dementia sufferers who wander – six of 10 will at some point – can trigger extensive and expensive searches, and not all are found.
Several law enforcement agencies are adopting new technologies to track individuals with dementia, but none is perfect. Experts also say that families can be slow to recognize that a loved one is at risk of wandering.
Before she went missing, Alexander's son and daughter-in-law had encouraged her to move in with them. But she balked at the idea and insisted on having her own place.
"I couldn't have imagined she would ever go out solo," said Becky Alexander, who believes her mother-in-law likely has Alzheimer's disease although she's never been formally diagnosed.
In the spring of 2004, Mattie Moore, a 67-year-old Atlanta woman, wandered away from home. Her body was found eight months later in a wooded area, just 250 yards from her front door.
Moore's death prompted Georgia legislators to create a statewide alert system to help find missing adults with Alzheimer's disease, dementia or other mental disabilities.
Much like the "Amber Alert" for missing children, a Mattie's Call disseminates information about a person's disappearance to the media, other law enforcement agencies, as well on Georgia Lottery machines and signs. The missing person is also listed in the National Crime Information Center database.
Since Mattie's Call went into effect in 2006, the number of alerts has increased nearly fivefold. In 2007, there were 31 across the state. Last year there were 150. This year, by the end of July, 76 alerts had been issued, including one for Alexander.
"It's an absolutely huge, huge problem," said Carol Steinberg, president of the Alzheimer's Foundation of America. "It can happen out of the blue. The person could be hungry or thirsty or in their mind be hooked on the idea that they need to go home and they are already home."
People with Alzheimer's are often going somewhere, searching for something, and don't necessarily consider themselves lost.
But most of the time, the person takes off on foot and gets lost less than a mile from home. Search missions can last 20 minutes or they can drag on for days.
The average time of finding someone missing with Alzheimer's is about nine hours, according to a 2012 report, "Lost and Found" by the Alzheimer's Foundation of America.
The search and rescue missions are also expensive undertakings, costing taxpayers $1,500 per hour, according to the report.
After 24 hours, a missing person with dementia only has a 50/50 chance of being found alive, according to the Alzheimer's Foundation 2012 report.
Becky Alexander immediately suspected something was wrong when she approached her mother-in-law's house on the morning of July 27 and heard Spot squealing. The screen door was not locked. Alexander scurried to each room of the house, yelling, "Eleanor." Alexander called 911. As word spread, a tip from someone who said they spotted a woman in pink striped clothing walking alone the previous evening along Highway 34. The all-volunteer Alpha Team K9 Search and Rescue focused on the northern swath where she was reportedly spotted.
Family, friends and strangers passed out fliers. They posted them on telephone poles and gave stacks to postal workers. They created a Facebook page: "Find Eleanor Alexander." They knocked on doors. They prayed. And they canvassed the area, step by step.
Alexander was first noticed missing Saturday morning. Close to 11 a.m. on Tuesday, Tracy Sargeant, with her search dog Cinco, called out. He saw Alexander lying in the grass. Her eyes were closed. At first, Coweta County Sheriff's Lt. Col James Yarbrough didn't think the elderly woman was alive. He knelt down and could tell she was breathing.
A variety of electronic tracking systems are now available to help locate missing people with dementia. They can vastly improve the chances of finding someone, but each has limitations.
A handful of police and sheriff's departments across the state have turned to Project Lifesaver, a bracelet-like device that emits a silent tracking signal to help locate wandering elderly.
The program requires the jurisdiction to invest about $4,000 for the tracking equipment; each bracelet costs about $360. It's also time intensive, requiring specially trained officers to change out the batteries in the bracelets once a month.
The program requires each enrolled person to have 24-hour care, because it's not intended to take the place of supervision and the bracelet has a limited tracking radius. Alexander, who lived alone, would not have qualified.
Tommy Pope, director for the criminal investigation division for Fayette County, said the average time of finding someone with a bracelet is under 30 minutes.
The Alzheimer's Association offers a GPS-like tracking device called, "Comfort Zone," which uses a phone or pager-like device to keep track of a loved one with Alzheimer's and is designed for people in the early stages of the disease. There's a startup cost of $99 for gadget and a $14.99 monthly fee.
Experts say a critical first step is a more low-tech solution: getting a simple ID bracelet. Since wandering can happen at any time of the day or night, it's not uncommon for a missing person with dementia to be without a wallet or identification.
Local journalism is essential.
Give directly to The Spokesman-Review's Northwest Passages community forums series -- which helps to offset the costs of several reporter and editor positions at the newspaper -- by using the easy options below. Gifts processed in this system are not tax deductible, but are predominately used to help meet the local financial requirements needed to receive national matching-grant funds.
Subscribe to the Coronavirus newsletter
Get the day's latest Coronavirus news delivered to your inbox by subscribing to our newsletter.
---
Subscribe and log in to the Spokesman-Review to read and comment on this story