News > Washington Voices
Latah Schoolhouse stands the test of time
Thu., Oct. 17, 2013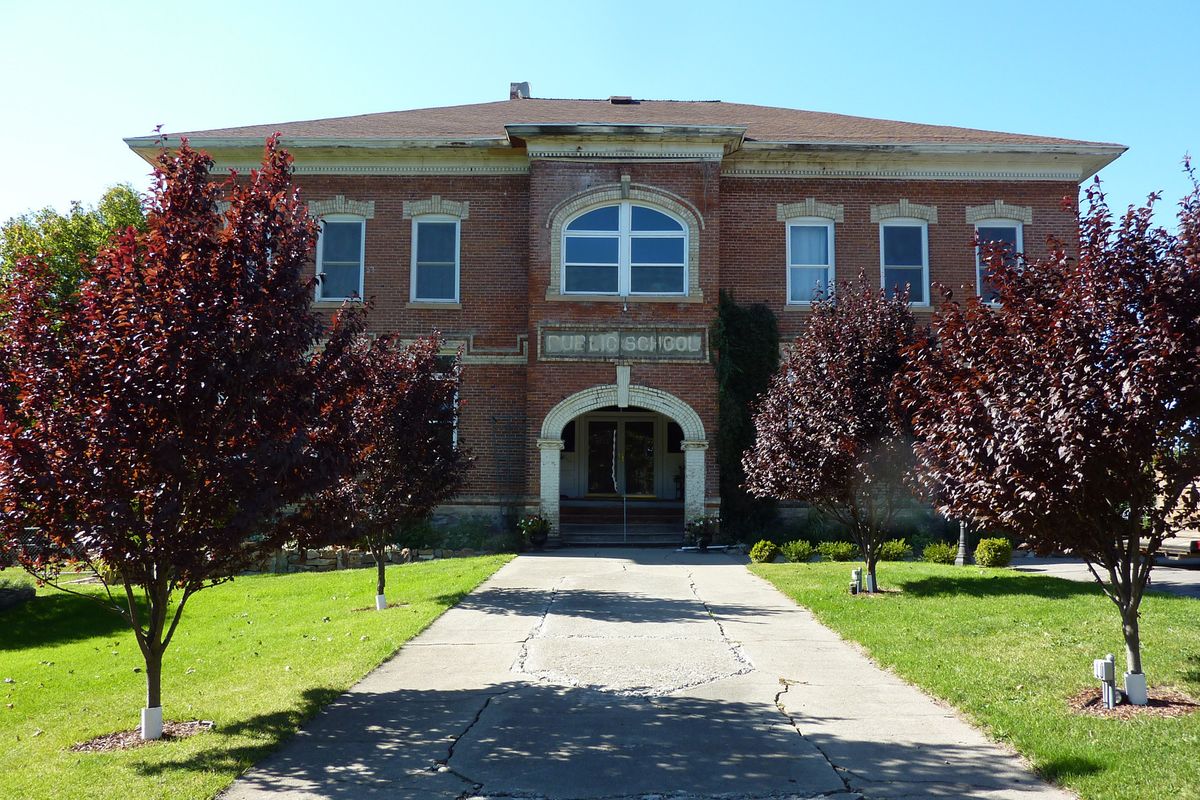 The Latah Schoolhouse was built in 1908. It is owned by Heidi and Kevin Turnbough who are gradually restoring the building. (Stefanie Pettit photos)
Atop the Main Street hill overlooking the town of Latah in southeast Spokane County is the old Latah Schoolhouse, the largest brick schoolhouse and public building ever built in the farming town.
The building was also the first modern high school constructed in that section of the state. In the early 1900s, students from the nearby communities of Rosalia, Spangle, Waverly and Fairfield would board with families in Latah so they could attend school.
Built in 1908, the schoolhouse fell into disrepair and nearly met its fate at the receiving end of a wrecking ball after the last high school graduation was held there in 1958 and Latah joined with surrounding towns to form the Liberty School District. The old schoolhouse was used for meetings and community events for a few years, but it eventually became too expensive to maintain.
For a while it appeared it would be torn down and the valuable red and blond exterior brick, which was made in that area, sold off. However, it was eventually sold and resold and in 2003 sold again to current owners Heidi and Kevin Turnbough. Along the way, some maintenance and shoring up had been done and the building was placed on the National Register of Historic Places in 2002.
The Turnboughs, who come from Spokane originally, had been living in Hawaii but wanted to return to a rural area in Eastern Washington as their children were entering high school. They had renovated homes for much of their married lives, so when the Latah Schoolhouse came onto their radar, they were intrigued. Kevin's father looked at the property for them and suggested they'd never in their lifetimes get it done. When Kevin flew over to look at it, he also thought "no way." The dilapidated schoolhouse had black mold everywhere, dead birds throughout, a colony of bats in residence, lathe and plaster needing to be replaced everywhere and broken windows aplenty.
"Our kids fell in love with the gym," Heidi said, "but the outside of the structure is what got us. The space was overwhelming, but my husband is a sucker for brick buildings, and we thought it might be fun to renovate an historical building."
It may not have been fun exactly, and it's still a work in progress, but the Turnboughs are quite at home there, loving it and finding ways to keep at the renovations.
The 1908 two-story brick masonry building is a rectangular 71-by-61 feet and has 8,600 square feet on the first and second floors combined. In 1920 a one-story gymnasium was added on the west side, connected by a two-story enclosed breezeway and included two indoor bathrooms. The gym is encircled on three sides by an elevated viewing gallery, which is supported by peeled log pillars. The original solid maple gym floor remains.
The schoolhouse was designed in the American Renaissance style by Coeur d'Alene architect George Williams, who incorporated a prominent corbelled entry arch and several rows of tall windows. It was funded by bonds that were not to exceed $13,000 at an interest rate of 6 percent. Eleven teachers, earning from $50 to $100 monthly, were employed when the school opened. The main floor housed classrooms and accompanying cloakrooms for children in grades 1-8 and also had a kitchen and cafeteria area. A 5-foot-wide staircase made of ebony-finished fir leads to the second floor, which held the library and was where literature, arithmetic, geography, physiology, civics and other courses were taught to high school students. The exterior was landscaped and tennis courts put in for the students.
The bell tower at the top of the building was removed in the 1930s because of structural problems. Heidi Turnbough said the bell went to Shadle Park High School in Spokane and was used there as the victory bell. When Shadle was remodeled, the bell was going to be scrapped until someone remembered where it had come from, and it was offered back to the Latah Schoolhouse. The bell now stands in a frame out on the lawn, back at its original schoolhouse (though the initials SP are still painted on it).
When the Turnboughs and their three children returned from Hawaii, they had to rent in Spokane while work began on the schoolhouse. Then they moved into an RV on site until the schoolhouse had heat and was at least partially habitable. "We always ran into bats when we'd come in from the RV during the night to use the bathroom," Heidi remembers.
Much of the upstairs has been remodeled into bedrooms and bathrooms for the family, which mostly resides on that floor. The upstairs library remains unfinished. Along the north side of the main floor, a huge open living and dining area and kitchen have been finished. The first grade classroom in the southeast corner will be restored as an early 20th century classroom, and other rooms are still being tackled as money becomes available.
Heidi serves as Latah city clerk and Kevin works at Lowe's in Spokane Valley. They were able to tackle a project like this, Heidi said, because they bought low and sold high in Hawaii, so they had some funds to get it under way.
"This is really way too big for us, so we had to decide what to do now that two of our children are grown and out on their own," Heidi said. "We need to be able to keep putting money back into the building, so it either needs to be sold or it needs to be a business."
They have settled on the latter choice and have begun holding weddings there – either in the landscaped yard on the north side of the schoolhouse or in the gymnasium. They've constructed a bride's room close to the breezeway and appointed it with vintage furniture.
The Latah Schoolhouse remains atop its original hill and looks on the outside much as it did in the past. It has survived several reincarnations – from schoolhouse to civic meeting center, from near ruination to a family home – and now to a family home and wedding event venue.
It's a solid place in the history of the region, and its owners remain committed to ensuring it a promising future.
Local journalism is essential.
Give directly to The Spokesman-Review's Northwest Passages community forums series -- which helps to offset the costs of several reporter and editor positions at the newspaper -- by using the easy options below. Gifts processed in this system are not tax deductible, but are predominately used to help meet the local financial requirements needed to receive national matching-grant funds.
Subscribe now to get breaking news alerts in your email inbox
Get breaking news delivered to your inbox as it happens.
---