News > Washington Voices
The Verve: Tom Norton hopes to inspire others to create
Thu., Oct. 17, 2013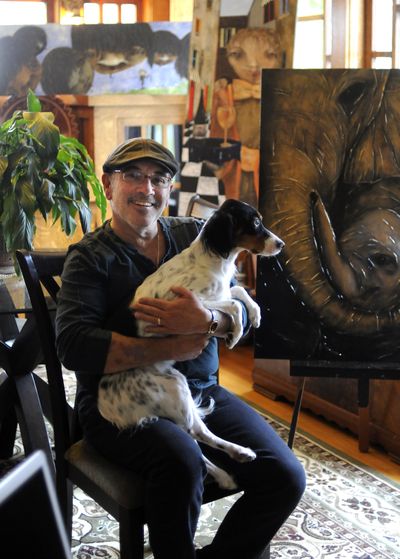 Tom Norton grew up in Spokane. At Gonzaga Prep, while the priests gave their lessons, Norton would draw figures with eyes widely spaced; a subtle representation of vulnerability like animals of prey.
Now, many years later, his subjects still exude a kind of meekness, and yet they are strong and carrying on.
Norton understands what it means to carry on despite the many bumps in the road. "Art is my passion, and I believe that it somehow keeps me sane," he said.
After high school, Norton went into the music business, spending the next 30-plus years as a professional musician, a music retailer and a major musical instrument supplier for a company that manufactured and distributed instruments throughout the U.S. He stayed with the company for 20 years until the department he directed was dissolved as a cost-saving measure and he was terminated.
Unable to find employment to keep up the mortgage payments on his Seattle home, depression set in.
"My old friends Jack Daniels and Crown Royal became more important to me than anything else. We lost the house, and I crashed, and I burned. And for some reason during this nightmare, I started to paint with a vengeance again. And I started playing my music and painting live in Seattle-area venues, and exhibiting my work and actually selling some of it. My drinking and depression became something very serious, and I'm thankful that I found sobriety at Schick-Shadel Hospital," he said. "Still I paint, but now without the blur of booze between me and the canvas."
Norton began noticing and relating to the homeless men, women and children in the area. Feeling a connection, he and his wife would often cook for the less fortunate and feed them under a bridge. Norton also began sketching them as they begged, scavenged and shivered in the cold. His sketches became a series in colored pencil and ink that he exhibited at fundraisers and benefits for the homeless. He's shown his work in Seattle, Chicago, New York, Spokane and Coeur d'Alene.
Now, five years sober, Norton resides in Spokane with his wife. Using an array of media including mixes of acrylic and clay, watercolor and ink, charcoal and spray paints on canvas or wood panels, Norton paints every day, representing the full gamut of human emotions. Even his animals contain human qualities – compassion conveyed in the eyes and strength conveyed in their stance.
Dark yet whimsical, meek yet strong, his subjects reek of hope in an often hopeless world. "I hope that my work touches as many people as possible, and through it, emotions come, and thinking results, and perhaps, in some small way, I inspire others to create in their own ways."
The Verve is a weekly feature celebrating the arts. If you know an artist, dancer, actor, musician, photographer, band or singer, contact correspondent Jennifer LaRue by email at jlarue99@hotmail.com.
Local journalism is essential.
Give directly to The Spokesman-Review's Northwest Passages community forums series -- which helps to offset the costs of several reporter and editor positions at the newspaper -- by using the easy options below. Gifts processed in this system are not tax deductible, but are predominately used to help meet the local financial requirements needed to receive national matching-grant funds.
Subscribe to the Coronavirus newsletter
Get the day's latest Coronavirus news delivered to your inbox by subscribing to our newsletter.
---