News > Spokane
Quilts of Valor crafts quilts for veterans
Sun., Oct. 20, 2013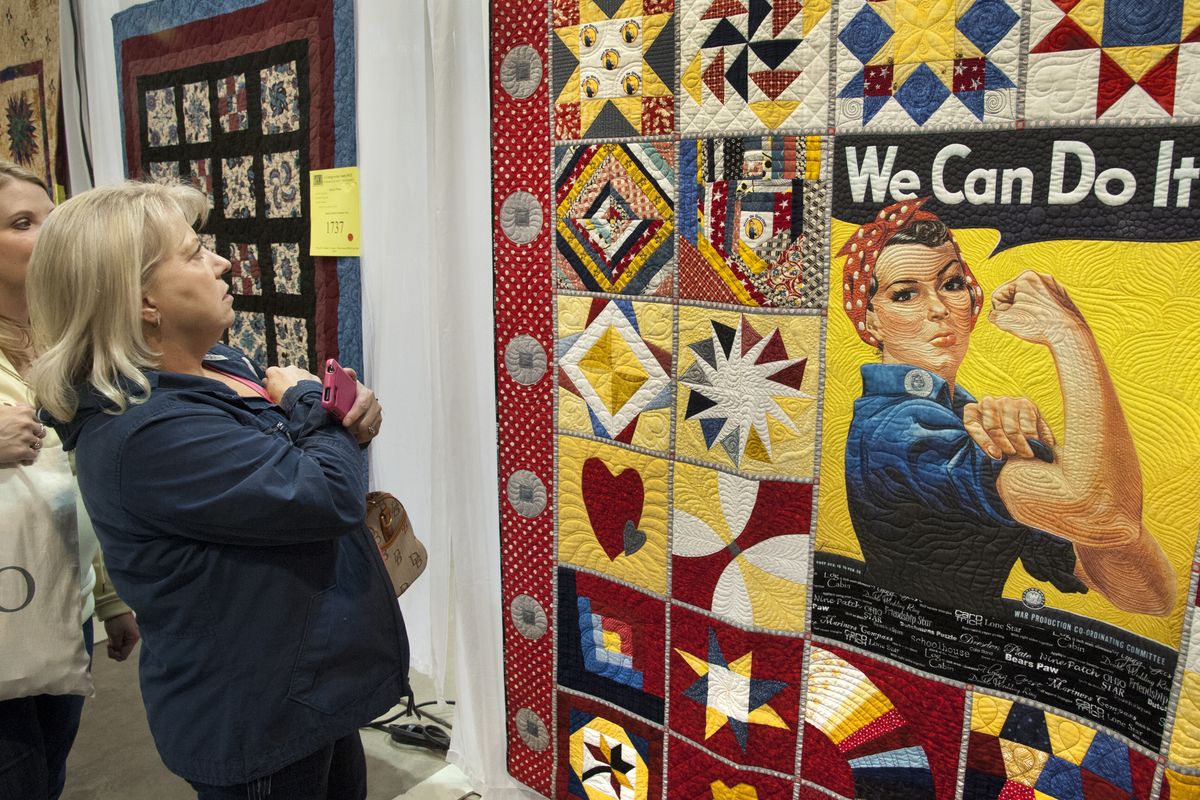 Karen Ray and her daughter, Kelly Anderson, left, get a close view of Marlene Oddie's "Rosie" at the Washington State Quilters-Spokane Chapter 35th Annual Quilt Show on Saturday at the Spokane County Fair & Expo Center. After taking in most of the quilt displays, Ray said, "This is it. Our super favorite." (PHOTOS BY DAN PELLE)
Six red, white and blue quilts hang from the walls of a small room at the Spokane County Fair and Expo Center. Some are patterned with stars and stripes, others with soaring eagles.
These are called Quilts of Valor, and at the end of this weekend's Washington State Quilters-Spokane Chapter 35th Annual Quilt Show, four will be sent home with local veterans.
"It's a fabric hug," Quilts of Valor volunteer Cindy Chadwick said Saturday.
The six quilts were among about 600 displayed at the show. Thousands of visitors gazed at the pieces as sewing machines buzzed in vendors' booths. Quilts of every color and size hung from the walls, including several 19th-century pieces, a small metallic piece shaped like a ship in a bottle and one made of 2,900 hand-sewn fabric circles, or yo-yos.
In the 10 years since its launch, Quilts of Valor volunteers have created 100,000 quilts to present to veterans across the country. The closest chapter, based out of Lewiston and Clarkston, has created 1,500.
The group seeks those veterans who have been "touched by war," both emotionally and physically, national director Sharon Ledbetter said. The quilts provide some comfort to the recipients, she said.
She points to a photo of a man holding a quilt and saluting toward the camera. His name is Roger Lemons, and he was presented with a quilt in early September at his Lewiston home.
"He is the epitome of Vietnam veterans who came home and were not treated properly," she said.
Lemons died a week later. His quilt was displayed at his memorial service.
Patty Yedinak, the chair of WSQ's Quilt Show committee, was among those honored with a Quilt of Valor. She looked at her star-covered quilt Saturday, tears in her eyes.
Yedinak was in the Washington Air National Guard and Air Force Reserve for 27 years and was deployed during the Gulf War in the early 1990s.
Ledbetter had planned to surprise her with the quilt at the show but couldn't keep a secret. Yedinak asked her husband to read Ledbetter's email to make sure she was reading it correctly.
"It was a wonderful experience," she said of her years of enlistment.
It feels phenomenal to present the quilts to deserving veterans, said Chadwick, the volunteer.
"It feels like flying," she said.
Local journalism is essential.
Give directly to The Spokesman-Review's Northwest Passages community forums series -- which helps to offset the costs of several reporter and editor positions at the newspaper -- by using the easy options below. Gifts processed in this system are not tax deductible, but are predominately used to help meet the local financial requirements needed to receive national matching-grant funds.
Subscribe now to get breaking news alerts in your email inbox
Get breaking news delivered to your inbox as it happens.
---