News > Washington Voices
Handmade craft at home soaring gracefully above Hart field
Thu., Oct. 24, 2013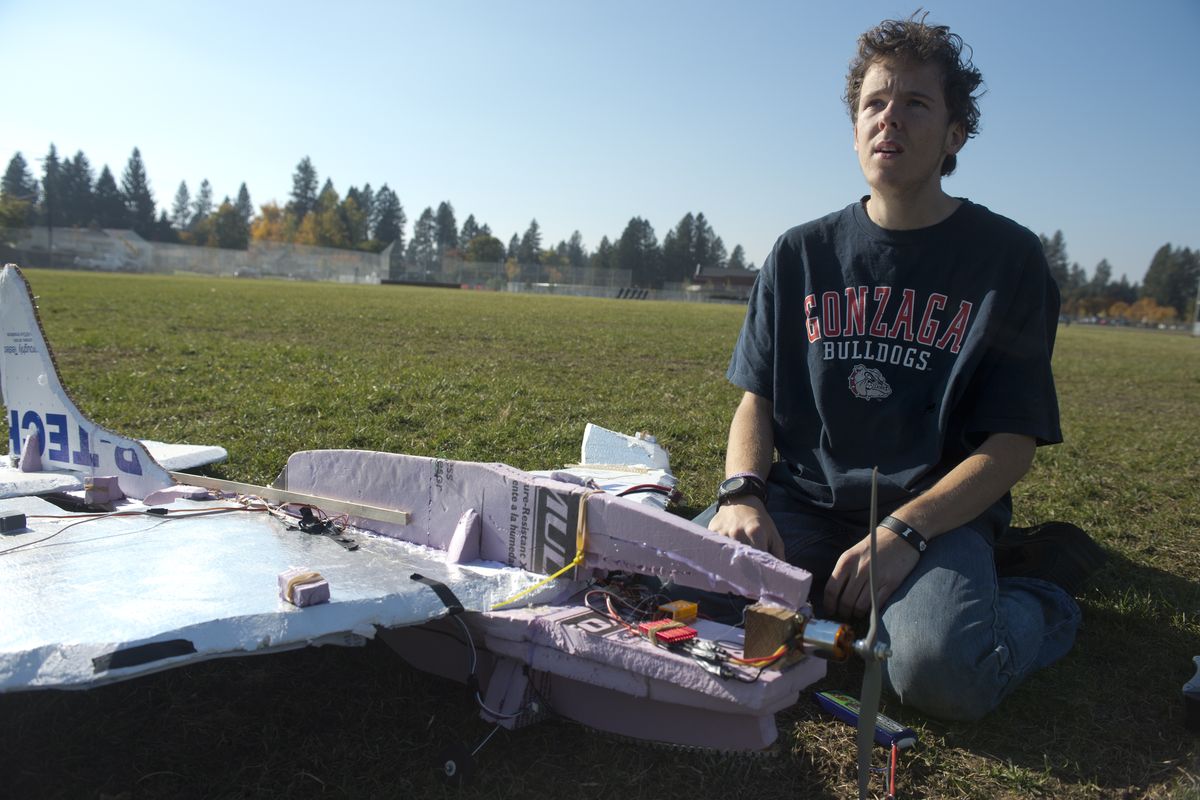 Paul Alex Rudy prepares to fly his makeshift radio control airplane at Hart Field on Oct. 17. (Jesse Tinsley)
The Facebook posts started showing up around midsummer. Neighbors around Hart Field on the South Hill posted on the social networking site that they were seeing strange, colored lights hovering over the football field at night. The lights were moving up and down, back and forth, and they didn't make a sound.
Cue the theme song from "Close Encounters of the Third Kind"? No.
It turns out the lights are not extraterrestrial.
They are LED tubes mounted on the underside of Paul Alex Rudy's homebuilt remote-controlled airplane, and Rudy loves to take his plane out for a spin in the dark.
"I have a remote for the lights so I can change the lights while I'm flying," said Rudy, while giving a demonstration over Hart Field last week.
He laughed when he heard he had scared some neighbors into thinking UFOs were hovering over the South Hill.
"I live right next to Hart Field," said 20-year-old Rudy. "Usually I can just jump the fence and I'm in here, but with all the construction it's a little different."
During Rudy's daytime flights, people stop, stare and point. Construction workers at nearby Jefferson Elementary School shade their eyes and look up, following the plane across the blue sky. Rudy is eager to answer questions about his plane.
"I built my first plane about two years ago," Rudy said. "I had a wing and I decided to see if I could build the rest."
He uses insulation foam for most of the plane's body, because it's a cheap and somewhat sturdy material, he said.
A few zip ties and duct tape give it a distinct appearance – and make it easy to repair.
That's important because Rudy has crashed the plane a few times, mostly because of electronic problems like receivers that don't work, but he just rebuilds and goes flying again.
"I've loved remote-controlled airplanes since I discovered there was such a thing," Rudy said. He got his first when he was 8 or 9, he said, and sneaked out to fly it without his parents help.
"I crashed it into a tree," he said, shrugging. "I just love flying them."
He also flies a remote-controlled quadcopter that's a little smaller than a dinner plate.
"I can fly that inside my apartment," Rudy said. "It really scares my pet rats."
Occasionally he outfits his plane with tiny cameras and films as he flies.
Because of the camera he was able to answer a question he'd wondered about since since childhood: What's on top of a nearby water tower.
"There's pretty much nothing up there. Just concrete," Rudy said.
The plane has a wingspan of just more than 6 feet and the most expensive part of it is the electronics.
Still, the entire plane cost him less than $200 and it flies between five and 10 minutes on one battery.
Rudy dreams of being able to afford enough balsawood – the preferred light and flexible wood for plane construction – to build a more durable craft. He doesn't work full time.
"I'd love to get a job at a hobby shop," Rudy said, "or some other place where they work on planes like this."
Local journalism is essential.
Give directly to The Spokesman-Review's Northwest Passages community forums series -- which helps to offset the costs of several reporter and editor positions at the newspaper -- by using the easy options below. Gifts processed in this system are not tax deductible, but are predominately used to help meet the local financial requirements needed to receive national matching-grant funds.
Subscribe now to get breaking news alerts in your email inbox
Get breaking news delivered to your inbox as it happens.
---