News > Idaho
Idaho landowners battle with state to get land compensation
Sun., Oct. 27, 2013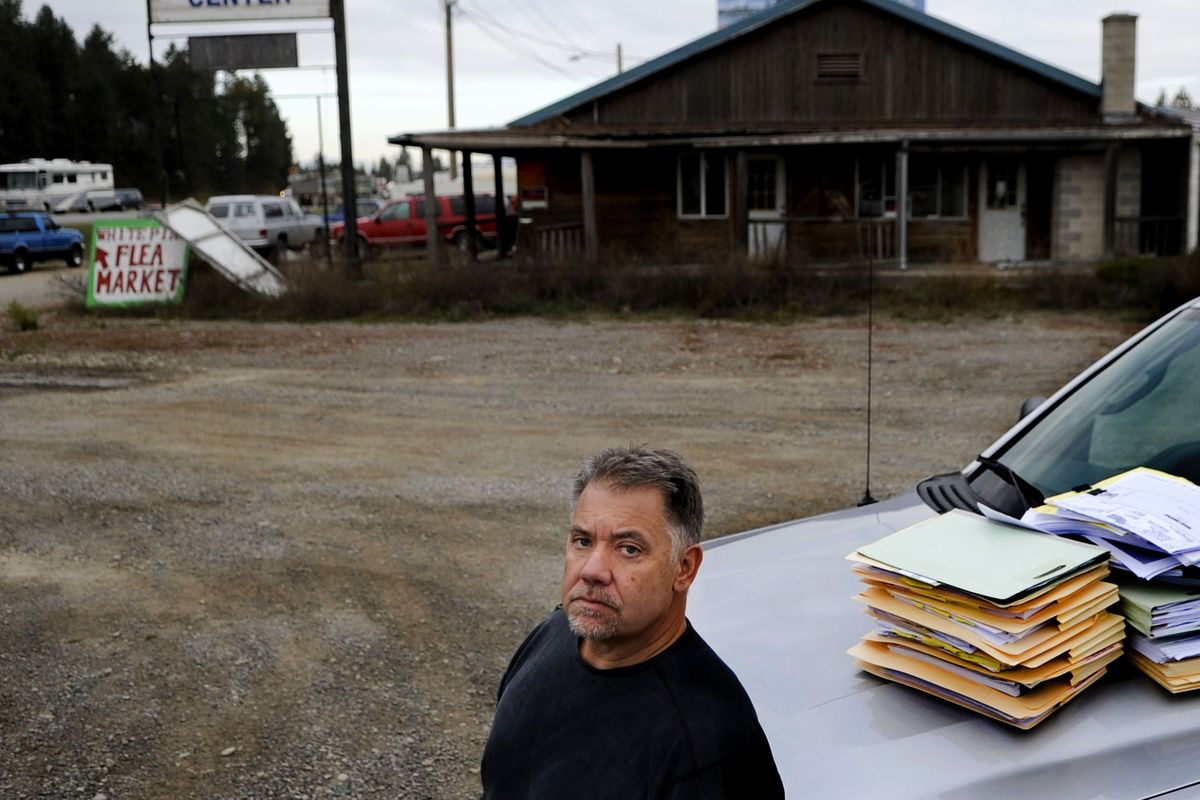 Developer Alan Johnson stands with stacks of documents from a lawsuit against him at the intersection of highways 95 and 54 in Athol. A fight with the Idaho Transportation Department has held up development of a travel center, grocery store and hotel on the site. (Kathy Plonka)
Alan Johnson's company lost 16.3 acres of prime property along U.S. Highway 95 in North Idaho when the state seized it for a new interchange under eminent domain law.
Now the developer stands to lose $1.1 million, which is how much the state paid an outside law firm to wrangle over reimbursement for the property.
That's right – the state wants Johnson's company to pay the legal fees the Idaho Transportation Department incurred in trying to seize the land.
Johnson calls the tactic "completely unconstitutional," a sentiment echoed by his lawyer, who said the episode is a perversion of law.
Gideon Kanner, of Loyola Law School, one of the nation's foremost experts on eminent domain, said the prospect of the landowner footing the state's hefty legal bills "does sound kind of gross."
But the private lawyer who represented the transportation department in the matter said the state has an obligation to go after Johnson's company for the legal fees.
Mary York, a Boise lawyer with the large, Denver-based firm Holland and Hart, argued in court papers that the developer is guilty of "abuses and improper tactics" in its fight over the condemnation, and made "unlawful, unsubstantiated, and exorbitant claims for compensation and damages." The court must make Johnson's company pay the state's $1.1 million in attorney fees, she argued, or "landowners will have license to engage in these abuses and improper tactics with impunity."
Land still vacant
Johnson has waged a three-year battle with the Idaho Transportation Department over the property at the intersection of U.S. 95 and state Highway 54 in Athol.
His company, H.J. Grathol, which is owned by Hughes Investments, owns 56 acres at the northeast corner of the interchange and planned to build a travel center, grocery store and hotel there. Hughes bought the land in 2008 and secured commercial zoning approval from the county.
The state transportation department, meanwhile, is constructing an elevated interchange as part of a $21 million, 5-mile widening project on U.S. 95.
The Idaho Transportation Department initially offered the developer $571,000, or 80 cents a square foot, for the land. The developer replied, "If you can find examples of commercially zoned highway frontage … development-ready land at the intersection of two highways for 80 cents per square foot, we would like to buy it." The company suggested the land was worth closer to $5 a foot, or $3.6 million, though it later made several lower offers that ITD rejected. ITD says the company demanded as much as $7 million, which Johnson disputes; 1st District Judge Charles Hosack set the value at $675,000.
H.J. Grathol is now appealing to the Idaho Supreme Court, while the state is cross-appealing for its attorney fees. The land, meanwhile, sits vacant.
Company has developed dozens of shopping centers
Johnson's company has developed more than two dozen shopping centers in 30 years in business. It started in California, but now is branching out into Washington, Utah and Idaho.
Hughes Investments recently tackled another North Idaho project, a shopping center at the northeast corner of Ramsey Road and Appleway Avenue in Coeur d'Alene that includes the Panhandle's first Winco store, which is opening ahead of schedule on Nov. 7. The company first acquired that land in April.
"I've never encountered anything like this," said Johnson, who is vice president of Hughes Investments and heads the H.J. Grathol division.
"All we're trying to do is get the fair market value for what the property was, to get the access to the site after it's done, and to make sure that our utility issues were taken care of," he said, adding, "for every dollar we spend in attorney fees, the state spends about $3 or $4. … There's got to be an easier way to do this."
Johnson isn't the only unhappy property owner along the Garwood-to-Sagle freeway project on U.S. 95 in North Idaho. Others around him have similar, though smaller-ticket, stories.
Dee Jameson was initially offered $73,195 by ITD, about 35 cents a square foot, for just under 4 acres of his land just to the north of the Hughes Investments property. After more than a year of legal fights and negotiations handled by Holland and Hart, ITD settled with him for $185,000, or $1.35 a square foot, plus constructing an access road.
The state's legal bill from Holland and Hart for the Jameson case: $147,131.
"I don't think they gained any ground by their strategy," said Jameson, a past president of the Idaho Association of Realtors, owner of a mortgage company and a fifth-generation Idahoan. Jameson said the long fight over the price was "a total waste of the state's time and money, in my opinion."
Jeff Stratten, ITD spokesman, said, "More than 95 percent of the time when ITD needs to purchase land from a citizen or business for highway improvements, a fair settlement is reached without needing to go to court. ITD takes its responsibilities seriously to provide just compensation to property owners while protecting the tax dollars of Idahoans."
In the case of the shopping center property, he said, "ITD believed H.J. Grathol was demanding far more than the property was worth."
The developer also kept bringing up the issue of a frontage road along the new freeway alignment of U.S. 95, even after ITD's attorney argued successfully in court that that was a nonissue in the current case and would have to be addressed after the condemnation action for the interchange, if at all. Continuing to bring up that issue was among the "abuses" that York, the lawyer, identified in H.J. Grathol's handling of the case.
"For this case, the decision was made not to acquire any property from Grathol for the frontage road," York said. "It was just simply not part of the case."
But the Garwood-to-Sagle project is designed to turn that stretch of Highway 95 into a limited-access freeway, with interchanges and frontage roads.
"Right now we don't even know where our access is," Johnson said. "We have zero access to the property after they made the condemnation – zero. … I can't go to market with this – I can't talk to tenants, even."
Property owners 'absolutely innocent' in condemnations
Idaho state Rep. Ed Morse, R-Hayden, said the case shows Idaho lawmakers need to re-examine the state's eminent domain laws, which allow the government to take property for a public purpose if it pays "just compensation."
"This is one of the few areas in litigation where one party, the property owner, is absolutely innocent," Morse said. "The only thing they did is own a piece of property that the government wants part or all of.
"The government's got an unlimited amount of money, they've got teams of attorneys, and they can also go outside and hire, as they did in this case, highly skilled trial counsel," Morse said. "And the property owner did not come out well. But how bad should he be penalized in an instance like this? … Is that fairness, and is it just compensation?"
Coeur d'Alene attorney Doug Marfice wrote in court papers, "ITD seeks to have Grathol's just compensation award reduced by the amount of its own costs and attorney fees, which, not coincidentally, exceed the amount of the award by a 2-1 margin." The result, he said, would be the landowner owing money to the state that took its property – an outcome he called "a perversion" and "constitutionally abhorrent."
Kanner, a professor emeritus at Loyola Law School in Los Angeles, said a constitutional argument that has generally been successful is that imposing attorney fees on the landowner impairs just compensation.
It's rare that such an argument is made, and Kanner doesn't think it will be successful in the transportation department's case. "On the other hand, sometimes courts do strange things, and that is why law is unpredictable," he said.
According to ITD records obtained under the Idaho Public Records Law, the Garwood-to-Sagle project includes 195 parcels of property the state is acquiring for highway right of way. Seventeen have gone to court for condemnation; four still are pending. The state has paid more than $2.1 million to Holland and Hart for legal fees so far.
Stratten, the ITD spokesman, said the firm provided "high-quality legal services" and ITD has no dispute with its billings.
Jameson, the landowner just north of the proposed shopping center, said he had four other properties in the Chilco area that were acquired by the state without a fight for the highway widening. But in those cases, ITD didn't bring in private attorneys.
After his year-plus legal battle with Holland and Hart, Jameson said the price per foot he got for his Athol property was similar to what ITD paid earlier for his Chilco properties.
"Had they started there in the first place, it would've been done the first week," he said. "ITD should be ashamed of itself."
Local journalism is essential.
Give directly to The Spokesman-Review's Northwest Passages community forums series -- which helps to offset the costs of several reporter and editor positions at the newspaper -- by using the easy options below. Gifts processed in this system are not tax deductible, but are predominately used to help meet the local financial requirements needed to receive national matching-grant funds.
Subscribe now to get breaking news alerts in your email inbox
Get breaking news delivered to your inbox as it happens.
---