Sports
Arizona State drubs WSU 55-21
Sun Devils' fast start too much for WSU to overcome
Oct. 31, 2013 Updated Fri., Nov. 1, 2013 at 12:42 a.m.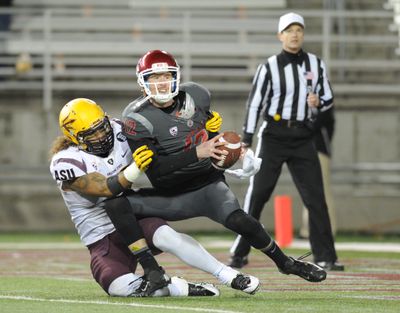 PULLMAN – The cold weather and costumed crowd did little to stifle the Arizona State football team, which looked right at home on Halloween night in a 55-21 dismantling of Washington State in Martin Stadium. The game was never a contest as the Cougars dug themselves a 21-0 grave before finally picking up a first down on their fourth drive. Coach Mike Leach said that the Cougars had a great week of practice, and quarterback Connor Halliday added that the pregame locker room was full of energetic, focused players. But that alertness didn't translate to the field. "We just came out … I don't know if "hesitant" is the right word, I don't know if "nervous" is the right word," Halliday said. "Plays were there to be made early in the game and we didn't make them. Whether that be dropping a ball, missing a blitz, stuff like that. Bottom line, I don't care how good your defense is, when you don't turn the field over it's kind of a tough situation for the defense to be in." The Cougars had no answer for ASU quarterback Taylor Kelly, who passed for five touchdowns and added another two on the ground. A year after Kelly completed 20 of 23 passes to beat WSU in Tempe, he went 22 of 31 in Pullman to rack up 275 yards. Kelly scored the game's first two touchdowns on runs of 7 and 6 yards. In between those scores he added a 40-yard pooch punt that pinned the Cougars on their own 3. Kelly and running back Marion Grice were practically unimpeded in the romp, combining for 160 yards rushing. That number could've been even higher, but the WSU defense managed a pair of sacks against Kelly, shaving 12 yards off his rushing total. About the only mistake Kelly made was an errant pass that was intercepted by safety Deone Bucannon, who returned it 32 yards to give WSU its best field position of the night. Despite the good fortune, WSU responded with a turnover of its own to squander the opportunity. "I think we spend too much time thinking about our opponent instead of doing our jobs," Leach said. "Something good happens for our opponent and I think we allow it to distract us instead of doing our jobs. Because this didn't look like the way we practiced this week." The WSU offense couldn't get started until the game was already out of hand. Receiver Kristoff Williams dropped a pair of potential first-down passes stalling the offense while the Sun Devils built their lead. "We don't put on the pads for no reason, so obviously it came down to, I made some mistakes, we made other mistakes because we want to win so badly," defensive lineman Xavier Cooper said. "But ultimately this is a team sport, that's what's so great about football." Halliday threw for 198 yards and two touchdowns with no interceptions in the first half, hinting that WSU's problems run deeper than a turnover-prone man under center. Halliday finished the game with 300 yards against the Pac-12's second-ranked passing defense, but ASU held WSU's passing attack to a scant 5.6 yards per catch. "Defensively, that's probably the best coverage team we've played," Halliday said. "We had a lot of trouble getting off their man press coverage and in this offense you've got to win in man coverage. And some of the times we did win man coverage I missed the throw." The play-action offense of the Sun Devils nearly caught up to WSU's Air Raid with 275 passing yards to 300. On the ground it was no contest with ASU compiling 282 rushing yards to WSU's 2. The Cougars briefly appeared to have regained their footing early in the second half. The defense forced an ASU punt and WSU quickly marched down the field, scoring on a 4-yard run from Jeremiah Laufasa. But on the Sun Devils' next drive WSU's inability to match ASU's execution again became apparent when a fake punt went for 20 yards, and Kelly found running back D.J. Foster alone in the end zone for a 23-yard TD pass. The Sun Devils turned another punt into a first down later in the third quarter. The Cougars' struggles on special teams spilled over into the return game. Despite returning seven kickoffs, Teondray Caldwell, Marcus Mason and Rickey Galvin were unable to bring any out past the 25. There were momentary bright spots for WSU. Halliday's touchdown pass to Galvin in the corner of the end zone was a thing of beauty, and freshman receiver River Cracraft continued to contribute, catching four passes for 78 yards. But those small individual victories paled in comparison to the enormity of WSU's defeat in one of the team's four final chances to get enough wins for bowl qualification.
Local journalism is essential.
Give directly to The Spokesman-Review's Northwest Passages community forums series -- which helps to offset the costs of several reporter and editor positions at the newspaper -- by using the easy options below. Gifts processed in this system are not tax deductible, but are predominately used to help meet the local financial requirements needed to receive national matching-grant funds.
Subscribe to the sports newsletter
Get the day's top sports headlines and breaking news delivered to your inbox by subscribing here.
---