Full-day kindergarten starts at all SPS elementary schools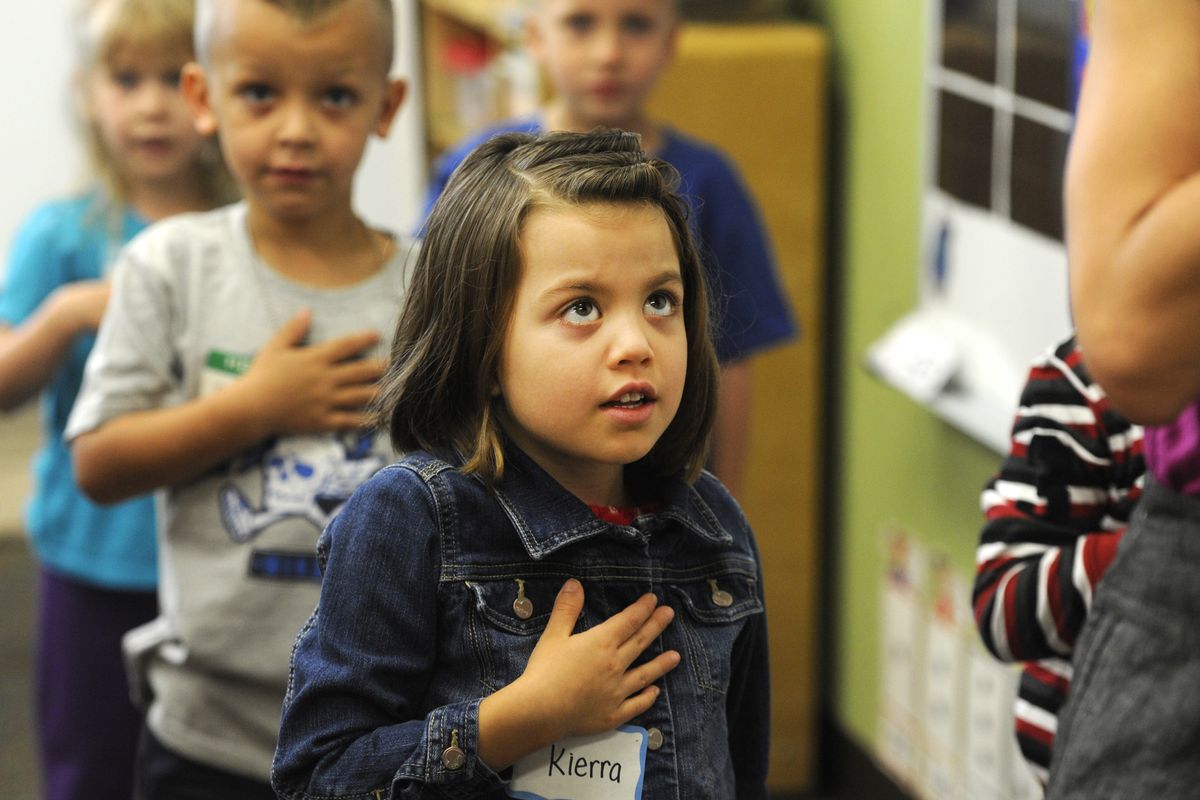 Older kids may remember kindergarten as nothing more than safety scissors and finger painting, but those who've recently achieved the scholastic milestone know differently.
Last June, kindergartners who were preparing to move up to first grade at Holmes, Westview and Garfield elementary schools agreed to offer advice to this year's incoming class, putting down their thoughts on lined paper to be shared with the newcomers.
"Be a thinker," advised Arianna Carter, 6, when asked what she wished she'd known from the start.
Her classmate Xeana Hoag offered this insight: "Don't forget to get smart." The 6-year-old's suggestions for doing so were to "read, write, add and put letters together."
More than 2,340 kindergartners started school Tuesday in Spokane Public Schools, where for the first time all 34 elementary schools are offering full-day kindergarten. In the Coeur d'Alene School District, 677 kindergartners reported for classes. School begins today in the West Valley School District and Thursday in the Central Valley School District.
First-day-of-school jitters were on Arianna's mind, even at the end of the year: "On my first day of school, I was nervous. When I'm nervous, I smile and take a belly breath."
Perhaps the Holmes Elementary girl has a future as a counselor.
Last year's graduating kindergartners offered their wisdom in pencil, pen and crayon in hopes of setting the appropriate tone for their messages of support and counsel.
Chaden Johnson, a Garfield Elementary student, used a combination of writing utensils to say, "Be a problem solver because it's responsible."
Some children wanted to make sure they covered the basics, too.
"Don't forget to bring your crayons."
"Don't run in the hallway."
"Read and read every day."
"Be respectful."
"You need to be a good listener and count to 100 and 20 so be a good kindergartner."
"You will have a nice teacher and you will love her."
"The kindergartners always never fight, so no fighting."
And, "Be brave and quiet."
Adults might be able to learn a thing or two from the under-7 set.
Food, of course, also came to mind as an area where the incoming class may need direction.
"Hot dogs are the best food in the cafeteria," said Dariun Ashby, 6. Alas, hot dogs have since been pulled from the elementary school menu. Sorry, kids.
Knowing the students will have to choose at least one fruit to eat each day as schools encourage healthier choices, Sibylla Barnes, 6, said, "If you have to eat a fruit, choose an apple."
---