News > Spokane
Suspects' fingerprints found on slain World War II veteran's car
Investigators discovered fingerprints linking two teenagers to Delbert Belton's killing
Thu., Sept. 5, 2013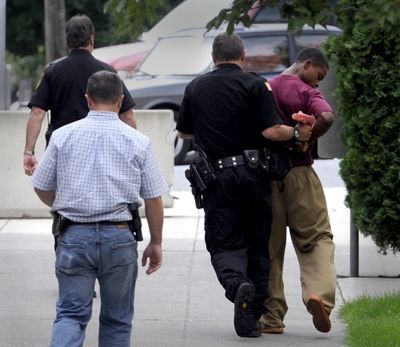 Investigators discovered fingerprints linking two teenagers to an 88-year-old World War II veteran killed two weeks ago. Police say Demetruis Glenn and Kenan Adams-Kinard, both 16, beat Delbert "Shorty" Belton to death Aug. 22 while he sat in his car, according to an affidavit. Investigators found what they believe to be Glenn's prints on the exterior rear driver's side door and the interior of the rear driver's side passenger door. What appeared to be Adams-Kinard's prints were on the exterior driver's door and the interior of the rear driver's side passenger door. Belton's body was found wedged between the front bucket seats, with his lower body from the neck down folded into the back seat area, according to the affidavit. Friends said Belton was in his car near the Eagles Lodge, waiting to meet a friend for a game of pool. Adams-Kinard reportedly claimed in a letter that the teens were planning to meet him there to purchase crack cocaine, but Belton "tried ripping them off." Glenn and Adams-Kinard will appear for an arraignment on Sept. 12 at 3:30 p.m. Both face charges of first-degree murder and two charges of first-degree robbery.
Local journalism is essential.
Give directly to The Spokesman-Review's Northwest Passages community forums series -- which helps to offset the costs of several reporter and editor positions at the newspaper -- by using the easy options below. Gifts processed in this system are not tax deductible, but are predominately used to help meet the local financial requirements needed to receive national matching-grant funds.
Subscribe to the Coronavirus newsletter
Get the day's latest Coronavirus news delivered to your inbox by subscribing to our newsletter.
---