Sports
Horton knew WSU was the place for him
Thu., Sept. 12, 2013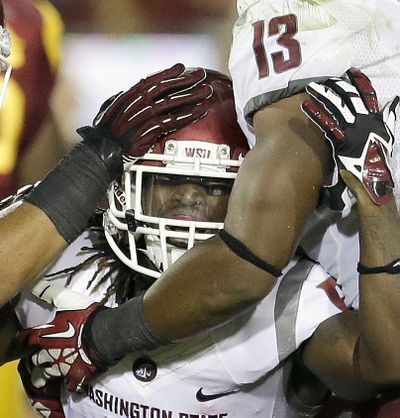 PULLMAN – Letters of interest had been rolling into popular defensive back Damante Horton's mailbox for weeks, and the Oakland (Calif.) High School prospect had already picked up a few scholarship offers when he started telling his mom how much he liked that Pac-10 school in eastern Washington. How much he really, really liked it. "He kind of made the decision prior to really planning it out to me," said Horton's mother, Rozenna Graham. "We knew we were getting all these quote-unquote offers to come to the campus and everything, and he was like, 'Mom, I really do like Washington State.'" And oh, by the way: "I actually committed." "I was like, 'What?!" Graham said with a laugh. She accompanied Horton on his official visit, met with then-coach Paul Wulff and former defensive coordinator Chris Ball, looked around the WSU campus and concluded, "Wow, you did make a good decision." "It was kind of weird that he would be so far away from me, but he's managed." He has. Horton's headline-grabbing game last week in Los Angeles earned national recognition as one of the best defensive performances in the country. WSU defeated USC 10-7 thanks in large part to Horton's two interceptions, the first of which he returned 70 yards for the Cougars' only touchdown. It was the culmination of a career resurgence for the 5-foot-10, 178-pound senior, but certainly not the beginning of it; defensive coordinator Mike Breske has praised Horton's ability since camp commenced in early August, noting from nearly the start that he had separated himself from the rest of the pack in the cornerback competition. That was an important distinction after Horton struggled somewhat last season, when he started the first six games but was demoted to second string midway through the schedule. He responded, Breske said, by simply playing well in spring and preseason camp. "He's a winner," Breske said, "and I want him on my football team." Mom helped, too. A 24-year employee of Alameda County Social Services, where she is an accounting technician, Graham used her own experiences to help Horton adjust to new expectations from a new coaching staff. "Everyone's not out to get you," she told her son. "You just bide your time, do what they ask of you, and let the cards fall as they may. This is what you want to do. This is what you've thought of doing for a long time, and you just need to readjust where you have been, and possibly it will be changing for the better." WSU coach Mike Leach said Horton, who is a criminal justice major, was slowed by his own perfectionism last year, but he's adopted a looser mentality as a senior and it seems to be paying off. Horton himself doesn't offer much in the way of words. That's how he's always been, Graham said, with the occasional exception coming among friends. "It is funny to watch him on television being interviewed," Graham said. "I know he's like, 'I wish they would hurry up and not ask me all these questions.' He's a man of few words. Always has been." Quiet, yes. But he's not shy. "He has a quiet confidence about himself," Graham said. "He doesn't need to speak a whole lot to have that relayed. He's very secure. I probably speak enough for the both of us. He's allowed me to do a lot of the talking a lot of the time." Graham recalls deciding to send her son to public school when he reached high-school age, shortly after the birth of her daughter Robyn, now age 7. (One piece of information Horton did volunteer during his Monday press conference was that his mom and sister were in attendance last week, evidence of how much family means to him.) Horton had attended a private Christian school to that point, so he wasn't necessarily a known commodity to the other kids in the various sports programs at Oakland High. "Everyone was asking, 'Where are you from?' And he was like, 'Oakland,'" Graham said. "He's always been just a little different. He can get the hype, but it doesn't necessarily define who he is. He still is that young man who has always been very quiet and soft-spoken." His play was plenty loud enough for USC.
Local journalism is essential.
Give directly to The Spokesman-Review's Northwest Passages community forums series -- which helps to offset the costs of several reporter and editor positions at the newspaper -- by using the easy options below. Gifts processed in this system are not tax deductible, but are predominately used to help meet the local financial requirements needed to receive national matching-grant funds.
Subscribe to the sports newsletter
Get the day's top sports headlines and breaking news delivered to your inbox by subscribing here.
---