News > Washington Voices
Valleyfest adds more activities
Thu., Sept. 12, 2013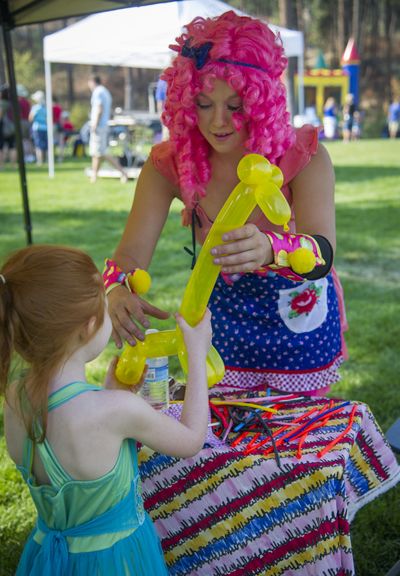 A few new events have been lined up for this year's Valleyfest the third weekend in September as organizers try to keep the annual community festival fresh and inviting.
First up is a triathlon Sept. 22, that includes boating on the Spokane River rather than a swim. The event begins and ends at the Mirabeau Trailhead and includes 1.5 miles in a canoe or kayak, 11 miles on a bicycle and a 3-mile run. Why a triathlon? "We have the Spokane River running through our city," said Valleyfest director Peggy Doering. "Why not?"
The triathlon will join the Step Up for Down Syndrome walk on Sept. 21, the 5K or 10K run that same day and the family bike ride on the Centennial Trail on Sept. 22 as ways for Valleyfest attendees to get active. Visit www.valleyfest.org for details on registering for the events or call (509) 922-3299.
Last year's Baby Fest has been renamed Bloom Fest and is being run by a new group. It includes 40 vendors set up at CenterPlace from 11 a.m. to 4 p.m. There will be educational classes on topics that include car-seat safety, breast feeding, introducing solid foods and more. People are asked to register for the classes in advance by visiting www.bloomfest.org.
There's a stronger science component this year with the addition of the robotics and engineering demonstrations and activities at CenterPlace from 5 to 8 p.m. Sept. 21. New robotics groups for kids are forming and there will be information available during the demonstrations. There's also a marshmallow challenge that asks competitors to build a tower with 20 pieces of spaghetti, one yard of string, one yard of tape and one marshmallow.
Organizers are bringing in Sweets Kendama from Minneapolis as well as several professional kendama performers. There will be demonstrations throughout the weekend and a booth set up in Mirabeau Meadows Park. Kids have been flocking to the simple wooden toy with a ball attached to it by a string and learning various tricks.
"I've been practicing my kendama," Doering said with a laugh. "I'm still not very good at it."
The Valleyfest staples are still part of the festival. On Sept. 21, a pancake breakfast will be served at CenterPlace from 7 to 10 a.m., the hot air balloons will be back for sunrise launches and night glow (weather permitting), and the car show will fill part of the lawn from 9 to 11 a.m.
This year's live entertainment includes Barry Lee White, Men in the Making, Atomic Jive, Twisted Bisquit, Chutzpah, Spare Parts, The Plaid Cats and several dance groups. The family film "Surf's Up" will be shown in the park at 7:30 p.m. Saturday.
As always, Valleyfest will kick off with the Hearts of Gold Parade on Sprague Avenue between Gillis Road and Pines Road beginning at 7:30 p.m. Sept. 20. Get there early for the pre-parade party that begins at 6:45 p.m. along the parade route. "That's where you can go to get candy," Doering said. There will also be free hot dogs, live music and kendama demonstrations. A biplane flyover is scheduled for 6:45 p.m.
The park will go to the dogs on Sept. 22, as usual, for the AKC Responsible Dog Ownership Day from 10 a.m. to 4 p.m. Several police and arson K-9's will be there and dogs will be available for adoption. Several demonstrations are planned. People can also bring their own dogs for an AKC Canine Good Citizenship test or the vaccination and microchip clinic from 2 to 4 p.m.
The Spokane Transit Authority will run shuttle buses between the event venues and the Spokane Valley Mall for 75 cents per day. Additional parking is available at the Pinecroft Business Park west of Mirabeau Meadows. A full schedule of events is available online at www.valleyfest.org or at CenterPlace, 2426 N. Discovery Place.
Putting on the event remains a feat of organization as dozens of volunteers come together to present the annual festival. "The community really has been reaching out over the last six months, financially and with volunteers," Doering said. "I'm really appreciative of all the support I've gotten."
Local journalism is essential.
Give directly to The Spokesman-Review's Northwest Passages community forums series -- which helps to offset the costs of several reporter and editor positions at the newspaper -- by using the easy options below. Gifts processed in this system are not tax deductible, but are predominately used to help meet the local financial requirements needed to receive national matching-grant funds.
Subscribe to the Coronavirus newsletter
Get the day's latest Coronavirus news delivered to your inbox by subscribing to our newsletter.
---
Subscribe and log in to the Spokesman-Review to read and comment on this story