News > Spokane
Volunteers clean up in north Spokane to commemorate Sept. 11
Sun., Sept. 15, 2013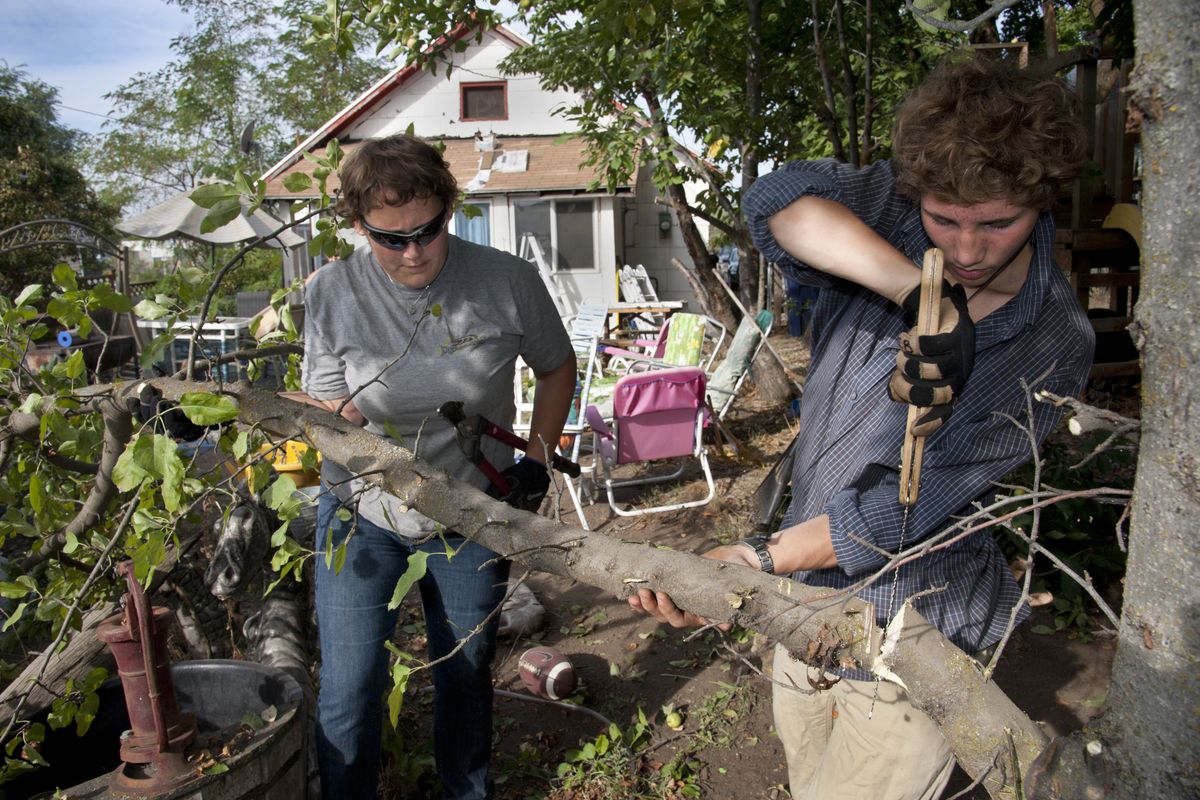 Jenn Guhl and Isaac Brown trim an apple tree branch in Gary Rohan's backyard Saturday in northeast Spokane. Hundreds of volunteers cleaned up streets and yards and performed small maintenance projects in the Logan neighborhood. (Dan Pelle)
Gary Rohan stood in the backyard of his two-story home along Dakota Avenue on Saturday morning, with a simple question for the barefooted volunteer scampering around his roof with new shingles.
"Why are you up there with no shoes on?" Rohan asked Ty Farnsworth, grinning beneath the bill of a Texas Longhorns ballcap.
"My boots are too slick on the asphalt," Farnsworth replied.
Farnsworth was just one of more than 700 volunteers digging, weed-eating, painting and landscaping Saturday in the Logan neighborhood, part of a national day of service the Church of Jesus Christ of Latter-day Saints instituted following the terrorists attacks of Sept. 11, 2001. Also on hand were volunteers from St. Luke's Rehabilitation Center and Gonzaga University. Rohan was one of 30 homeowners in the area, bounded roughly by Euclid and Indiana avenues and Astor and Hamilton streets, who requested help for odd jobs on their property. While Farnsworth and Tony Stendland shingled the roof, volunteers removed tree limbs encroaching on power lines from the backyard and cleared debris in an old, rusted wagon.
"Yard work, once it gets away from you, you're done," said Rohan, an industrial painter who raised his daughter and now his two grandchildren for the past 35 years at the ranch-style home on North Dakota Street. Back problems have kept Rohan from keeping up his property, he said.
"In this day and age, how many people do you think would actually do this?" Rohan asked.
The LDS church has scheduled a day of service in commemoration of the 9/11 attacks for several years, said coordinator Jim Rippy. This year, they chose to help out in the north-central Spokane neighborhood, targeted over the last 20 years for development and industrial cleanup through numerous federal and state grants.
"This neighborhood has a lot of rentals, elderly and disabled people who have lived here most of their lives," Rippy said. Church members with expertise in plumbing, electrical work and landscaping donated time and supplies to the efforts, concentrated on the northern part of the area that Logan Neighborhood Council member Kay Olson said has been neglected in the past.
"A lot gets done down there," Olson said, standing outside her home at the intersection of Cleveland Avenue and Dakota and pointing in the direction of Gonzaga to the southwest. "But nothing gets done much up here."
Graffiti and etchings covered the wooden fence boxing in Fairview Park, a green space north of Olson's residence boasting a swing set, plastic playground equipment and brightly painted ducks mounted on steel spring coils. Central Valley High School freshmen Baileigh Thompson and Kayla Overfield, both 14, splashed dark brown paint from a plastic tub on the markings. Most wound up on the fence, but plenty spilled onto the girls' arms and the plastic gloves Thompson used in lieu of a paintbrush.
"We don't have enough brushes, and …" Thompson began.
"Fingerpainting is fun," Overfield finished.
Workers farther south emptied a backyard of two dumpsters worth of broken TV parts and furniture, the remains of metal scrapping projects by renter Kim Johnston's nephews.
"I can actually enjoy my backyard now," said Johnston, who doesn't own a vehicle to move the junk.
Near her blooming purple perennials in a front-yard planter, gardening enthusiast and Ukraine native Nellie Voronina watched as several families dug spades into the earth to place fence posts and level earth in her yard.
"It's amazing," said Voronina, who moved to Spokane in July. "My heart is full with joy. This is an unforgettable day in my life."
Volunteers finished off the rapidly warming morning with root beer floats in Mission Park, a tradition the church began a few years ago to close the day of service, Rippy said. But the focus was on those who lost their lives more than 12 years ago.
"It's a nice way to remember 9/11," Farnsworth said from Rohan's roof.
Local journalism is essential.
Give directly to The Spokesman-Review's Northwest Passages community forums series -- which helps to offset the costs of several reporter and editor positions at the newspaper -- by using the easy options below. Gifts processed in this system are not tax deductible, but are predominately used to help meet the local financial requirements needed to receive national matching-grant funds.
Subscribe now to get breaking news alerts in your email inbox
Get breaking news delivered to your inbox as it happens.
---