News > Spokane
Cami Bradley impresses 'Talent' judges during final song
Wed., Sept. 18, 2013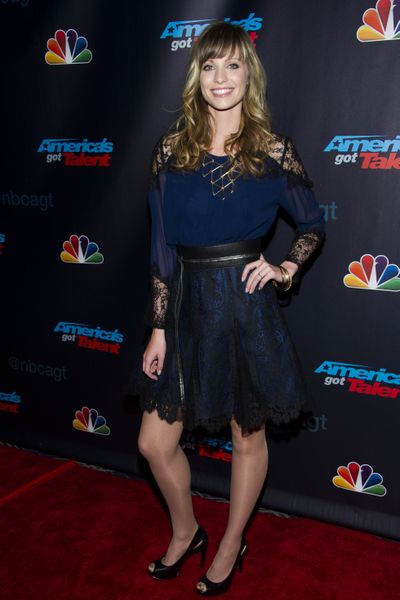 NEW YORK – A smile sparkled on Cami Bradley's face as she finished her last performance on "America's Got Talent."
And then judge Howard Stern called her a hillbilly from Spokane. But despite the gibe, he also called her a "home run in every area."
"She looks like a star, she dresses like a star, she carries herself like a star," Stern, a radio personality, said before the show. "She really is going to have a huge career. If she doesn't win – it almost doesn't matter, because Cami is that good."
Bradley is competing for the $1 million top prize on the NBC talent show against several contestants: Collins Key, a magician; Forte, a opera trio; Jimmy Rose, a country singer; Kenichi Ebina, a dancer; and Taylor Williamson, a comedian.
And while the judges may reveal their favorite contestant, the winner is decided by viewers voting online and by phone.
Bradley, the music director at Life Center church in Spokane, said Tuesday she is shocked to have made it this far – never believing she would pass the auditions. However, others believed in her, especially her parents and husband, who have supported her through every round of elimination.
"They really wanted me to step out of my comfort zone and be stretched," Bradley said. "I think I've grown a lot as a person and an artist – I've been challenged."
The stage still gives her jitters, but her confidence is growing.
Cami Bradley talks about her experience on 'America's Got Talent'
Bradley stepped up Tuesday night to perform the Beatles' "I Want to Hold Your Hand." She wasn't shy as she strolled to the edge of the stage to sing her slower, edgier arrangement of the classic song.
The performance left "Talent" judge Howie Mandel with the desire to hold Bradley's hand – a thing he wouldn't normally do, he explained during the show.
The contestants were also required to revisit a favorite performance from prior episodes. Bradley chose Cher's "Believe," a song she performed for the show last month. The judges rewarded her Tuesday night with a standing ovation.
Mandel predicted a singer will win the show, and he said Bradley has a unique sound.
"I thought she showed up the first day as a superstar," Mandel said.
Judge Howard Stern talks about Cami Bradley
In past episodes, Bradley borrowed songs from legendary artists. Although the songs are not her own, she crafts a unique style and unearths emotions unheard in the original.
"There's no doubt in my mind that she could write a song," Stern said.
The winner will be announced tonight on a live broadcast at 9 p.m. Eastern time. Locally, the show will air on KHQ-TV in Spokane at 9 p.m. Pacific time.
Bradley will return to Spokane later this week and will perform a thank-you concert for supporting fans at the Bing Crosby Theater on Sunday. The show will also feature fellow contestant Taylor Williamson. Tickets are available through TicketsWest, TicketsWest.com or (800) 325-SEAT.
Local journalism is essential.
Give directly to The Spokesman-Review's Northwest Passages community forums series -- which helps to offset the costs of several reporter and editor positions at the newspaper -- by using the easy options below. Gifts processed in this system are not tax deductible, but are predominately used to help meet the local financial requirements needed to receive national matching-grant funds.
Subscribe to the Coronavirus newsletter
Get the day's latest Coronavirus news delivered to your inbox by subscribing to our newsletter.
---
Subscribe and log in to the Spokesman-Review to read and comment on this story