Sports
Unlike last year, it's evident now the Cougars won't overly depend on freshmen
Sat., Sept. 21, 2013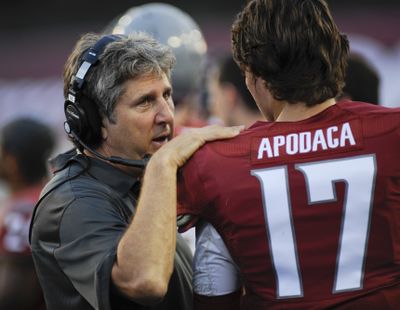 PULLMAN – If it wasn't already obvious based on who was playing where during Washington State's preseason football camp, it's rather clear now, through three games, that the Cougars won't rely this season on nearly as many freshmen as they did in 2012.
Seventeen such players (redshirt freshmen included) saw the field last season. That number finds its way into Mike Leach's mouth on a regular basis, typically as a reference point when evaluating WSU's growth in a number of areas.
Just four true freshmen have played this season, with safety Isaac Dotson and offensive lineman Riley Sorenson making their collegiate debuts in the second half of WSU's 48-10 victory over Southern Utah last week.
Because that game was in hand for the entire fourth quarter, it stands to reason that any healthy players the Cougars plan to use this season would have been put in the game. So barring unforeseen circumstances, it appears WSU will go forward with just those four true freshmen – receiver River Cracraft and cornerback Daquawn Brown were the first two – along with four or five second-year players who redshirted last season.
Those younger players, particularly Dotson and Sorenson, could see more playing time tonight at 7:30 against Idaho, a team the Cougars should handle in the same fashion they did Southern Utah.
WSU (2-1) opened this week as a 32-point favorite against the Vandals (0-3), who have lost nine consecutive games and 24 of 27 since the beginning of the 2011 season.
Defensive coordinator Mike Breske said Dotson, who came to WSU as a quarterback but switched to defense early in camp, could see the field again tonight.
"We'll pick and choose opportunities for him, but I want to get him reps this weekend," Breske said. "I think he got 13 last week. Where that number is (this week), I can't tell you that right now. Just kind of get a feel for what happens. But we've got to get him in the ballgame."
It seemed a surprise to some that Sorenson, a freshman from Santa Margarita, Calif., made his debut so late in such an inconsequential setting. But if offensive line coach Clay McGuire believes Sorenson is one of the team's eight best linemen, he's going to play.
"We've said all along, he's in our top eight," McGuire said. "It's just a situation where at some point last year we needed a guy that we just didn't have, and there will be situations this year where he's going to have to play, and it was a great opportunity to get him in there, get him some reps and all that good stuff."
One redshirt freshman who might see a little more playing time this week is Austin Apodaca, the backup quarterback who made his debut against Southern Utah. Apodaca played in each of the Cougars' first three games as the holder for PATs and field goals, but got in at quarterback in the fourth quarter after WSU took a 38-point lead.
If all goes according to plan – that is, if the Cougars score a bunch of points while allowing far fewer to be scored by Idaho – Apodaca could get a chance to improve on his 3-for-7 debut.
"He does really good in practice," Leach said. "He just needs to go in there and get enough plays so he can show what he can do."
Local journalism is essential.
Give directly to The Spokesman-Review's Northwest Passages community forums series -- which helps to offset the costs of several reporter and editor positions at the newspaper -- by using the easy options below. Gifts processed in this system are not tax deductible, but are predominately used to help meet the local financial requirements needed to receive national matching-grant funds.
Subscribe to the sports newsletter
Get the day's top sports headlines and breaking news delivered to your inbox by subscribing here.
---
Subscribe and log in to the Spokesman-Review to read and comment on this story