News > Spokane
For EWU graduate, immigration reform worth risking arrest
Sun., Sept. 22, 2013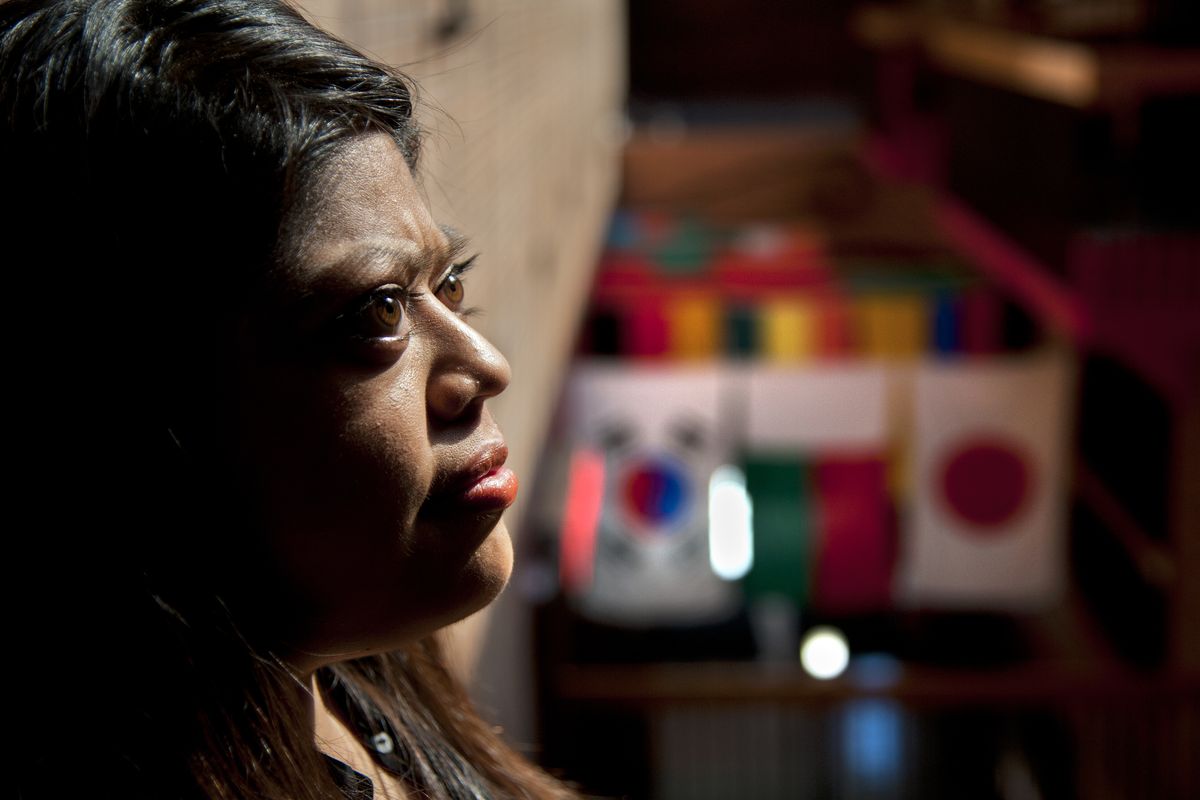 Eastern Washington University graduate Lucia Vazquez traveled to Washington, D.C., to protest immigration reform inaction. (Dan Pelle)
Lucia Vazquez's tears didn't begin flowing until she and more than 100 other women seated themselves in the road near the steps of the U.S. House of Representatives.
"I was crying because I just saw how many women were risking going to jail," the 24-year-old Eastern Washington University graduate said.
Vazquez participated in the largest civil disobedience demonstration to date pressuring Congress to pass a full-scale overhaul of the nation's immigration policies.
On Sept. 12, she and 114 other women blocked traffic on Capitol Hill in an attempt to force the House of Representatives to take up a legislative package passed by the U.S. Senate in June. Gestating under the gaze of the bipartisan "Gang of Eight" senators and representatives since January, the legislation would beef up border security, increase the number of visas available for temporary workers and create a new "pathway to citizenship" for immigrants living in the United States illegally.
Vazquez, of Wenatchee, said she began acting to change the nation's immigration system as a teenager. Raised in a family of mixed-status Mexican nationals and born to a father who was a U.S. citizen, Vazquez was naturalized when she turned 18.
"It's a lot faster," Vazquez said of the naturalization process. "I know people who have had to wait 18 years and who are still waiting."
The decision to protest was prompted by Vazquez's compassion for families who have to live with the uncertainty their illegal status poses. Organizers said last week's demonstration was intended to shed light on the disproportionate odds migrant women face under current immigration law and practices. Less than a third of workers' visas issued annually by the United States go to women despite their majority among the immigrant population, according to data compiled by the Department of Homeland Security's Office of Immigration Statistics. Instead, migrant women apply for family visas with much longer average wait times.
"Women really have to carry the burden of our system," Vazquez said, adding that conditions conspire to split migrant families.
Police eventually arrested the protesters after a short demonstration. Vazquez was fingerprinted for the first time since she became a citizen. The demonstrators were held at a facility a few blocks from the Capitol, where exhausted protesters tried to keep their spirits high, Vazquez said. After six hours, they were released to sidewalks full of supporters.
"That's when I felt like, OK, we did it, we were able to deliver our message," Vazquez said.
That message may be drowned out by other legislative issues facing Congress. Though a diplomatic answer has diverted congressional attention from Syria's chemical weapons at the moment, Capitol Hill is now staring down yet another debate over increasing the Treasury's borrowing limit and developing a spending plan for another fiscal year.
Vazquez delivered a handwritten note to the office of U.S. Rep. Cathy McMorris Rodgers, R-Wash., during her visit. The House Republican Conference chairwoman said at a town hall event last month that she supports efforts to expand the guest worker program to provide labor for the picking of specialty crops in Central and Eastern Washington.
Rep. Raul Labrador, R-Idaho, has in recent weeks displayed less and less optimism the issue will be resolved before year's end.
Vazquez hopes the push strengthens as activists appeal to the role immigration reform plays in keeping families like hers together.
"We understand that the representatives have other issues," Vazquez said. "But this is something that we've worked on for a long time. We want to make sure they don't put it on the back burner."
Local journalism is essential.
Give directly to The Spokesman-Review's Northwest Passages community forums series -- which helps to offset the costs of several reporter and editor positions at the newspaper -- by using the easy options below. Gifts processed in this system are not tax deductible, but are predominately used to help meet the local financial requirements needed to receive national matching-grant funds.
Subscribe now to get breaking news alerts in your email inbox
Get breaking news delivered to your inbox as it happens.
---